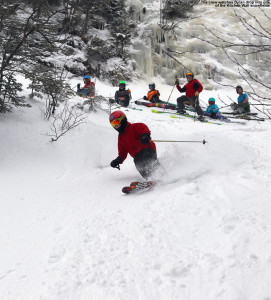 On our ski outing yesterday we got a taste of the current backcountry conditions at Bolton Valley, and today we got to see how the lift-served terrain at Stowe has been fairing since the snows from Winter Storm Petros. With additional snows falling overnight from another moderate system skirting the northern border of Vermont, conditions were improving dramatically the farther north one went. We had students in our group from Wolcott and Hyde Park that had picked up 4 inches of snow at their houses, and Jay Peak saw another 7 to 10 inches overnight.
Ken and I had a fairly large group with 7 students today, and based on the way the snow had played out yesterday at Bolton, we immediately took everyone to the top of the Gondola and into the lower reaches of the Kitchen Wall terrain to get a feel for how the powder was skiing. The snow was excellent, with a good 6 to 8 inches of midwinter powder for everyone to enjoy. The students commented on numerous occasions how good the snow was. The best powder lasted down to about the 3,000' mark before it began to get thinner and a bit wetter. At that point we'd stick to the trails, where conditions varied from midwinter snow to spring like, to ice, depending on elevation and aspect.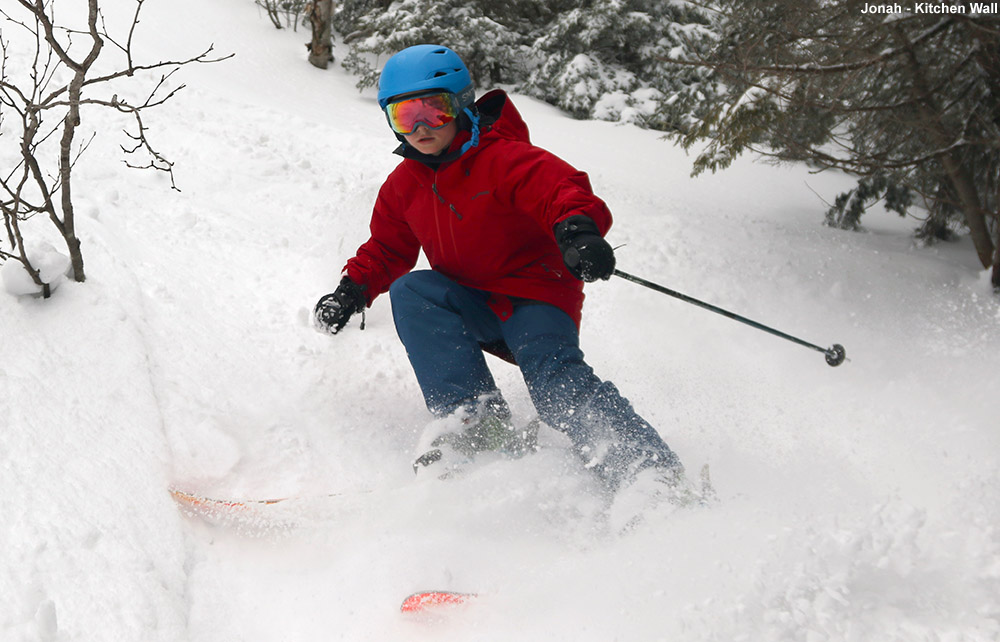 The kids had liked the first run so much that on our next one we took the high Kitchen Wall traverse and dropped into the untracked powder in one of the snowfields. There was a good 8-12" of snow up there, so bottomless turns were the norm. Even down below in the evergreens we found plenty of untracked lines and the kids' overall energy was very positive. One line that we found ended up taking us basically through a cave, and you had to do some major body contortions to pull that line off smoothly.
Ken was thinking of paying a visit to Ravine, and I told him that we'd likely be able to ski the top ¼ at least based on what we found last week. We were all amazed to find the top entrance absolutely untracked at 3:00 P.M. on a Sunday afternoon, so some of the boys dropped in, and we eventually found out why it was being left alone. There was nice powder on top, but presumably some of the rain from Winter Storm Petros had wrecked the subsurface. It was a moonscape under there, so after skiing the available powder for a few hundred yards, we switched out to Gondolier for the rest of the run.
Unfortunately for Ken, he really brought the wrong pair of skis today. He was at Sugarbush yesterday where he found bulletproof conditions and struggled on skis with no edges. Anticipating the same thing today, he brought his freshly-sharpened, skinny, 195 cm old-school cruising skis. He couldn't believe that we were skiing almost a foot of powder up high, and his long, skinny skis were essentially the exact opposite of what he would have liked to have in tight, powder-filled trees. We joked about how we used to ski everything on such skis, no matter how tight, but the new shorter, fatter, rockered, twin-tipped boards are so superior, and one can forget how much work it takes to push around those long sticks.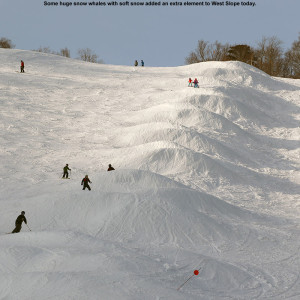 We finished off the day over at Spruce Peak, where areas in the sun were already turning to spring corn snow. The resort had made some huge snow whales on West Slope, and everyone was lapping those, which held soft snow and some great contours and drops. It's definitely starting to feel like spring with the lasting sunlight we've got, but apparently we've still got some winter storm to come – the forecast suggests we've got three potential storms this week, so it should be interesting to see where things stand next weekend. Right now the Mt. Mansfield Stake is at 34", so if things break right perhaps we'll hit that magic 40" mark that means that most of the off piste terrain is reasonably well covered.