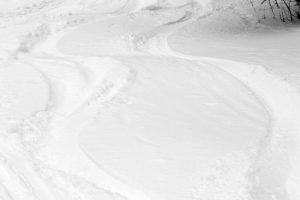 Sunday into Monday we had a couple of small systems that combined to deliver some respectable amounts of snow to the Northern Greens. By Monday morning, resorts were already reporting roughly a foot of snow, and the snow continued to fall. The usual suspects had been out at Stowe throwing up big clouds of powder, and by midday Monday, the resort was reporting 14" of new snow, and the power skiing was looking quite good. Mother Nature was putting a little extra effort into the event up at Jay Peak, producing some great turns, and a reported storm total near two feet as of this morning.
"The turns were definitely the best I've had this season."
While I didn't have time to head out for any turns yesterday, I was able to find a little time for a ski tour at Bolton Valley this morning. Overnight low temperatures were down in the teens F, pretty chilly by November standards, but the air was calm so it was quite comfortable, especially while skinning. I headed up the Lower Turnpike ascent route, which had a well-established skin track. There had been a decent amount of traffic on Turnpike itself, so when I got up to the final corner of Peggy Dow's, I headed toward the Wilderness Lift Line where skier traffic had been rather light.
As usual, I made an effort to monitor snow depths throughout the ascent, and what I found should represent the state of the snow with yesterday's additional snowfall, plus settling through this morning. It was a bit tough to discriminate between the newest snow and what was below, so the numbers I'm reporting below represent what I found for total snowpack depth starting at the base of the Bolton Valley Access Road.
340': 2"
1,500': 8-9"
2,100': 10-12"
2,500': 12-16"
3,000': 12-18"
Although it was hard to get an idea of where the base snow stopped and where the surface snow began, I do have some info. Down at 1,500' it seemed like there was maybe an inch or so of base, so most of that was new. Up at 2,100' there were a couple of inches down, and probably around four inches at 2,500'. I'd guess six inches of base at the 3,000' level. The wind in the higher elevations made for a larger range of depths, but I didn't find a huge increase relative to 2,500'. Now that the resort has reported in with 10 inches, that seems like it makes reasonable sense. There may have been a bit of settling, but I'd say snowfall of 10-12" was probably what they picked up.
With respect to the descent, the skiing was great! The turns were definitely the best I've had this season. The upper mountain had that substantial base with close to a foot of powder on it, and while overall depths were a bit less on the lower mountain, it was fine on the lower angle terrain there. The snow was definitely on the dry side, so the fat skis were certainly in order for maximizing floatation, minimizing contact with the base, and planing on the lower-angle terrain.