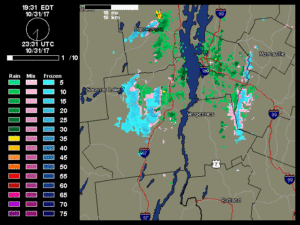 After our big autumn storm that brought substantial wind and power outages to Vermont (including our house), cold air came into the area today and brought one last snowfall for the month on Halloween. Powderfreak is out of town, but his colleagues at Stowe kept him apprised of what was going on at the mountain with pictures of the fresh snow.
As is typical for this type of weather setup with a flow from the Great Lakes, the areas around the mountains often get the most vigorous precipitation, which can lower snow levels down to the valleys. I wasn't home during the day to see if anything frozen fell at our house, but I wouldn't be surprised if we got something.
There was additional precipitation while we were out in town for Trick-or Treating with the boys, with fairly heavy rain at times, and when we got home I saw that the moisture was still pushing into the mountains. With the temperatures dropping into the 30s F I went out to check the precipitation during one of the heavier bursts, and sure enough, there were some partially frozen aggregates coming down, which confirms a trace of snow for today's records.
It's interesting to note that if we hadn't picked up any frozen today that would have been the first time in the 12 years we've been at this location that we didn't get any frozen precipitation in October. So that streak continues for now, but it's still 12 days later than the mean, and of course it's the latest "first frozen precipitation" we've seen here. I guess with as warm as this October was, it's nice to even get anything frozen, and at least the snowfall season is officially underway here.
Now it's on to November, with more substantial chances for snow growing by the day.