Today was Stowe's final lift-served day of the season, and with a pleasant, sunny forecast, we headed off for some runs in the afternoon. Temperatures were in the 50s F at the base, and the Mansfield parking lot was awash in group after group of tailgaters. We got a nice parking space in front of the Mansfield Base Lodge from someone who was just leaving and hoofed it up to the base of the Fourrunner Quad. There was a lift queue of a few minutes, which seems to be common this time of the year when the Fourrunner Quad is bearing the lion's share of the workload.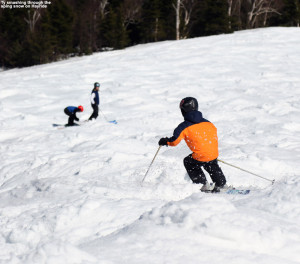 Overall, the skiing was a little sloppy in spots, but there's generally been plenty of freeze-thaw cycles to get the snow turned into corn. We did find some snow high up in the bypass chutes that was almost wintry in consistency because it was so protected from warmth. Hayride was fun, with some steep bump lines, although they were generally spaced wider than our preference. Lower National had much better bump lines as is typical. We also had some fun cruising on Lord. As usual during the corn harvest season, we had our own corn harvest of sorts each run as everyone got the snow off their skis to supply snowballs for lift tower and chair target practice.
Typical of April, the weather looks like it will soon be changing, and after this relatively sunny and warm week, next week looks to be cooler and wet with some potential for snow. The forecasts suggest that a cutoff low pressure system may form in the region, and those can sometimes deliver copious amounts of precipitation as the storm sits and spins. We'll have to watch and see if anything develops, but there's always the potential for late season snowstorms this time of year in the mountains. Some recent favorites that come to mind are April 28th, 2010 and April 10th, 2012, which each delivered hefty dumps of snow to the mountains for fun April powder turns.