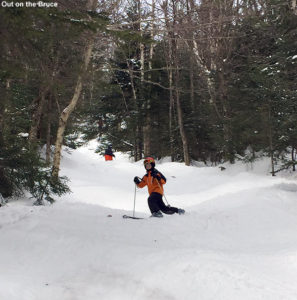 It's March, the season for deep snowpack and long days in Northern Vermont. That also means that it's prime time to make use of that ample snowpack and enjoy some of our legendary sidecountry and backcountry ski routes. For last week's BJAMS ski session we focused on The Chin and put together a nice tour featuring Profanity Chute and the Hell Brook Trail. Today it was time to switch action to The Nose for a combination of Old Nosedive and the Bruce Trail. We've had a great run of storms and wintry weather during this second half of March, and it's definitely time to make hay.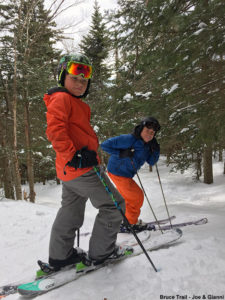 A number of students were unable to attend ski program today, so there were some small groups, and any of them that were interested in a trip down the Bruce joined up with us. From the top of the Fourrunner Quad, those that wanted to ascend joined me for a trip up Old Nosedive, which I find is a nice way to get in a bit of hiking and extra turns before diving into the Bruce. The condition of the snow was really excellent today – all the way from around 4,000' to down at roughly 1,000' at the bottom of the tour. It was quite wintry up top, but even in the lowest elevations the snow was dense enough to hold up well for fresh turns, just like Dylan and I had experienced yesterday at Bolton Valley. There was still ample untracked powder available off the sides of the Bruce, and as usual once we were down into the open hardwood areas there were lots of great lines to explore in the trees.
"The condition of the snow was really excellent today – all the way from around 4,000' to down at roughly 1,000' at the bottom of the tour."
This morning, Dylan said that we should go with Telemark skis for today's session if our focus was going to be the Bruce Trail, and while I'd planned to go alpine, I agreed and ended up going Tele. It was totally the right choice, especially since the coverage and snow conditions were so optimal. I was happy because I felt really dialed in and my transitions felt incredibly quick, and Dylan was also really psyched because he skied so well today. He says that he always wants to run the Bruce on Telemark gear now. Of course he got to experience it on a great day. I'd put today in the top 25% of conditions for the Bruce – there was so much soft snow and powder around, and even those most difficult to cover, south-facing shots were virtually blemish free.
We capped off the run with a trip to the Notchbrook General Store for snacks, and a ride on the Mountain Road Shuttle back to the Spruce Peak Village. Greg said that the last time he skied the Bruce Trail was about 35 years ago, so it was really neat that he got the chance to do it again after such a long hiatus. We had time for a few more runs on Spruce once we got back, and found that the quality of the snow was still really nice. This was just the way a March ski day should be!