Unlike last weekend, where Winter Storm Pandora provided fresh snow on both Saturday and Sunday, new snow this weekend isn't really expected until tomorrow afternoon. It also hasn't really been a particularly snowy week, with no new snow in five to six days. Snow preservation has continued to be great though, and that brought about some interest in heading for some backcountry turns. I'd come across an article about some of the skiing in the Lincoln Gap area at the Nor'easter Backcountry Blog, and it sounded like there was a lot of potential. Guru Gered had put plenty of detail into the report, as well as a map, so it was a good aid for getting the general lay of the land and some ideas of where to go for quality turns. One great aspect about today that I haven't had on a lot of backcountry trips this season was the temperature – it looked like it was going to be up into the 20s F, which was going to feel like a warm spring day.
"It's obvious that there's a massing amount of ski terrain there on the east side of Lincoln Gap…"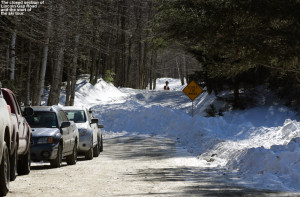 E was taking care of Dylan and an afternoon birthday party at a friend's house, but Ty was free, so we let the day warm up with the help of that almost March sun, and headed south toward Warren in the afternoon. The sunshine was brilliant as we made our way through the Mad River Valley and up Lincoln Gap Road. After a few miles, the plowing ended, and we found about a half dozen cars parked where the road closure and snow began. From one of the cars, a group of sledders was heading out to ride on the snowy road, which I suspect is a popular activity just the way folks like to do it on Route 108 through Smuggler's Notch.
"The powder was fantastic; certainly not super fresh, but there were no crusts of any kind and it was definitely super bottomless."
Ty and I started skinning right up the road, which was well packed through what seemed to be a combination of human and mechanized traffic. Off to the left of the road, the land sloped down toward Lincoln Brook, and off to the right it sloped upward the slope of Mount Abraham. You could immediately see great ski terrain right up in that direction to the northwest, but based on Guru Gered's report, we were planning to tour off on the southern side of the road. After about five minutes or so, we found a service road in that direction marked with a brown "66", and an obvious skin track on it; it was clear that this was a common route for skiers. The road headed gently upward in a southerly direction, still paralleling Lincoln Brook, and since the land still fell away in that direction, there was no obvious yet to the terrain beyond it. After roughly another ten minutes, the brook narrowed somewhat, the road bent in that direction, and we approached the foot of the mountainsides now visible to our south.
"You also know that the terrain is pretty steep when you head over the handlebars for a crash into the powder, and wind up back on your feet after a full flip – Ty demonstrated that one for us."
We met a couple there, who were out backcountry skiing with their young daughter – she was at the age where she was still riding in a pack (I can remember those days). We chatted for a bit, and the dad gave me an overview of the area. Above us to the west, we could see some fairly gentle slopes that formed the bottom of the drainage and headed up along the continuation of the brook. He said that a few skiers had been in there in the morning. We were informed that the main skin track wrapped back around the brook, heading east for a bit below the slopes above, and then turned more southward. We'd hit a sign marking the wilderness boundary, and from there you could continue south up that drainage where there were some options of trimmed lines as well as the streambed itself. From that point there was also the option to head back to the west and work your way up to the slopes right above us.
We thanked him and made our way along the main skin track that wrapped around the brook. The skin track was on a nice gradual grade that seemed to be an old logging road. Even after just a few minutes up that route, we could start to see some nice open lines dropping below us toward the brook. We hit the wilderness sign after about a mile of total distance, and based on time, we opted to head back west up above the slopes that would lead us back down to where met the family earlier. From that point the skin track went up and up and up (so it seemed) generally heading westward but with lots of switchbacks. We actually saw the family again, because they were heading up into that area as well and had taken a more direct skin track that eventually merged with the one we'd used. It seemed like it took forever, but we eventually hit the ridgeline above us as the terrain flattened out. One option of the skin track actually continued upward as the ridgeline continued to rise to the east, and that's actually the way that the family was headed. I'm not sure exactly how much higher it went, since Ty and I took another track that headed along the ridgeline in a more westerly direction. We followed that for a few minutes until we came to where the previous skiers had started their descent. We could tell that this was generally going to get us back to the drainage where we'd started, and it looked like a decent option.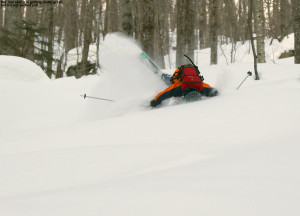 We did a quick changeover to descent mode and were on our way down. There were the few tracks of other skiers in the general area, but there were plenty of fairly open trees all around, and you could spread out with plenty of space if you wanted to get away from signs of other tracks. The powder was fantastic; certainly not super fresh, but there were no crusts of any kind and it was definitely super bottomless. The terrain was steep, with plenty of shots of 25 or even 30 degrees, and you know the surface snow is seriously deep above the base when you can crank turns on those pitches and not touch a thing. There were good lines all over the place, and some of the most fun was riding the main streambed – everything is so buried in there under deep snow that there's really nothing to worry about when the snowpack is like this. Ty was on fire with the Telemark turns, and I think he might have even been more consistent with them than me. He's been doing cross country skiing in a program at school, and I think that's gotten him even more attuned to his free heel work. If we had our druthers, we actually would have chosen a run with a shallower pitch than what we hit, since we'd been planning of something of a more intermediate pitch that really made for easy Telemark turns. But by the time we were done we'd realized that it didn't matter; the powder was so consistent the tree spacing so good that even the steeper pitches had been working well.
We eventually hit the bottom of the drainage, and headed down it to the right. We hadn't known just how close we were to the service road, but were hit it in just a minute or two. From there it was a few minutes of gliding back to the car on the skin track. It's obvious that there's a massing amount of ski terrain there on the east side of Lincoln Gap, and much in line with what Guru Gered said in his report, there is a lot of prime hardwood skiing terrain out there. If you don't have a couple feet of powder, I'm sure some of those steeper lines are tougher to ski, but there's plenty of mellower terrain out there as well. I have no idea how long it would take to explore even half of the potential terrain that's out there, but I'm sure it will be fun.