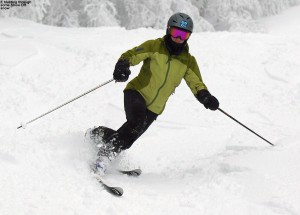 It started snowing last night on the front end of our current storm system, and although we only had about a half inch of snow here at the house, the mountains picked up a good 3 to 4 inches containing some real substance. I hadn't prepared much of our gear ahead of time since I was unsure whether or not this storm was going to deliver, but everyone got up and rolling pretty quickly once we'd made the decision to hit the mountain. I checked the Bolton Valley website for the latest on the lifts and trails, and our timing was looking good because lifts didn't start running until 9:00 A.M. It really feels like it's a holiday today because we're so close to Christmas and school is out for E and the boys, but at for the resort it was just a standard midweek day. We don't get to ski a lot of those though, so we were excited for that.
Precipitation had been a light mix of snow and rain, but it had generally tapered off by the time we arrived up at the Bolton Valley Village. I dropped E and the boys off at the Village circle and was able to easily grab a parking spot right in the top lot because there were only a couple dozen cars in total. Apparently today really was just another midweek day. I met E and the boys near the back of the base lodge and we headed up to Vista for a run.
As we rode the lift you could immediately see that the resort had been plastered with snow overnight. The evergreens had a fresh coat of white that added yet another layer on top of all the rime and snow they already held, the groomed slopes looked great, and even the off piste was supplying quiet turns. It wasn't until we got near Spillway that we could hear skiers contacting the subsurface, so we knew that the new snow wasn't quite enough to support bottomless turns on the steepest pitches. Temperatures were comfortable at just a few degrees below freezing, but there was a stiff wind as we got into the higher elevations.
I'd read that Schuss was the run of the day, so for our first run we headed down Alta Vista to make our way toward Schuss. There was a bit of scouring at the very top of Alta Vista, but below that the groomed snow was excellent. Of to the skier's left we found several inches of fresh powder, with as much as a foot in some spots. We'd been prepared to just take a run or two if the conditions weren't that great, but it was obvious that wasn't going to happen; the conditions were simply fantastic. Down on Schuss we did come in contact with the base in some spots since it's quite a steep trail, but fresh snow was plentiful as there was only a track or two or two before we got there. On the lower mountain we caught Bull run to Moose Run to Glades, and the trails were either totally untracked or had a track or two on them. Oh yeah, that's right, that's what those midweek days are like. As we hit the last hundred or so feet of vertical above the base lodge, you could really feel the snow starting to get a bit wet, so the freezing level must have been rising.
On our next ride up the Vista Quad, Dylan proposed that we each take turns picking a route to ski, so Ty went next. He followed up with another trip down Alta Vista, taking us through the lower parts of Vista Glades, and then finally over to Fanny Hill. We really got to rip up the powder there along the skier's right, dodging in and out of the trees. I stuck with Ty in that powder right along the edge, and by the bottom of the run my legs were definitely getting cooked from Telemark turns.
Dylan's run choice was next, and he stuck with an Alta Vista start, eventually brining us to Sleepy Hollow. He'd wanted to get in there on our first run, but now that everyone was warmed up, we were ready to rip through those trees. If anyone had been in there up to that point, they must have been few and far between, because it looked like the whole glade was untracked. I directed the group to some lines I know off to the left, and some seriously good turns were had by all. There was no problem with the new snow keeping us off the base on those pitches. Kudos go out to Dylan for a great run choice.
The fourth run was E's selection, and she really didn't have much of a preference aside from visiting the Glades run again; she'd really started to connect with her Tele turns there and wanted to get more of that type of terrain. So, for the upper mountain we dropped into Show Off, and we got images of the boys skiing around the rock with the big smiley face on it. On the upper half of Snow Off, the pitch was steep enough that we were making contact with the base snow, but on the bottom half of the run, the pitch had mellowed just enough to let us float through our turns quite well. Glades was nice and still held plenty of untracked snow, although the snow on the bottom half was starting to get a bit wet as the freezing level seemed to have risen.
It was approaching midday after that run and we broke for lunch at the James Moore Tavern next. The bar was hopping, but there were only a few tables with people at them. I had their grilled tuna sandwich, which was nicely done, although I'd probably opt out of the Dijon mustard-style sauce next time since it's not one of my favorite flavors. Dylan got the homemade macaroni and cheese, and in his case he definitely had to get it with the optional bacon. I tried some and it was really good… and really rich. We had enough extra that I even had to run leftovers down to the car.
We decided to take a final run after lunch to see how the Wilderness area was doing. We took the Vista route over, but were surprised to see that the Wilderness lift was actually running. That meant that the terrain wasn't quite as untracked as it might have been with just Vista access, but there was we caught some good lines on Work Road and in Wilderness Woods. The freezing line had continued to creep upward though, so the quality of turns in the lowest elevations had dropped a bit more.
There's no doubt that the morning offered the best turns of the day today, and that was the time to be out because they were really good. Temperatures are going to be warm with this system for the next couple of day before they cool down, so some snow will be required at the point to get surfaces back to something soft. There are some chances for snow though over the next week, so we'll see what falls.