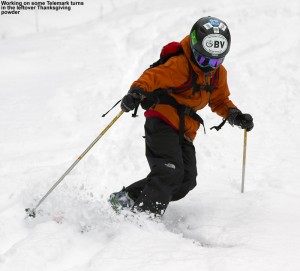 We've had some good snows over the past several days courtesy of the Thanksgiving Nor'easter that dropped about a foot at the Vermont ski areas, and a smaller upper level system that came through a couple days later and delivered a few more inches to the Northern Vermont resorts. We were traveling a lot visiting family during the timeframe of the storms, but we had a chance to head up to Bolton Valley and check out the snow today. Temperatures began to push above freezing this morning, so I knew that the powder was going to be getting a bit heavier, but it still seemed like it would be worth a quick trip up to the mountain. Ty was anxious to try out his new Telemark setup, so he certainly wanted to go, but knowing that the powder was going to be on the heavy side, E and Dylan decided to hold off for better snow and get some other stuff done instead.
Temperatures were already a couple of degrees above freezing when we arrived up at the Bolton Valley Village and made our way over to the base of Wilderness where we found 6 to 7 inches of snow. There were a couple of nice skin tracks in the Turnpike area, and the ascent went smoothly. Ty really enjoyed the free pivot on his Voile Switchback bindings for the ascent – he's been waiting for a while to have bindings with that feature. We stopped our ascent on Old Turnpike before the pitch got to steep to support decent skiing with the available snow – there was actually about 10 inches up there, but there's not much base yet, so steep, rockier pitches would definitely be rough on the ski bases.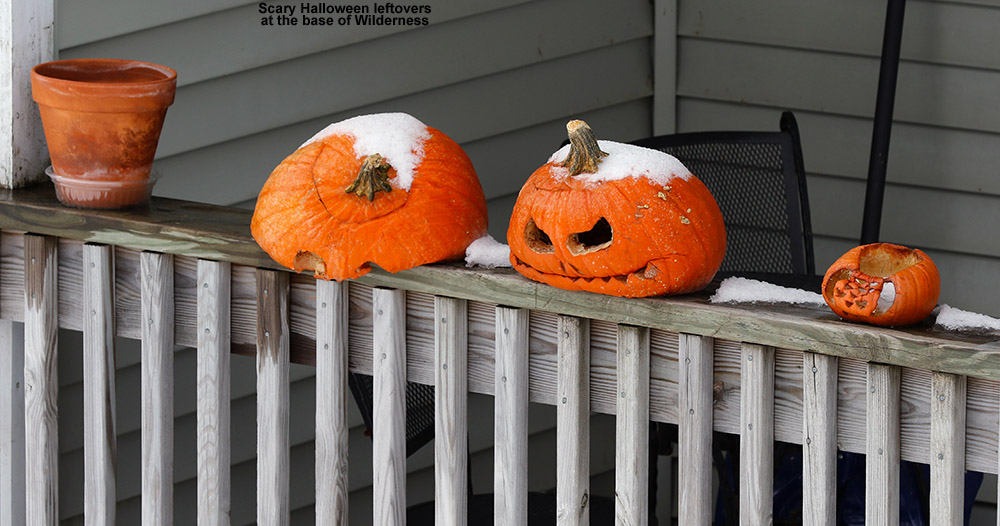 The descent was fun, but a bit slow at times with the snow density increasing. Ty did well working on his Telemark turns, and having handled this dense snow, we both agreed that he's really going to have a blast on his new gear when we get some higher quality powder. He's got the Switchbacks mounted on a pair of the 2014 Völkl Gotama Junior skis, and at 118-86-111, these are actually a bit wider than previous versions of the ski that he's had, which were more in the range of 113-80-105. These later versions may even have a bit more rocker in them, but in any event, they look like they'll be great skis for powder. We stopped in at the Bolton Valley Deli & Grocery to grab a bit of food before heading back down into the valley, where the temperature had climbed into the upper 30s F. Although not great for the powder, these temperatures have really made clearing the snow from the driveway easy – it's mostly gone simply from melting by warmth from above and below, so we haven't had to shovel at all except for the berm left by the plow along the road.