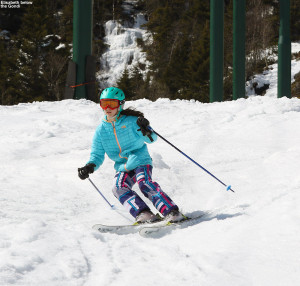 The sunny weather and soft spring skiing from yesterday carried right into the second half of the weekend as we visited Stowe this afternoon for the BJAMS ski program.  Ken's tweaked knee from last Sunday was diagnosed as a sprained MCL, so I've heard he'll be off skis for four weeks while it heals.  Erica had to do a bunch of shuffling around of today's groups due to various absences this week, and I actually wound up with a group of 10 students.  That's a substantial group even with both Ken and I to manage it together, but fortunately Big Luke was able to step in for his dad and give us a reasonable ratio of coaches to students.  All told then with students and coaches, our group was a dozen strong, and I suspected that anywhere we went with our crazy crew… people were definitely going to know that we were around.
"There's not too much else to say about today's skiing – the snow is in spring mode and so are the students, so it's simply bumps, and jumps… and more jumps."
There was no question about the softness of the snow today at any elevation, and with my group ready promptly and raring to go at startup time, we headed right over to the Gondi for a sampling of its terrain.  I could see that there were plenty of bumps on Gondolier, so we tackled that first with a quick photo session in one of the first bump lines.  From there were moved over to the Fourrunner Quad and it was lap after lap with spring snow and visits to the terrain parks due to very high demand within the group.  By around 3:00 P.M. it was time to head back to Spruce for the s'mores session, and everyone finished the day off with what appears to be becoming the customary "post s'mores free skiing session" off the Sunny Spruce Quad.  I think almost all the skiers in the group, even Big Luke, dropped their poles for their final runs.  And with our snowboarders Cole and Ryan as part of the crew, I may have been the only person left with poles at the end of the day.  Those huge snow whales on West Slope are still going strong, and as you can imagine it was quite a raucous time out there on that terrain with the afternoon sun and continued soft snow.
I finished up a bit early and was able to hike up for a bunch of extra photos on West Slope, and man what a treat it was to be able to photograph with so… much… light!  I had the Canon EF 70-200mm f/2.8L IS II USM out for the first time in a while, and was able to run at a shutter speed of 1/8000 sec and still stay down around ISO 100.  The bright March sun on glaring snow was almost too much, and I nearly had to stop down a bit to avoid overexposing the images.  For now though, it worked out at F/2.8 once I got all my settings tweaked, so hopefully folks will enjoy the sampling of action shots I've put with the report.  One of my favorite images from the day was definitely Big Luke in the Tyro Terrain Park – he actually requested the shot, so I had plenty of time to set it up just the way I wanted.  He aired it out and I think he'll be pleased with the result.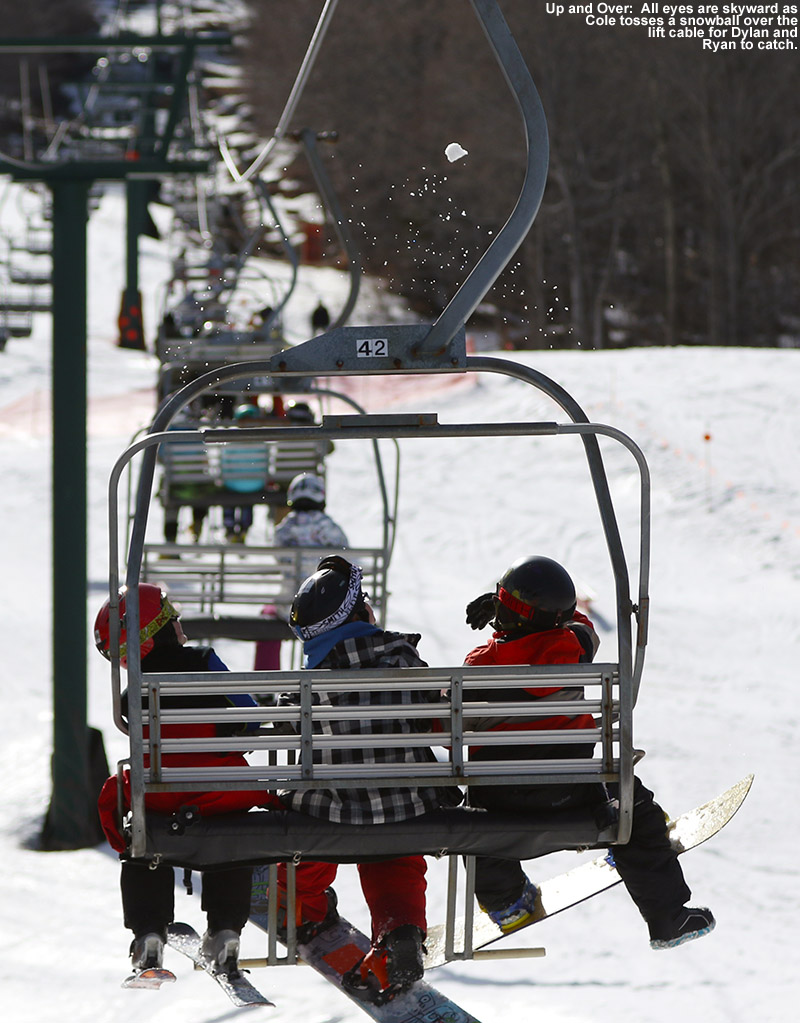 There's not too much else to say about today's skiing – the snow is in spring mode and so are the students, so it's simply bumps, and jumps… and more jumps.  We'll see what next weekend brings, but the weather models are certainly showing murmurings of a potential winter storm about a week out.  We'll have to see if we can finally get one of these to take a decent track or whether we'll get another one of the many raw deals we've had this season, but I suspect the winter weather enthusiasts are going to have an interesting week of model watching to see what this potential storm does.