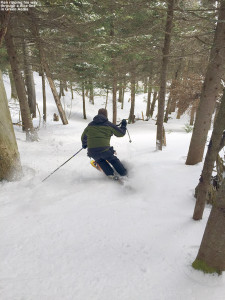 Based on my tour of the Bolton Valley backcountry yesterday, I didn't anticipate skiing much powder today with our BJAMS ski group today at Stowe, and therefore I packed narrower skis for me and the boys. I'd say it was the right call, because we spent most of our time on piste, and aside from our initial runs on the softened slopes of lower Spruce Peak, the snow we found was roughly 20% decent and 80% crap.
Fortunately for us, we did start out on the lower slopes of Spruce Peak for the beginning of this afternoon's session, and off the Sunny Spruce Quad the snow had softened in the sun from top to bottom. The boys had taken some earlier runs, and announced that we should head for Freddie's Chute. I couldn't believe that they were serious, because Freddie's has all natural snow, faces south, and is loaded with ledges and rocks that quickly catch the sun and burn out the snow. Low and behold though, the coverage was there, so even though we haven't had any really great winter storm cycles in the past few weeks (or at all this season for that matter) the storms of mixed precipitation that we have had are substantiating the snowpack in the mountains to some degree.
After some good turns on the lower slopes of Spruce Peak, we decided to do a few runs off the Sensation Quad. I hadn't taken the group there at all this season, so it seemed like a good day to do it with no plans for our typical Mansfield powder explorations. I was actually surprised to see all of Spruce Line open for business aside from the initial headwall, and that's amazing because patrol never seems to open that even when we have a ton of snow. We decided to make our way there by dropping into Green Acres, and that was where we undeniably found some of the best snow of the day. The high elevation and evergreen protection kept the snow soft and powdery in there, and it was deep enough that it was one of the few times today that I wished I'd brought wider skis. Spruce Line had some good shots, but the snow was generally dense or wind-packed, so while good, there wasn't any of the powdery snow that we'd found in Green Acres. We did some additional runs off Sensation, hitting Sterling, Upper Smugglers, and Main Street Headwall, but they were all generally a mess of ice and firm snow with decent surfaces few and far between. Ken's description of the worst areas was "plate ice", which is that glare ice that's got no redeeming qualities aside from the novelty of seeing the treads of the groomers carved into it. It's just hideous stuff that really nobody in their right mind should have to ski.
Clouds were moving in at times, and with afternoon temperatures cooling down, snow that had softened in the sun was starting to firm up, so we headed back down to the lower slopes to finish off the day. We did a few more laps off the Sunny Spruce Quad, and even down there the snow wasn't as soft as it was earlier, so it was changing from corn to frozen granular and becoming much less inspiring. We found that a number of us have similar boot sized and we started to switch around skis – I got to try Jack's 163 cm Nordica Bad Mind skis (120-84-109), and that was a lot of fun because unlike my Salomon Scream 10 Pilot Hots, they've got some edge. I stayed on them for the rest of the day, and I thank Jack for the demo. Not only did his skis have edges, but they've only got a half season on them, so they've still got plenty of pop in them unlike my Salomons that are over a decade old.
As the boys finished off the last few runs on their own, Ken and I took a run through the Ridge Glades and down in the glades below along the right of East Run. Some of that terrain off to the side of East Run is really steep, probably 35 degrees, and in horrible shape. Ken came into one of those steep lines very aggressively and had a pretty big tumble where his equipment went everywhere. He was generally OK, although he did say he tweaked his knee a bit and something popped, so he's going to have to assess how things go over the next few days to see if it's anything serious. That area of trees definitely fit in with the general 20% decent/80% crap, where there was probably 20% decent snow on the whole slope, and the rest was a combination of ice, roots, stumps, dirt, and whatever else isn't snow – it's just hideous. We do appear to have some snow coming into the area tomorrow, so hopefully that will add a bit more to the snowpack in areas that need it.