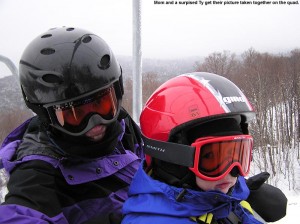 Today we took Ty up to Bolton Valley for a few afternoon ski runs.  I hadn't initially thought of taking him up to Bolton, but Grandma mentioned it and it sounded like a good idea.  With holiday visitors at the house, and another family gathering later that evening, time was a little tight.  So, Bolton was especially appropriate being only about 30 minutes away.  E hadn't been out to ski with Ty in the past couple of weeks, so this would be an opportunity for her to ski with him using the leash, and see the progress he'd made first hand.
The weather had been warming since yesterday, and had risen above freezing in the valley.  When we left my parent's house in Shelburne (elevation ~180'), the car thermometer was reading 39 degrees F.  At the bottom of the Bolton Valley Access Road (elevation ~340') it was at 37 F, and by the time we reached Bolton's main base (elevation ~2,100') it was down to 34 F.  There was a notable difference in the look of the snow on the mountain when compared to the valley.  Down in the valley, the snow was getting spring-like, and had melted off the trees.  Up on the mountain, even at the base area, there was a coating of white on the trees, and the snow still looked pretty dry and wintry.  Bolton was reporting 2 inches of new snow, which we hoped would make for some pleasant skiing.
To read the rest of the details and see all the pictures, head to the full Bolton Valley trip report from today.