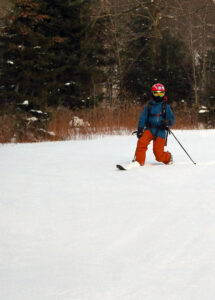 Since last week's ski outing up at Bolton Valley, we've had three additional rounds of snow. The first one at the beginning of the week was the most significant, with roughly an inch of liquid equivalent going into the snowpack in the form of some dense snow. The next two systems later in the week were smaller, but featured drier snow that topped off the denser base snow with some nice powder.
Temperatures continued to run below average today, but were expected to top out around 20 F in the midafternoon, so Dylan and I headed back up to the mountain to check out the new snow and get in a ski tour. Not surprisingly, we found snow that was much improved over last week. At base elevations around 2,000' we were finding 5 to 7 inches of powder atop the base, and up around 2,700'-2,800 where we topped out, depths were right around a foot.
Dylan is in the process of getting new equipment and gear since he's outgrown so much of his stuff, so he was using E's powder Telemark skis and Ty's outwear. It all seemed to work really well for him though, and he was ripping up the powder when we found it. I'd say that was actually the main issue on the day; since the big storm was back on Monday and Tuesday, people have skiing that snow all week and large areas of untracked snow were at a premium on the lower slopes of Wilderness. We definitely got in some nice turns, but we had to really stick to the edges and seek out those spots that people has missed.
We've got yet another winter storm coming into the area tomorrow into Tuesday. This one's expected to be a bit messy on the front end with some freezing rain, but it's supposed to change over to snow as the system pulls off to the east. Whatever the case, it should all represent more material for building the base. It looks like there's another storm expected toward the end of the week as well, so we'll be watching to see how that will set things up atop the current base of snow.