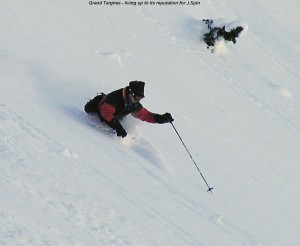 To get to Grand Targhee, we had to head to the west back over Teton Pass. As we'd come through during the night before, this was our first real chance to check out all its legendary backcountry terrain. It looked as cool as all the hype suggested; skiable lines were everywhere right off the road. The slopes had tons of tracks on them, but there were still areas with untracked powder. I'm sure one could spend many season exploring the Teton Pass ski terrain.
About an hour or so after leaving Jackson, we came to the town of Driggs, Idaho (6,286′), and we knew we were getting close to Targhee. Driggs didn't really have the resort atmosphere, which I think is due to the fact that Targhee is a sort of smaller, yet self-contained resort. Unlike Jackson, Driggs did have substantial snow on the ground; we could already see that things were different on this (the western) side of the Teton Range. The views of the Grand (13,770′), and other Tetons were also absolutely amazing. E had chosen not to ski today due to the fact that she was so sore from her horrible crash from yesterday, and didn't want to take any chances on injuring herself further. This was a real downer because she had been really excited to ski Grand Targhee, it is totally her kind of resort. The fact that she was able to sit out after seeing all the great Targhee snow on a bluebird day, really showed how bad she was feeling.
There were only a couple dozen cars in the Targhee parking lot, and as we approached the lifts, we could already feel from this distance that conditions were different. The main skiing on Fred's Mountain (10,000′), which is at the center of the resort, takes place on huge open slopes splattered with a few trees. Because it was so open, we had a great look at the snow, which looked much more like chowder than hard pack. The brilliant morning sunshine made it look so appealing, and there was virtually nobody around!  We hopped on the Dreamcatcher Quad and rode up the 2000 vertical feet to give it the real test.
We were starved for powder, so even though we wanted to test out the broad slopes on the front of the mountain, I thought it would fun to explore a bit and see what we could find as we got the lay of the land. We traversed skier's left along the summit, and as we followed along the ridge, we came across gates that let you into the legendary Grand Targhee backcountry. One big chute I came across looked like it just dropped into infinity from my vantage point, although since there were many tracks from people who had dropped in, I'm going to assume it was skiable. The backcountry looked enticing, but that wasn't our plan, we had a whole new resort to explore. The snow surface was already far better than Jackson Hole's, but so far we were just traversing on mellow terrain, we needed to find a good test. We continued along our traverse, keeping close to the resort boundary in hopes of finding some untracked powder just off piste. Brief forays onto some of the trails clearly confirmed that the snow was in great shape; not fresh powder but soft and loose all about.
Our traverse finally brought us below the cliffs of Peaked Mountain (9,700′) where we could see vast amounts of what looked to be deep powder between the cliffs and the boundary rope. After consulting our map and realizing that we would very easily be able to ski right back into bounds, we decided to traverse and check out the snow here. Even as we began the traverse, we could see that this snow was fantastic. It was deep and feather light. After a few minutes of traversing, we found ourselves atop a slope of powder that we knew was going to be amazing. We double checked that we weren't below any major avalanche terrain, pulled out the video cameras, and Chris set up his still camera. We KNEW this was going to be good. What proceeded was incredibly cathartic after our days at Jackson. There were almost two feet of powder just sitting there, and although the run wasn't very long, it was pitched beautifully at around 30 or so degrees, and it did the trick. The smiles on everyone's faces during and after the run were obvious, the snow had re-invigorated everyone. We were able to traverse a few more minutes and get a second shot at similar terrain. The skiing at Grand Targhee was off to a great start!
Our travels brought us down into the gully between Fred's and Peaked Mts., and we had an amazing ride though what seemed like an endless singletrack. Taking it at speed with all the blind corners was a blast. In addition, we got a chance to look at all the tress around and see where the fresh powder was at. The gully dumped us off at the bottom of the Sacajawea quad, which took us up to Peaked Mountain, a region which reportedly used to be accessible only for snowcat skiing. Now, they've got a lift on part of it, but the rest is still maintained for snowcat trips. There are signs at the top that indicate where you can't hike for turns (so as not to destroy the powder of the cat skiing operation I guess). We did a few runs off the Sacajawea lift, checking out many areas of tree skiing, which, although having lots of tracks, still had a lot of areas of fresh. Nothing was quite as deep as the stuff we'd hit along the boundary rope, but there were still a lot of fun turns. I also managed to find a way down through the cliffs along the edge of Peaked Mountain, which took a good bit of route finding. There were plenty of cliffs to air out there if you knew the terrain, and it all dropped into the beautiful powder that we had skied on our first run. I was really wishing I knew the terrain up there to check it out, but jumping off a cliff when you can't quite see what's below you is still a bit sketchy, no matter how deep the powder is. We resigned to staying among the trees and had some great turns.
After a while, we decided to head in for a quick bite and check out how E was doing in the lodge. She'd brought some work to keep her busy, and it was a bit disheartening to have to tell her about the amazing light powder we'd found out there. I told her that we'd come back together someday to make up for her missing out. We had burgers for lunch which were delicious, and we ate upstairs where Erica was working; in a special room they had available for eating bag lunches. We shared it with a few other visitors and it was really nice since it provided a huge view of the mountain.
After lunch, we decided to focus on that huge open terrain on Fred's Mountain, and see what else was in store for us. Upon first hand inspection, we found that the snow we'd see below the lift was really quite soft, broken up powder. Unlike Jackson Hole, bumps had not formed due to presumably much lower traffic. I know that Targhee had been under the influence of the same sort of weather as Jackson Hole, and even though it had been many days since snow, the surface was in beautiful soft shape. One of my personal highlights for the afternoon was screaming along the groomers on these broad open slopes. I can honestly say that it was the best groomed terrain I'd ever ridden. I'm not a connoisseur of groomed terrain, but this was fantastic. On trails like The Face, Sitting Bull, and Rock Garden, it felt as though you were on a snowy ridge at the edge of the world. These broad cruisers had such amazing soft groomed snow that you could go as fast as you wanted without any fear of your edges letting go. This fact, combined with few other skiers was a bad recipe for high speed. I make no exaggeration when I say that we scared ourselves silly; hands down the best groomed experience of my life. I know that James will certainly concur, since he had the same dumbfounded look on his face, and told me how he felt.
Off to the skier's right of one of the groomers (Rock Garden) a small cornice forms which then drops you into steep terrain with names such as The Good, The Bad, The Ugly, and theEast Woods. James and I had nearly encountered this in a bad way during a fast run on Rock Garden; although we had both stopped, we had no idea that a cornice dropped off the edge of this groomer upon which we had just been flying. I'm glad I never chose to explore near the edge on those fast runs! Now however, we WERE interested in the cornice. The snow below looked nice and soft, and it was time for some cornice drops. We had great fun working our way down the cornice and traversing back up to drop in again. Chris pulled out his digital still camera and got some great shots. It was a great end to a great day; Targhee is high on my list of places to get back to.
Although all the boys wanted to stay, E pointed out that we had a bit of a drive ahead of us and that she had to get up early for work tomorrow. These were obviously the words of somone who had NOT been on that amazing snow under a brilliant blue sky. Still, after debating on the radios, we realized that she'd been sitting around all day while we were having fun. It was unfortunately time to go :(.
As we drove away, we captured parting pictures of the Tetons and talked about how much fun we'd had. I can't believe how different the snow was between Jackson Hole and Grand Targhee, especially when the two resorts are so close (as the crow flies). Jackson Hole gets plenty of thumbs up for amenities (we had great food in the lodges) and of course massive vertical and steeps. However, after this trip, Grand Targhee has made me a huge fan of its amazing snow, lack of crowds, fun terrain, and overall atmosphere. I hope I get back soon, I can't even imagine what a powder day is like!
To see all the pictures from the day and get the full report and pictures from our trip, head to the full report from our 2002 Ski Trip at Lost Trail Powder Mountain, Montana, and Jackson Hole and Grand Targhee Resorts in Wyoming.