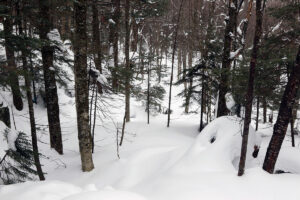 I gotta say, the turns were really nice out there today.
Ty and Dylan had hit the mountain on Wednesday and reported nice soft conditions thanks to some warming temperatures, but then E was out Thursday night and said the snow was quite hard and icy, at least on piste where she had been skiing on the main mountain. I figured that made sense with temperatures cooling back down, and that's what I thought would be the theme out there on the mountain today.
But there was also all that great snow that PF reported on from Thursday as well, which was at least 8" up above 2,000', and Chasing Flakes said it was feeling like 10"+ at Jay Peak. It was hard to know what to think, and I was somewhat ambivalent about skiing today. But then while I was working on the computer this morning, I checked the Bolton snow report, saw that they'd picked up 6" in the past 48 hours, and read this text in their detailed report:
"Happy Saturday, Boltonites! Today is a great day to get some snow under your feet. We have 38 groomed trails for you this morning and tons of fresh snow still hiding in the woods. Yesterday afternoon there were sightings of 6 inch stashes of powder still in Sleepy Hollow woods and Bolton Outlaw woods!"
That sounded just a bit too good to pass up, and it tipped the scales to get me to head up to the hill.
We'd been getting snow this morning at the house, but it had just started to transition over to mixed precipitation while I was getting ready to head to the mountain in the early afternoon. The precipitation was generally sprinkles of light rain as I headed up to the Bolton Valley Access Road and eventually changed over to sleet as I rode the Wilderness Double Chair and got up near 3,000'. During my second run, the mixed precipitation decided to change back to snow, and there was a nice period with some big fat flakes coming down.
"…I was pleasantly surprised to find all that bottomless snow out there today. I was thus able to probe the depth of the entire snowpack, and was typically getting depths of 30-40" in the 2,500' – 3,000' elevation range."
Bolton definitely got in on that Thursday snow, and I think my wife must have just been on those wind scoured trails on the front face of the main mountain, because that's not at all what I experienced at Wilderness. The groomed slopes were quiet, and the off piste was covered with up to a foot of dense powder. That seems like more fresh snow than there really should have been based on the snow report, so I'm not sure what to think. I also couldn't even find any signs of crust below the most recent snows, so I'm not sure what to think about that either. I probed all over the place in the 2,000' to 3,000' elevation range, and the only real crust I found was a bit of sun crust on the surface of the snow in a couple of exposed areas. Maybe this was one of those setups where the new snow comes in, starts out wet, and bonds to any crust below to sort of remove the demarcation of that layer a bit. Whatever the case, I was pleasantly surprised to find all that bottomless snow out there today. I was thus able to probe the depth of the entire snowpack, and was typically getting depths of 30-40" in the 2,500'-3,000' elevation range. That makes decent sense, with the snowpack now at 55" on Mansfield at 3,700'.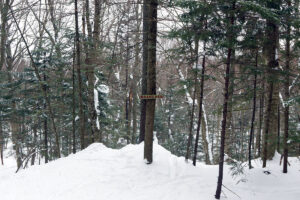 I spent my entire session at Wilderness this afternoon, and the Wilderness sidecountry and nearby backcountry terrain have actually seen a decent amount of skier traffic. Seeing that, and being alone with plenty of time to explore whatever I wanted, I decided to go a bit farther afield, hitting a lot of terrain beyond White Rabbit, Snow Hole, and Jamie's. Being on mid fat Tele gear, I figured I'd just see where my travels took me in search of untracked powder, and if I ended up on the backcountry network, I'd just skate my way back to the Wilderness Chair as needed. It actually ended up being a bit of a revelation with regard to traveling in that area, because on my first run, I hit Gardiner's Lane, and then simply followed it until I came to the junction with Snow Hole. All it took was probably 60 seconds to herring bone up to the Snow Hole return to the Wilderness Chair, so as long as you're on something with good mobility like reasonably light Tele gear, you can easily return to the base of the Wilderness Chair. I even discovered a new area in my explorations today called "Branches" off to the right of Snow Hole. I guess people are always putting in their own little areas out on the backcountry network, so I don't know how long that's been around, but it's always fun to find new areas for skiing that you didn't know about.