Earlier this week when Winter Storm Uri hit the area, mixed precipitation pushed pretty far north, and we even got a bit of it up here in Northern Vermont. That put at least a mild crust atop the snow in our immediate area, but reports I'd been seeing indicated that the mixed precipitation really hadn't made it up to Jay Peak. That seemed like the perfect excuse to get out of town for a few turns in the Jay Peak area backcountry, and while it's not just up the hill like Bolton is, it's still pretty convenient because it's only about an hour away up Route 100.
The skiing held even more promise today because we're currently in the midst of another system, Winter Storm Viola, which dropped over 3 inches of 1.3% H2O champagne at the house as of this morning. The resorts were reporting a few inches of new snow as well, and it was expected to continue snowing throughout the day and into the overnight.
My drive up toward the Jay Peak area gave me a chance to see what had happened with respect to accumulations from Winter Storm Viola thus far. The Froude Numbers have been forecast to be relatively low, meaning that the western slopes were more likely to pick up accumulations than areas east of the spine, and indeed my travels showed that there have definitely been some notable differences in snowfall around the area. The rounds of fluff we've been getting here along the spine at our house have covered up the old snow pretty well, and monitoring that aesthetic during my travels today turned out to be a decent way to see who'd recently gotten snow. Heading east from our place, accumulations definitely dropped off toward the Waterbury Village area, and indeed, all along through the east slope towns of Waterbury Center, Stowe, and Morrisville, there really hadn't been much new snow that I could see. Either that, or what's fallen had sublimated and disappeared quickly off the snow banks. I'm sure accumulations increase as one heads westward up the mountain road and Mt. Mansfield, but down in Stowe Village, I could see that they need a refresher. There was still light snow falling in all those east side towns, but once I left Morrisville and rose up into the Hyde Park area, the increase in snowfall intensity was obvious. That continued right on through Eden. The snowfall was squally, and quite heavy at times, and I was continually having to turn on my headlights and fogs when I'd get into those more intense areas of snowfall. That increased snowfall definitely showed itself with accumulations – up in that area, all the roadside snowbanks were covered up with a solid coating of new snow. I'd say the snow was in general a bit less through Belvidere and Montgomery Center, but once I headed toward the pass on Route 242… well, we know what happens up there. Even from just a quick glance at the side of the road, it was obvious that even down at the roadside elevations, a lot more snow had fallen than I'd seen anywhere else on my drive.
As we'd done on our last backcountry ski trip in the area, I parked at the lower access lot on the east side of the pass to start my tour. The elevation there is about 1,500' and right from the start of the tour, I was finding 8-12" of new champagne atop the older snow. Above 2,000' there was 12-16" of accumulation.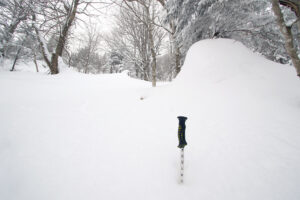 I was also checking snowpack depths along my tour, and I was already getting 40" snowpack readings at just 2,000'. On top of that, it snowed the whole time I was there – most of the time it was what I'd call moderate, probably in the 0.5"/hr range, but there were also stints where it bumped up to the 1"/hr range. The snowfall was typically large, upslope-style flakes, which can make it a little tough to gauge the snowfall rate because they just stack up so fast.
It's firsthand experiences like this though that have me rolling my eyes every time somebody gets going with the smack talk about Jay Peak and their snow reporting. My actual experiences reveal again, and again, and again that they really get a ridiculous amount of snow in that area.
My ski tour had me on Big Jay itself, and in the Big Jay Basin area today, and that southeast side of Jay Peak really seemed to be the epicenter for this shot of continuing snowfall. I can't say when all of it fell, and I believe I only saw 3" new on the snow report for the resort this morning when I checked. Reports I heard about said that the resort side of the peak didn't pick up nearly what the east side did, so the Jay Peak cloud was dropping its bounty there. Whatever the setup has been in terms of wind direction and Froude, etc., that Big Jay Basin area today was definitely getting hit. Something similar was going on with Hyde Park and Eden as well, to a lesser degree of course.
Indeed, my numerous checks on the snowpack today revealed that the area definitely avoided any real crust from Winter Storm Uri, so obviously that's going to help a lot with respect to the quality of the subsurface. The resort reported 6-8" from that storm, and although there wasn't a crust, that snow was still dense. The skiing was indeed fantastic with as much as 16" of that champagne powder in that area, but compared to last weekend, one can definitely nitpick a bit on the quality of the powder skiing. This most recent snow is so ridiculously light that it's easy to get down to the dense Winter Storm Uri snow if you're on more than moderate/blue pitch. Then you get to that region of dense snow, and if you pressure hard enough, you'll collapse that layer a bit because the powder below it is less dense. Essentially, the snowpack's got an upside down issue with respect to those second and third layers down. We're very much talking first-world powder problems here of course, but I figured it would be good to get the beta out there for anyone else thinking of heading out. Naturally, going as fat as you can will help with respect to staying up in the champagne layer, and heck, if it dumps more tonight, that surface layer of powder will be bolstered to make it even better.
Relative to Big Jay, I could definitely see the convenience of hitting Little Jay when coming from that lower parking lot on Route 242. Last time I was up there with the family in the general Big Jay Basin area, we actually did head more toward Little Jay, and we were in that drainage between Big Jay and Little Jay. I specifically went out today with the intention of just making turns in Big Jay Basin, but I left the option open to head up toward the main lines from Big Jay (in that general Jailbird Chute area) depending on what skin tracks were in place. There turned out to be a well-established skin track that headed right to that area, so my plan was to continue on it until it either disappeared, or I felt that ascending on skins was getting pointless.
On today's tour, it was somewhere above 2,000' when I found the first obvious split in the skin track – I literally came to a "T" junction with a skin track to the left, and the other option to the right. I was heading to the right toward Big Jay Basin, but the left option would have been a good choice for the Little Jay area.
"…right from the start of the tour, I was finding 8-12" of new champagne atop the older snow. Above 2,000' there was 12-16" of accumulation."
As I approached the 3,000' elevation mark on Big Jay today, the ascent was starting to get pretty silly on skins because progress was just so slow. It was around that point when I found myself sidestepping up a steep, narrow area between some trees where the person setting the skin track had essentially done the same. It was basically just a ski's width area, so you really couldn't even make any sort of switchback. That was the point where I knew I wasn't going to push too much longer on the ascent. The skin track still continued a bit farther, and I stuck with it a little while longer until the track really just became hard to follow in the packed snow of the main chute area. I followed a skin track (perhaps the same one, perhaps not) off to climber's right briefly before that seemed to disappear, and then I decided I would stop my ascent as soon as I found a reasonable spot for deskinning. I side-stepped up about an extra 30 feet or so through fairly deep powder to a nice sheltered spot where I deskinned and had a snack.
I'd been there for just a few minutes when a group of five skiers, ascending on skins, appeared below me. They said hi, and thanked me for setting the skin track. I let them know that I was just following an old one made by others and was stopping where I was. It seemed like they were just going to stop there as well, but they started breaking their own trail above me and continued pushing on. I actually debated putting my skins back on and following now that someone else was breaking trail, but after watching them get maybe another 50 feet or so over the course of 5 to 10 minutes, I knew I'd made the right choice. As a group, I think they were having fun together with respect to the challenge of trying it on skins, and that's probably the way to approach it.
I wanted to get back down into the lower basin because the powder skiing was far better down there anyway, simply because it's just so steep up on that face of Big Jay. You're not getting bottomless turns up there unless there's 2 to 3 feet of powder. The 12-16" of champagne was really nice up there, but you want even more for that upper terrain. Overall it's some fantastic steep skiing of course, but I was on fat Tele gear and planning for undisturbed powder on more blueish and blackish pitches, not semi-tracked super steeps.
So where I topped out was in the 3,000' – 3,100' elevation range, and I'd argue that it was already boot pack territory. Boot packing up there would also be quite slow though because you're pushing up very steep terrain with lots of powder. It would be a serious slog through the snow once you were off your skis if someone hadn't already broken trail, although you could stick to the more packed snow in some of the main chutes and that might offer some efficiency. I don't know how far that group of five went, but if they were going all the way to the summit at ~3,800', it must have been a lot of work. I'm sure one can make it up to the Big Jay summit by skinning that route, but it's probably something to do if you've got a lot of time and want the challenge, it's certainly not the efficient way to go. I do wonder if there's an approach from the Little Jay side that perhaps gets it done in a practical way.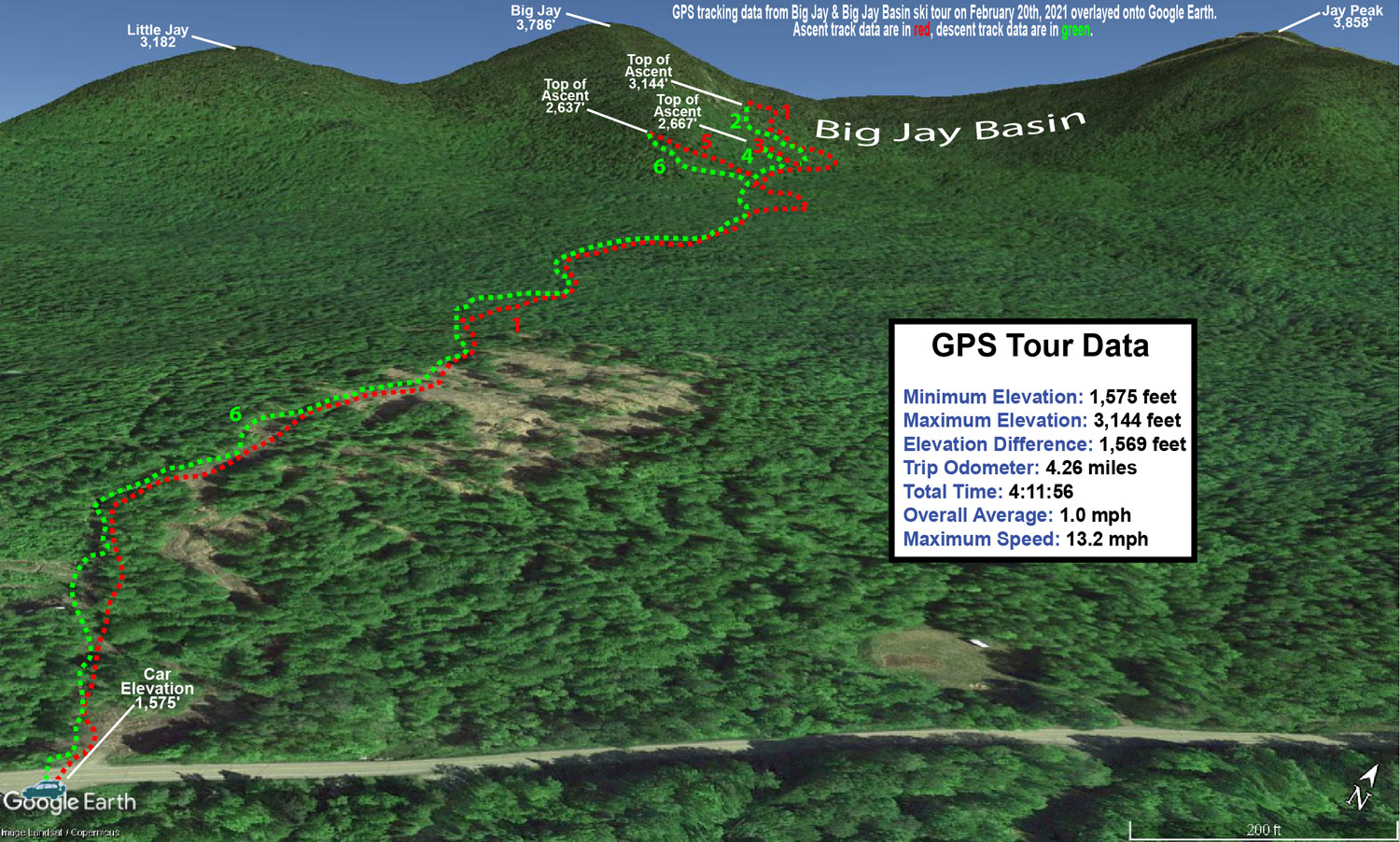 One definite theme out there today was a lot of visages of the sun through moderate to heavy snow with big flakes. It was pounding snow a lot on both my tour and my drive, so it made for some nice, snowy scenes.