Today had been looking like a good ski day for quite a while. The cold air was moving out to bring our temperatures back up into the 20s F, and low pressure from the Ontario/Quebec border passing southeast across our region looked to bring us more fresh snow. The weather models had been showing a nice shot of liquid equivalent coming into the area, and it seemed to hold some potential for a nice topping off of the current powder that's out there.
I was working on some exam questions in the early morning in my home office and had the blinds closed, but I eventually finished off a section and decided to take a break. I opened the blinds to find that we were getting hit with heavy snowfall made up of some massive flakes that were nearly 2 inches across at times. The forecast did call for some snow starting around 10:00 A.M., but this was a bit early, and the intensity was impressive. A quick measurement out back revealed that the snow was falling at a rate of around 2"/hr., and it was stacking up fast and dry with that typical consistency of upslope champagne.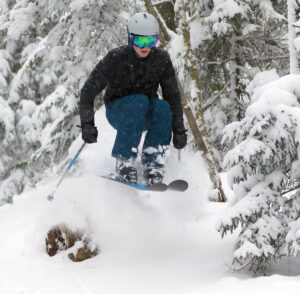 For today's ski session, the plan was to head out with Dylan, Colin, and Parker, and there's nothing like seeing the heavy snow pounding outside your window to kick the mood up a notch. I didn't wake Dylan up immediately because I wanted to make sure he had the sleep he needed, but when I did check on him a bit later it turned out he'd been up anyway. He hadn't opened his blinds, but he'd already gotten a text and picture from Colin; the same huge flakes had been pounding down at his place as well.
With the new snow not coming in until mid-morning, we'd planned on a late morning start up at Bolton Valley. That timing worked out well, because they'd already picked up a few additional inches from the intense snowfall. And, the snow that had just fallen was the perfect consistency to top off all the powder that was already out there – my morning liquid analyses from the house revealed that the snow came in at just 1 to 2% H2O. So, it was incredibly dry and set up some excellent right-side-up, bottomless powder skiing.
I had a tour planned that brought the boys around to some of the lesser used areas of the resort, so they had a great time and got to ski plenty of untracked powder. I'd say powder depths we encountered were generally in the range of about a foot, and there's well over an inch of liquid equivalent in that surface snow now. With the new champagne on top, it skied quite well and was typically bottomless in the case of first tracks. You're still hitting bottom at times on the steepest slopes, but that old base is becoming more and more distant with every one of these storms that comes through the area. On that note, it appears as though we've got another storm cycle on the doorstep for tonight into tomorrow.