Saturday was another potentially good day for some backcountry skiing in Northern/Central Vermont, since snowfall had again been rather minimal in the area during the preceding week.  At the house in Waterbury, we'd picked up just 1.4 inches of snow in the Sunday/Monday range from a storm that favored parts of Maine and Southern New Hampshire with up to a foot, and then 1.6 inches of snow in the Tuesday/Wednesday timeframe from an upper level low coming out of the Great Lakes.  As for the mountains, I saw accumulations topping out in the 4 to 5 inch range for the Bolton through Sugarbush stretch, with amounts tapering off to the north.  The forecast on Saturday called for a cold start in the 0 F range, but brilliant sunshine and eventual temperatures in the 20s F.  Weather wise, it was an excellent time to get outside.
"The combination of settling
and the thin breakable
crust in some spots made
things tricky at times,
but it was all soft and fun."
With the snowfall thoughts in mind, the plan was to do some skiing off the west side of the Camel's Hump/Mt. Ethan Allen area.  Unfortunately, on Friday we found out that Tom had tweaked his knee and ankle at soccer, so the ski group for the day was going to be just James, Ty, and myself.  We met up with James in Huntington Center a bit after 9:00 A.M., and decided on an initial plan of heading up the Forest City Trail to do some skiing on the lower flanks of Mt. Ethan Allen (3,674'), the next prominent peak south of Camel's Hump.  We headed up Camel's Hump Road, finding that the access to the Forest City trailhead was going to be difficult because the road there wasn't plowed in the winter.  There was a little room along the snowbank to potentially park a couple of cars, but a more important factor in our case was the added distance to get to the trailhead.  Ty's backcountry range is not that great yet, so we weren't looking for a big approach.  There was the option to connect over to the Forest City Trail from the Burrows Trailhead area, but we decided to just do something simple off the Burrows Trail.  James had commented to me earlier that there was going to be a temperature inversion in effect, and that was indeed what we saw on our ascent of Camel's Hump Road.  From down in Huntington Center (690') where the temperature was somewhere in the middle single digits, the temperature was up around 10-11 F at the trailhead parking area (~1,900').  The lot was about half full, and while we geared up, we could see that several parties of people were heading out for hikes on snowshoes.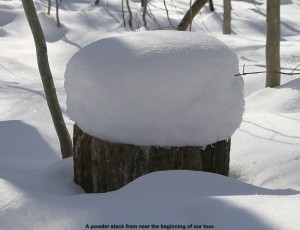 Starting up on the Burrows Trail, I checked the snowpack and found a couple inches of fluff on top of a generally thin crust, atop a lot more settled powder.  A few of the lower elevation stream crossings on the trail were open with small gaps, and that represented a bit of a challenge for Ty, but he managed well.  We didn't have any lofty goals in mind other than getting in a little skiing, since our ultimate destination would likely be affected by Ty's mood and stamina.  Our pace was pretty slow with Ty taking his time, but it was an easy go, and everyone's skins were working well on the packed trail.  There were lots of dogs, lots of people on snowshoes (including a bigger group that seemed to be from the UVM Outing Club), and we also saw a party of about four skiers that passed us on their way up the trail.  One of the more interesting sights was a woman coming down trail at breakneck speed on a sled that looked like a booster seat.  We made sure to move out of her way, but she seemed to be very conscious of the uphill traffic and stopped easily.  James inquired about how her sled worked, and she demonstrated that for braking, you just lean back.  I know that people like to use those Mad River Rocket-style sleds on the trail and elsewhere, but this was the first time I'd seen what this woman had.
Up to about the 2,300' elevation mark the surrounding vegetation was on the brushy side, but above that point it began to thin out and the potential for skiable lines looked a little better.  Off to our right, we could see some open, moderate angle slopes across the big gully that had begun to parallel the trail, and off to the left we could see the more obvious lines that steepened on the way up to Bald Hill (3,041').  Ty had some good bursts of skinning speed when we kept him motivated, but as inquiries about how far we were going and when we would get to ski became more frequent, we decided it was time to think about our descent route.  Heading off to the left for the lower slopes of Bald Hill was going to make things easiest for getting back to the trailhead for Ty, so a bit above 2,500' when we hit one of the skin tracks breaking off the Burrows Trail and going in that direction, we took it.  The change of scene was enough to keep Ty motivated for a little bit longer, since we were able to tell him that we'd be able to descend soon.
We headed up into the glades a little farther, reaching an elevation of about 2,700' before Ty seemed to be getting just a bit too antsy.  There were plenty of good lines available with untracked snow, but we could see that taking them would mean dropping right back down to the Burrows Trail almost immediately.  So, we continued to contour westward to get something that might drop a little more directly to the trailhead.  We could only traverse so far though, since Ty knew we were close to skiing and his inquiries started up again.  When we finally called it on the traverse, James and I skinned up a little farther to catch a nice looking line, while Ty waited just below us.
The skiing was good, and definitely worth the hike, but certainly not perfect or quite up to what I'd found off the Monroe Trail the previous weekend.  The combination of settling and the thin breakable crust in some spots made things tricky at times, but it was all soft and fun.  Ty stuck with just alpine turns, but had a lot of fun catching air and working on his jumping technique.  Our extra traversing had bought us a little longer descent, but we still dropped back to the Burrows Trail pretty quickly.  Instead of trying to ski on and near the trail, we took a traverse out to the west with the aim of eventually dropping back down to the parking lot to finish our run.  I used the GPS for route finding, and as is often the case, James went by his natural sense of direction.  The biggest issue with the traverse was that like on the Burrows Trail itself, a few streams were still open from the previous warm weather.  They weren't too hard to cross since there were still snow bridges around, but Ty's smaller skis definitely set him at a disadvantage for spanning some gaps.  We helped him across when needed.  Even with the aid of the GPS, I overshot the parking area by about 100 feet or so and had to swing back during my final descent, while James nailed it right on.