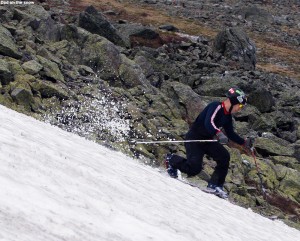 Since the end of the school year was keeping E rather busy last weekend, the boys and I just made a quick day trip out to ski the Mt Washington snowfields on Sunday. The turns were good, and with things lightening up for E by this weekend, we again kept our eyes on the weather for some possible camping and skiing. The forecast ultimately looked even better than it did for last weekend, suggesting warm, dry weather both Saturday and Sunday, so we packed up and headed off to New Hampshire yesterday around midday.
"…Ty started banging out
runs pretty quickly on that
upper section because he
really liked the short hike
back up."
We set a course for the Glen, NH area to see if we could get a site at the Glen Ellis Family Campground similar to what we'd had last spring. We'd never been to the campground before that trip, but we really liked the riverside campsite we had along the beautiful Saco River. Since the Sunday forecast looked even a bit better than Saturday with respect to the potential for clouds and wind, we headed right to the campground yesterday and found that they had a number of the riverside campsites available, even ones with electrical power, which we find great for charging up various mobile devices. It was a warm afternoon in the 80s F, and tubing on the river was a popular activity. They've really got a great setup there for running laps in the river; you just ride down as far as you want, and walk your tube back up along the edge of the campground. We spent a chunk of the afternoon working on Dylan's throws and playing some disc golf in the campground's massive grassy fields. After we'd spent so much time practicing, it was great to see how often Dylan was able to hit the disc golf basket. We then had dinner at the campsite, and finished off the day with some evening exploration of the shoals and islands in the river. Dylan discovered that the campground had Wi-Fi, and we had an excellent signal even all the way out by the river, which is almost a half mile away from the main office. They must have an impressive wireless setup to be able to span the 65 acres of their campground. I did a test on Speedtest.net and found that the upload and download speeds were both 1.0 Mbps, which is plenty of bandwidth unless you need to stream video or do something similarly intensive.
This morning we had breakfast, gradually broke down the campsite, and headed north on Route 16 for the quick trip to the Mt Washington Auto Road. Thanks to the available Wi-Fi at the campsite, I was able to do a check on the Ravines Cam to see the current state of the snowfields. It was clear that the main Ball Crag Snowfield had lost a lot of snow in its middle sections, and the snow had the look of a backwards letter "C". The main area of the East Snowfields had broken up a lot, such that largest remaining section didn't seem to have much more vertical than what seemed available on the Ball Crag Snowfield. With that information and our knowledge from last week about the ease of access, we decided that the Ball Crag Snowfield area was still probably the best bet for today's trip. After reading another trip report at the Time For Tuckerman Forum last week in which someone monitored their gas mileage up the Auto Road, we decided to monitor ours, and found that it was right around 9.0 MPG up to the 5,700′ parking area in the Subaru; since the other report indicated that they managed 10 MPG in a hybrid vehicle, and we were loaded with four passengers and lots of camping and ski gear, I guess that's not too bad. Presumably there's not much gained in a hybrid on a long, continuous climb like the Auto Road, but whatever vehicle it was, it's likely to be a fuel efficient one anyway. As we unloaded our gear, one of the Mt Washington Auto Road Coaches passed by, and the driver reminded us to make sure we stayed on the rocks so that we didn't harm any of the fragile alpine flowers and other vegetation. I hadn't seen much vegetation flowering last week, but he noted that some of the flowers were just starting to make their way up to these elevations now. It actually wasn't as sunny as we thought it might be, and gray clouds almost looked like they might throw down some precipitation, so everyone packed light shells in their packs just in case. Being just a few minutes from the car, we find that one can pack minimally if they want to, but if rain really came down, we'd want to have something on hand.
It was again a short trip to the snowfield, and we could start to get a sense for how what the ski options were going to be. Since last week, we could see that there hadn't been too much change in the areal snow coverage in the upper section of the snowfield, but the lower section showed dramatic differences due to the past week's melting. The lower section was much smaller, and the snow was no longer continuous into that area. That made laps in the upper section most practical, and Ty started banging out runs pretty quickly on that upper section because he really liked the short hike back up. E slid out a bit on her first run and even got into the rocks at the bottom, but she was OK – it was definitely the most dramatic encounter with the rocks we've seen though, even more than when Dylan got into them a little bit last week. We often talk about how much we really need our helmets on these outings on the snowfields, since there are rarely other skiers around, but E's slide was another great example of why we make sure to wear them. As she was sliding, even though she was in good shape being feet first, she was very happy to know that she had that helmet on. Ty kept cranking out the runs, and even Dylan whipped out a couple of quick runs before taking a break. I started to make some runs to see if I could catch up to Ty, but every time I'd take a run, he would do another with me, so there was no catching up that way. He was having fun with that, knowing that as long as he did a run every time I did, there was no way that I'd be able to catch up. It made for some fun runs where he worked on mirroring my turns, and although I couldn't see him while we were skiing, now that I look at some of the photos, I can see he was doing a really nice job. For our last run, Ty and I connected down to the lower snowfield for a few extra turns on our way to hike out, so in the end we called it an extra quarter run, so Ty wound up with 7 ¼ runs to my 4 ¼ runs, with Dylan at 3 runs and E at 2 runs. We joked with Ty that he didn't even do as many runs as the rest of us, because before that last run, he was quite proud that he had! The sky remained with one and off gray and sometimes fluffier clouds, with the occasional break of sun, and fortunately there were no signs of any precipitation.
The boys had wanted to head up to the summit of Mt Washington and visit the Sherman Adams Summit Building on our last outing, and we didn't really have time, but this time we'd planned on it, so we stopped in at the visitor's center for a while. We used our tickets to the new exhibit area in the museum, which is focused on the extreme nature of Mt Washington in the winter, and indeed it has been heavily updated relative to what was there before. The whole area seems very new and modernized all around, and there's some impressive use of high-definition screens and other video technologies. It's certainly worth a visit to the new exhibit if you have not seen it since it's opening in May. We stopped in Gorham for a bite on the way home, and ate at one of the picnic benches on the Gorham Town Common, where the boys hit the playground for a bit. I'd say that's just about it for the snowfields this season, so most of the activity will be shifting to Tuckerman Ravine. For some strange reason, the availability of snow only seems to decrease this time of year!