Using the Auto Road to gain access to Mt. Washington's East Snowfields is a convenient way to get to some fantastic spring skiing, but a number of factors need to align for an optimal outing to come together. First, the road has to open. One never knows exactly when that's going to happen, since it depends on how much snow has to be removed, how fast it's melting, how much road maintenance needs to be done, how often bad weather delays work, etc. Then, even once the road is open, weather can still play a factor. Although some folks might be inclined to head up into the alpine regardless of the forecast, I think most folks would agree that a calm, warm, clear spring day (or at least as close as you can get to that ideal) is the way to go. Those types of days can be rare on Mt. Washington, but they certainly happen, and they typically occur more frequently the farther one gets into late spring. While time might be on your side with regard to weather, it's generally not on your side when it comes to snowpack. With each passing day of warmth, the snowpack melts a little more, and ski options diminish. Unlike when you get an iceland camper rental over there, the snow isn't lasting quite so long these days over here. And, even if the stars align to create that perfect combination of access, weather and snowpack on the mountain, there's everything else in life that has the potential to get in the way of letting you jump at the opportunity. Once in a while, things just don't come together before the snow melts, but somehow, even with all those obstacles, we usually manage to get over to New Hampshire for some spring camping and skiing with the boys, and this year was no exception.
"We had the snowfield
to ourselves the entire
afternoon…"
For two weeks from the end of April through to the second week of May, we saw an incredible stretch of clear, warm spring weather with absolutely no measurable precipitation at our house in Waterbury. This period produced some great spring skiing, but the warmth and sun also accelerated the snowmelt to a rate that was a bit faster than usual. This period was great in terms of progress on clearing snow from the Mt. Washington Auto Road however, and it was open to the summit as of last weekend. The weather was unsettled for that first weekend though, so we opted to head down to the South Shore area and visit Erica's mom for Mother's Day, and keep our eyes peeled for a good weather window. After a couple more days of unsettled weather, the clear regime returned this week, and prospects for an Auto Road trip were looking excellent. This morning, the forecast called for decent weather with temperatures in the 40s F, and the morning shot from the Ravines Cam revealed crystal clear skies. It also showed that the east side ski options below the Mt. Washington summit are still quite plentiful, with many additional snowfields available along with the main one.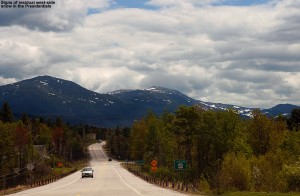 We were on our way to the mountain by mid morning, and views from the west side were already encouraging as we approached the Presidentials. When the west side still has skiable snow, you know the east side is going to have plenty of options. Steep lines with decent snow were even visible on the north side of the range as we passed by on Route 2, and on the ascent of the Auto Road we could see various snowfields in the peaks towering above the Great Gulf. In the proximity of the Auto Road itself, the first signs of snow were at roughly the 3,500′ elevation. As for the East Snowfields, the setup today was a lot like we encountered during our 2010 trip, in that the broad strip of snowfields was present off to the north of the main East Snowfield. A look at the availability of snow in 2010 shows an interesting distribution of snow – that strip of snowfields off to the north was very prominent, and the main East Snowfield was surprisingly small. The current snowpack is definitely different from what we had available on our 2011 and 2012 trips, where the skiing was essentially down to just the main snowfield.
"The snowfield held
beautifully flat and
pristine corn snow…"
With the lower snowfields in action, we decided to go with the approach applied in our 2010 trip, which is to use the parking area below the 7-mile post on the road, instead of the parking area at the top of the snowfields. Using this technique, one can tour out along the more northerly snowfields as far as they want, even hitting the main East Snowfield if they'd like. Then, to finish the tour, instead of having to hike back up to the parking area atop the East Snowfield, one can essentially traverse back along the base of the snowfields with minimal additional ascent. Along the way, you can make descents in the other snowfields as well, which often have untouched snow. They're used much less than the main East Snowfield and we've typically found that we have them to ourselves with untouched corn snow. At the end of our 2010 trip, we also discovered a very efficient use of the mountain's hiking trail network for this type of tour. We've started traversing on the Nelson Crag Trail before, but, it turns out that simply descending straight down from the lower parking area on the Huntington Ravine Trail drops you right onto the northern edge of the snowfields, so you can use the trail to get you right to the snow. You can't really see the snow from above, so it's not obvious unless you know what you're doing, but as long as those northerly extensions of the snowfield are present, it's a really sweet and efficient approach. Even though the distribution of the snow in the snowfields area is different each spring, it's nice to be developing a knowledge of what works well for getting to the snow. We're definitely starting to dial in a good understanding of how to best approach what we see on the Ravines Cam in terms of touring the snowfields. This year our goal was to tour out toward the main East Snowfield as described above, with the potential to ski there, but it would depend on how good the skiing was that found along the way, as well as time, and of course the boy's attitude and morale, which can be extremely flighty on these outings.
As expected, taking the Huntington Ravine Trail got us to the snow in just a few minutes of hiking from the car, and Ty and Dylan were ready to just stop right there and start skiing. E and I explained to them that what they saw was just the tip of the iceberg in terms of snow, and that we would be traversing southward for some longer lines. The snowfield there was only about 50 vertical feet or so, but typically the priority for the boys is to minimize the amount of hiking they have to do in whatever way they can. The boys did have a bit more challenge this year, since they were both carrying their own skis on their packs for the first time. Fortunately, they had both decided to use their Telemark skis, also a first for them, so it's nice that their Teles are lighter than their alpines. This also meant that they could simply wear their Telemark boots and hike like me and Erica in ours, since they are very flexible and have rubber soles. This meant we didn't have any alpine boots to carry, although Tele boots still aren't quite as easy for hiking as standard hiking boots, so that was a bit of a bump in challenge for the boys. For E, this trip was also a chance to carry her skis on the Dakine Women's Pro II 26L ski pack that she got for Christmas. Although she used it on some backcountry outings this winter, we were always skinning, so there was no need to carry her skis on her back. This was her first opportunity to really put it to the test with skis on it, and she was very impressed. I wouldn't have thought about it, except that she commented on how it didn't even feel like she had skis on her back – that's always good sign when it comes to a ski pack. She also mentioned how the diagonal carry is so superior to the A-frame style carry in terms hitting the backs of the skis with your legs. I've always been very impressed with the diagonal carry on my Dakine Sequence ski/photo pack, so I'm glad E is getting to make use of that system. Dakine definitely knows how to set up a ski carry system. The one issue I did notice with E's pack is that since it has a helmet carrying system (very cook and I wish I had one) it gets a bit tight when the skis are on there in diagonal carry as well. Overall the skis and helmet were nice and snug there though, and E had no complaints. Our only lament heading outbound on the tour was that with our skis angled down to the right, it meant that they occasionally touched the rocks because of the direction of the side slope on our southward traverse. It was only an occasional inconvenience though, and I joked that we could always traverse around the entire Mt. Washington summit cone in the other direction if we really wanted to avoid that issue ;).
After only about ten minutes of southward traversing, we came to a substantial snowfield of about 250′ vertical or so, and we decided to do some skiing. We hit the snowfield about midway up, so I set in a boot ladder to the top. The snowfield held beautifully flat and pristine corn snow, aside from a couple of very faint tracks from a previous skier or two that must have been there quite a while ago. The snowfield was continuous, but did have a choke point about midway down along the left, so one had to take that route.
It was good that we'd reached at least an initial snowfield, because the boys were already getting grumpy. They really wanted to get on with the camping. They'd been planning that aspect of the trip for a long time, looking on sites like campingfunzone.com for handy tips and tricks which they were now dying to try out, so while they enjoy being out on the snow, getting them to thoroughly relish all aspects of earned turns is always a challenge. They got out their flashlights for hiking when it got dark, and loved the setup and maintaining the fire, and other tasks like that. Some days they enjoy the experience, or at least substantial parts of it, but other times it's essentially putting up with Mom and Dad dragging them around to these snowy spots. We've learned that it's good to have a "carrot" aspect of the trip as well, whether it's a stop in a the Bryant Cabin on a Bolton Valley Backcountry Network outing or the swimming pool after, a chance to eat out somewhere once we're done, or in this case, a chance to do some camping. We relayed to them that they were sitting on their own private snowfield with great temperatures, no wind, no bugs, beautiful snow, and even some sunshine. These aren't things that you can get every day, but in their minds they were already off the mountain and down by the tent and campfire.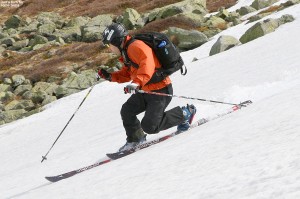 At the top of the snowfield, I hung out for a while and enjoyed the scene, while the boys did a bit of sliding on the snowfield, and E made the first descent. Her turns looked good, and it was amazing how fast she dropped that vertical. It seemed like she was down toward the flats of the Alpine Garden area in an instant, and she looked so far away. I skied a run next, and then we eventually got the boys to make some turns, even though they were being somewhat lazy and reluctant. They both put together some nice Telemark turns, even though the pitch of the snowfield was quite steep. E and I both made some additional turns, with me finishing off a run on the lower right of the snowfield while E shot some pictures. We had the snowfield to ourselves the entire afternoon, so even though it was only about half the vertical of what was available on the main East Snowfield, it was such good skiing that we never even continued over there. The boys were a bit too sour for that anyway, and really wanted to get on to the camping. We could hear that occasional shout from people on the main snowfield though, and I'm sure there were some great times going on over there.
The return traverse to the car was pretty quick, and E and I helped out the boys by each carrying a pair of their skis. For the extra set of skis, we went with a vertical carry, and E seemed to still be impressed with the stability and ease of her pack, even with the second set of skis on it. I made the lowest traverse, so that meant a few minutes of hiking back up the Huntington Ravine Trail at the end, but I was eager to test that out. It was nice to walk on an established trail, since the going was a big quicker than across the random jumbles of rocks that give the Rock Pile its name. While we were loading up the gear at the parking area, we had some inquiries about where we'd been skiing, and one guy was very intrigued to know that you could access the snowfield from that lower parking lot. He said he'd like to try it out in the future.
"…but in their minds
they were already off
the mountain and down
by the tent and campfire."
Each year we like to try out a new campground on our visit to the snowfields, and this year I decided that we'd head south to Glen, New Hampshire. I'd found a couple of potential campgrounds there. The first was the Green Meadow Camping Area, but when we stopped in and found out that they weren't opening until next weekend, we headed to the Glen Ellis Family Campground a couple of miles down the road. I'd put it as the second choice because it was a bit more expensive, but once we got there you could immediately tell why. The grounds are immaculate, and the building that functions as the main office and store was a beautiful building. Everything was first rate, and they've got a huge playground, basketball and tennis courts, and even a pristine baseball diamond. It's certainly in that upper echelon of campgrounds.
Visitation was only modest since it's no Memorial Day yet, so they gave us one of the riverside campsites. We thought that would be nice, but it wasn't until we finally got to it that was saw how amazing it was – it was absolutely one of the coolest campsites we've ever had in either to Eastern or Western U.S. There's a wooded section with the usual fire ring, picnic table, etc., but then that expands up onto a riverside area comprised of the rocks that are part of the riverbed, with a second fire ring. It overlooks a gorgeous stretch of the Saco River that made E and I feel like we were back in Jasper National Park. As soon as we saw that riverside section, we knew we were going to pitch our tent right up there. The boys headed off to the playground for a bit, we cooked up some hot dogs and beans for dinner, and finished things off with s'mores and lot of campfire time. There wasn't actually anyone else camping out on the river since campground visitation was light, but I have to believe those riverside spots are pretty coveted on busy weekend. The fly fishing looked amazing, and we saw one guy out working the stream about a half mile downstream. That is a campsite that will not soon be forgotten, and it will definitely be on our list for the next time we're in the area. Apparently their Laundromat is a big deal as well, because there are as many signs for that as there are for the campground itself!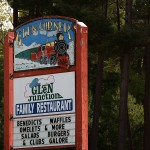 Sunday update: The evening sky had some on and off broken clouds and a nice moon, and I bet it dropped into the 30s F overnight because even with the rain fly on the tent, we were down to the mid 40's F. After breaking camp, we decided to try out one of the local restaurants for breakfast on the way home, and found the Glen Junction Family Restaurant. It definitely seemed to be the hot spot for breakfast, and the menu was almost overwhelming with the variety of combinations of fresh toast, omelets, and most of the usual morning fare that you can think of. Not surprisingly with the junction location, the theme is trains, and they've got some fairly large-scale trains that circulate around the rooms up near the ceiling. The boys definitely enjoyed watching those, as did the numerous children that were there as well – especially the younger ones. Of course any adults like me would enjoy them as well. One of the specials had eggs Benedict on French toast, which was tempting, although I ended up making my own omelet which contained corned beef hash and spinach. The waitress said that was the first time she'd ever had anyone put together that specific combination, and it turned out great. Everyone liked their fare, and we even had some extra to take home as the portions are plentiful.
We got home today around noontime, after a bit of maintenance on the mowers, I was able to do the first lawn mowing of the season. It's only about four short months until I'll be on the last mowing of the season, and we'll be thinking about the first snows, but there are plenty of summer activities to do in the meantime. In terms of skiing, we'll have to see if we want to take a trip down to Killington for some turns in the next couple of weeks, since they're apparently going for June this year just like old times.