On Friday, we got another update on the state of the snow on Spruce Peak from one of Powderfreak's frequent Stowe hikes, and I could definitely see that the width of the available snow had contracted some since when I was there on my Sunday outing.
I had enough extra time today, so I headed back out to Stowe for a hike and some more turns. Based on what I'd seen on Spruce on my last outing, as well as the views across to Mansfield at that point, I decided it was time to check out something by the Mountain Triple. There's some easy access snow right down to the base over there, and that fit the time I had.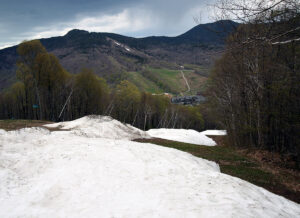 As I walked along past the Triple, I surveyed the snow situation and headed toward Lower Standard, which seemed to have the best coverage. That area makes for a pleasant stroll because it's generally quite grassy with modest pitches. Somebody had built the shape of a heart out of rocks on the ground near the ropes course, so that was kind of a nice accent to the area. The snow on Lower Standard is definitely more broken up than what it was a week earlier, and there are a couple of gaps near the bottom that are really best walked vs. trying to skip across on your skis.
That afternoon we had thunderstorms in the area, and as usual, there were some great views surrounding the resort and toward the Notch as the peaks worked their magic and forced the clouds around. While I was hiking I started to hear thunder to the east and northeast, off past Spruce Peak and over toward Madonna and Sterling. Eventually I started to see some tendrils of virga over there, and the thunder was becoming more expansive. I was just getting up toward the Crossover elevation, which was about where I was going to stop anyway because the snow petered out there, but the timing seemed good with the thunder building. I started seeing the first visible flashes from lightning just as I was getting back to the car, and the first drops of rain began to fall, so that timing really did work out well. I would have stayed around for some lightning photography over toward the Notch, but none if was producing visible bolts, it all seemed to be well up in the clouds or too distant.