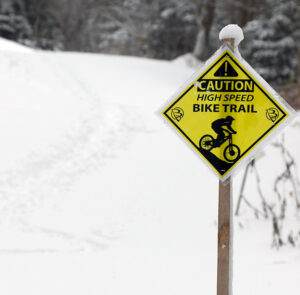 Last week we had an early season storm that dropped some snow up here in Northern New England, and some notable amounts down in Southern New England. Looking beyond that event, there was a signal for some snow in the Northern Greens developing by Thursday, that signal continued to grow on Friday, and by Saturday, the National Weather Service in Burlington was calling for a foot of snow in the local peaks.
It was hard to tell if we were going to see one extended storm during the Sunday through Tuesday, or a couple of discrete systems, but by Sunday afternoon, snow had started in the mountains. The precipitation started as rain down here in the valley, with fairly high snow levels, but we had changed to snow at our house by yesterday morning. E told me that the snow had started around 5:10 A.M., and the snowfall at our house continued at roughly an inch per hour all morning.
The snow tapered off in the afternoon, and then in the evening, the second system came into the area. That storm delivered another several inches overnight, and in the morning, I head up to Bolton for a ski tour.
In terms of the ski conditions it was certainly a fairly typical early season affair, and I'd say waiting for that second storm to put down the extra snow was the way to go. I opted to tour up at the main base, and there were clearly at least a couple more inches of settled depth up there (~2,000') vs. what I found at the Timberline Base (~1,500').
I could tell from the get go as I was ascending the Lower turnpike skin track and watching other skiers descend there, that the density of the snow was going to call for more moderate angle terrain vs. low angle terrain. The snow was fairly medium weight powder, which was of course good with respect to providing some base for skiing. There was obviously no existing snowpack below these storms, so if these recent snow had been 2-4% H2O champagne, there would have been a lot of dicey contact with the ground. But, this medium weight snow was dense enough that there was just too much resistance for low angle terrain – skiers and riders had to straight line their way down and/or use old tracks to keep moving on those angles.
Here's the settled snow depth profile I observed during my tour:
340': 4"
1,000': 4-6"
1,500': 6-8"
2,000': 8-10"
2,500': 10-12"
3,000': 12"+
Terrain in the medium to low-angle range was required for solid turns, and that meant that it was a balancing act between choosing terrain that had enough pitch for turns, but not too much pitch that you were going to be outskiing the available snow depth. There was also the factor of finding relatively protected terrain – that first storm especially, had some ridiculous winds, and scouring of the exposed slopes was rampant.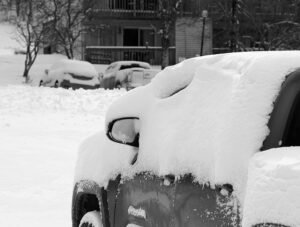 So, good knowledge of the local terrain was important, but once you found the appropriate setup there were some nice midwinter powder turns to be had. There was as always that exercise of not going too steep, aggressive, or rocky to outperform the available snow, so of course having knowledge of those grassier options was important in providing the best ski experience.
It was a solid first day out at the mountain, and it looks like we've got some warmth coming in the next week or so before we have any additional chances for snow.