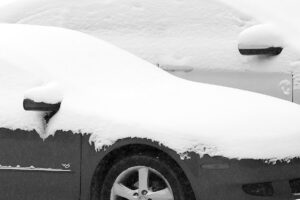 The very cold air was still in place today here in the Northern Greens, but we also had some fresh snow moving in with a bit of weak upper-level vorticity pushing through the area. Temperatures at elevation looked like they would stay in the single digits F, so ski touring once again seemed to be the call vs. riding the lifts.
We'd picked up a half-inch or so of new snow down at the house when I headed up to Bolton Valley in the mid to late afternoon. Flakes had been small throughout the storm, so accumulations were coming in a bit on the denser side at around 10 to 12% H2O. I found the same type of snowfall up on the hill, although it was coming down with a bit more intensity. You could see that vehicles had taken on some decent accumulations from the day's snowfall up to that point.
My ski tour was over in the Holden's Hollow area, and my initial descent was down through some of the C Bear Woods and Holden's Hollow West Side Glades that I've hit many times before. Based on yesterday's Wilderness tour, the sweet spot for best turns based on the depth and consistency of the powder seemed to be those mid-angle slopes, so that's what I was seeking out. Today I was touring at relatively low elevation in the 2,000' to 2,500' range, and depth measurements revealed a similar 8 to 10" of powder to what I'd seen yesterday. That surface snow was bolstered a bit by what was falling, but the liquid equivalent from that snow was only about a tenth of an inch, so it wasn't a major addition. Those mid-angle slopes delivered once again though, with generally bottomless turns on 115 mm fat skis. I mixed things up a bit on the tour to explore some new terrain and continued my descent on the back side of the ridge down below the Telemark trail to the Maple Loop area. I then joined back on to a lower part of the Telemark trail and looped back around to the Holden's Hollow area again to finish off with a front side descent.
Although temperatures weren't supposed to be all that different from what they were on Friday, I think they were a few degrees warmer, and with the absence of those 30 to 50 MPH winds, the difference was dramatic. The air was quite calm while I was touring, and the snow was falling straight down, so the overall conditions were just much more comfortable and easy to handle.