As the spring semester winds down, many of our graduating biochemistry majors here at UVM have been getting out to enjoy the remaining snow in the mountains of both New Hampshire and Vermont. I've been hearing some fun reports, so when Rob invited me to join one of their Mt Washington adventures, I was definitely interested. His plan was for the Tuesday of senior week, weather permitting of course. My schedule looked good, so I was hopeful for the chance to commune with some of the seniors in the great outdoors before they'd begin departing after graduation.
"We could see that there had been some sloughing there due to the new snow, but the lower areas we could see looked quite settled and stable, and there had already been plenty of skier traffic in the gully."
Mother Nature threw some rather interesting weather into the mix ahead of the planned trip, with Mt Washington picking up almost 3 feet of new snow at summit elevations over the past couple of days, and over a foot down at Hermit Lake. That was a lot of new snow, and the avalanche report suggest that northerly winds would be loading the more southerly-facing gullies and cross-loading the east-facing ones. Temperatures were expected to rise significantly today, which we knew would result in plenty of settling depending on elevation. There seemed to be enough potential to find at least some level of safe skiing, so we decided that we'd check with the staff on scene in the Hermit Lake area, and the trip was on.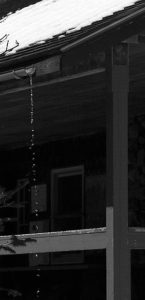 Only Rob and Emily ended up being able to make the trip, but I met them at the Pinkham Notch Visitor's Center, and after getting our gear together, we were on our way. I've hiked up to the Tuckerman Ravine area many times, but with the new snow I decided to try a gear setup that I've never used before. Instead of brining two pairs of boots (hiking boots and ski boots), I wanted to just wear my mid-weight Telemark boots for everything, hiking and skiing. It turns out that the setup worked great; my Garmont Gara boots have got rubber Vibram soles so they were plenty comfortable and pliable on the ascent through a lot of dry, rocky terrain. Ascending from Pinkham Notch at ~2,000', we saw our first signs of snow at 2,650', and at around 3,400' the snow cover was continuous enough that I was able to start skinning there and made it right up to Hermit Lake. The new foot or so of snow had certainly helped with the potential for skinning – coverage would have been somewhat less continuous on that last part of the ascent without it.
We assessed the snow/ski terrain situation from there, and while most of Hillman's was visible with clouds just skimming the upper reaches, Tuckerman Ravine was generally socked in. After consulting with the staff at Hermit Lake, and using what we could see, we decided that Hillman's Highway was the way to go. Most skiers we encountered seemed to be making the same decision. We could see that there had been some sloughing there due to the new snow, but the lower areas we could see looked quite settled and stable, and there had already been plenty of skier traffic in the gully.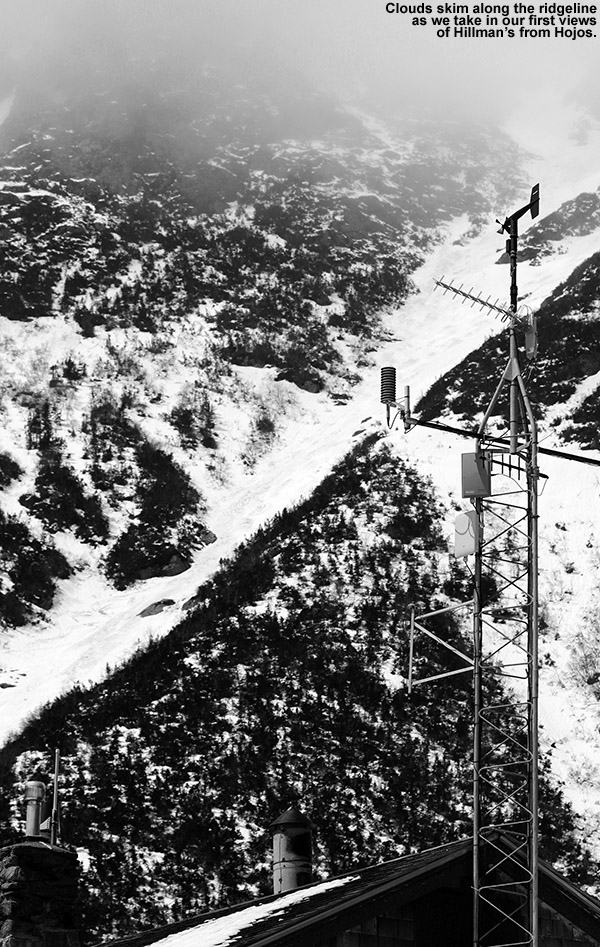 Emily and I skinned up the first part of gully, but around halfway it was just getting too steep and we had to switch to hiking. Thankfully there was a nice boot ladder already in place on climber's right. I stopped around mid-gully where I figured I'd still get plenty of descent, and set myself in a good position with my camera. Emily and Rob headed up to where the gully splits into a Y, and went a little farther up the climber's right option before settling down in a sheltered area of rocks. Above that point the snow hadn't been skied and was a little questionable, and in that regard they were on the same page as other folks skiing in the area.
The best skiing was in areas where there had been some skier traffic that got down to the older corn snow surface, and the toughest turns were in the mush that had settled down near the bottom of the gully. The Sherburne Ski Trail had actually opened back up a bit with the new snow, and we were able to ski about a third of it before we had to cut back to the hiking trail. After that the descent was quick, and we were back at the cars saying our goodbyes.
The new snow is going to get even better with a couple of freeze-thaw cycles, and it's certainly bolstered the snowpack somewhat in the higher elevations. Although they were in and out of the clouds, the summit snowfields looked really nice, so there should eventually be some excellent skiing up there with easy access as soon as the road opens back up.