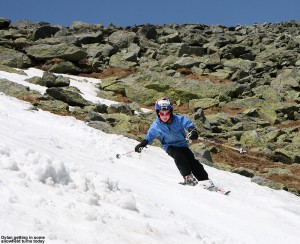 It's becoming an almost annual tradition that once the Mount Washington Auto Road opens for its summer season, we head over with the boys for some skiing on the summit snowfields. It's not quite an annual tradition though, since there are years where an appropriate window of pleasant weather never presents itself to us before much of the snow melts out. But then there are those years like 2010; the snow was so plentiful on our trip that we could easily travel among different snowfields. The variability in weather and snowpack keeps these trips really interesting though; with the way that the weather patterns create different assortments of snow deposition each season, it never seems to be the same experience twice.
This year's auto road skiing season began last weekend, when the road opened with outstanding weather for getting out on the mountain. However, with other things on our plate, we had to wait until this weekend for a shot at some turns. After some clouds and a bit of precipitation midweek, the fantastic late spring weather returned, and we were set up for blue skies on the mountain. I'd been following the state of the snowfields in one of the Time for Tuckerman Forum threads, and coverage looked great last weekend. The amount of snow dropped off a lot this past week, but it still looked like we'd have more snow than we did for our trip last season, when we couldn't make it out to ski Mount Washington until June due to obligations and weather. It looked like both Saturday and Sunday were going to be excellent days on the mountain, and we decided that skiing Sunday would work best with our schedule.
I finished up some yard work yesterday, and then we headed off to New Hampshire in the mid to late afternoon. Our plan was to get in a night of camping at one of the New Hampshire campgrounds, and since we'd visited the Israel River Campground last year, we decided to try out the KOA in Twin Mountain this time around. Although it's Memorial Day weekend, we didn't make any reservations and just decided to play it by ear. As it turned out, we got the last available site at the campground, so we didn't even have to check out any other options. Even though it was the last available campsite, we really enjoyed the spot we got, which was under a bunch of stately white pines, and pretty close to the playground, pool, bathrooms, etc.
The boys really like the campgrounds with the added amenities, so we'll choose those sometimes, and of course as soon as we were at our campsite they were off to the playground. One of the neat features at the playground was this huge soccer ball that was as tall as Ty's waist; they had all sorts of fun kicking it around and launching themselves on top of it. At least we were able to pull them away from the playground for a bit to help get the fire started and finish setting up the tent. Instead of pulling wood out of our she, we'd purchased an armload of firewood from the campground, and I was happy to discover that the quality was good – it really got the fire blazing. Sometimes we've gotten that moist wood that just likes to sit there and smolder, and that's annoying. We cooked up the usual assortment of burgers, dogs, and beans for dinner, and then had time for some s'mores, where I created perhaps the best s'more ever. Dylan pointed out that since we hadn't actually seen all the s'mores in the world, we couldn't possibly know that, but I'm standing by my statement. I contend that mine could easily have been used in a magazine to create a model image of how a s'more should look.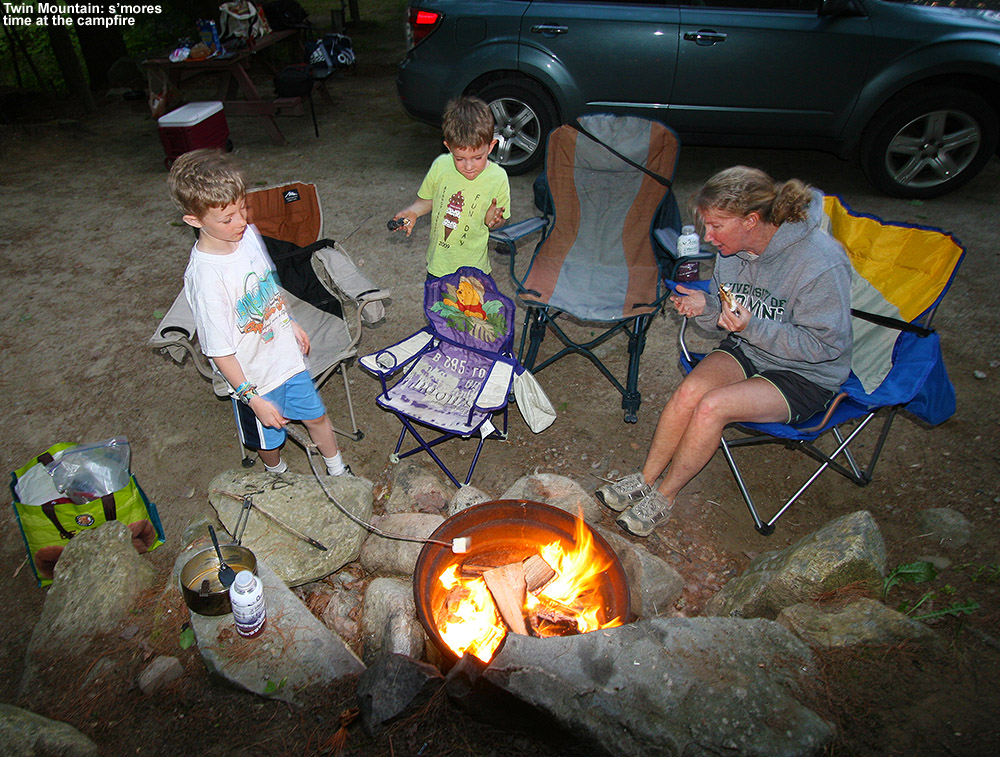 As we headed into the tent for the night, I was able to get on the internet (another benefit of campgrounds with amenities) and check on the forecast. With the nice dry weather, the Twin Mountain area where we were located was forecast to have a low temperature of 43 F – some classic Memorial Day Weekend weather for Northern New England and very similar to last year where the forecast called for the upper 30s F, although that was actually at the beginning of June. It looked like it was going to be comfortable sleeping weather, at least if we stayed in our sleeping bags. The high for Sunday was expected to be 74 F in the valley, which would probably translate into the 50s F up on the snowfields.
I woke up pretty early this morning, at the point where we were just starting to get some light in the sky. It was indeed chilly and I hung out in comfort in my rectangular sleeping bag watching some squirrels that seemed to be playing around way up above us in the towering pines. Ty was chilly when he woke up, so he huddled up in his bag as well. Dylan even hopped into Mom's sleeping bag with her, and pointed out that his bag has definitely been getting too small. He also added that this wasn't the first time he's told us about the size, and proceeded to hop in and demonstrate how his head is certainly sticking out, while his feet are crammed right up against the end of the bag. OK, we get it Dylan, we are definitely behind on getting you a new sleeping bag. Both boys are really in need of new bags though, and they are ready for some mummy-style ones, so I hopped on the internet and started looking around while we generally dozed in the tent. I found that several companies make nice bags for kids – I saw a nice review on one of the 20-degree bags from Mountain Hardwear, and that seems to be the frontrunner in the selection process so far.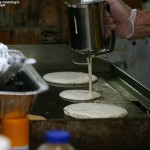 The campground was having an all-you-can-eat pancake breakfast so we stopped in there and had our fill. I enjoyed the batter dispenser that they had – you load it up with a bunch of pancake batter and it does a beautiful job of dispensing it evenly out of a funnel in the bottom. It was fun chatting with the folks that helped run the campground, they're really an enthusiastic bunch, and why not when you're spending the summer camping. E and I then got a chance to hang out on the front lawn in some of the wonderful Adirondack chairs that they've got assembled out there, and we watched the boys hit the playground with some of the other kids. I got a chair with arms that must have been 6 to 8 inches wide, and of course flat, like the arms of a real Adirondack chair should be. The wide arms are a hallmark of the chairs anyway, but these were fantastic for holding my last round of breakfast while I ate – if we get more Adirondack chairs, I'm going to be partial to those extra wide arms. It would have been nice to kick back there in the chairs for a while, but there was skiing to be done, and with the forecast calling for clouds moving in later in the day, the sooner we got up the mountain the better.
The clear weather held strong as we headed up to Gorham and wrapped our way around down to the Great Glen area to the start of the Mount Washington Auto Road. It's always nice when you start seeing those patches of white up in the high peaks, and they were definitely sparkling in the late May sunshine. The trip up the road went smoothly, and we threw in our copy of the audio tour CD, which is always a fun refresher of the history of Mount Washington and the auto road. I guess that there's actually a new version of the tour CD available, but the woman who helped us at the toll booth said to keep our old one because the narrator is better. When we arrived at the parking area above the snowfields, we were surprised to find only two other cars there at midday on such a nice weekend day. We weren't surprised to see that both cars were also Subarus though – skiers know what works well for getting you to the slopes. Whatever the snow conditions were going to be, it didn't look like finding space on the snowfield was going to be an issue.
The boys played around and headed off for a quick hike up Ball Crag (6,106') while E and I got the gear together. The weather was indeed pleasant as forecast, although with a temperature in the lower 50s F and probably a 10 MPH breeze, it was nice to get our ski pants and other gear on while we worked. After visiting various spots on the snowfields over the past few seasons, we've finally got a good sense for where the vestiges of the main snowfield like to sit at this time of year, so we dialed that descent in fairly easily – although you generally can't see the snow from above once the snowfield has gotten small enough, heading in the direction of Wildcat's ski trails will get you in decent shape.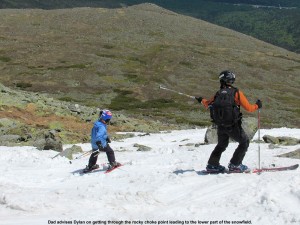 Unlike last year's trip, when the remaining snow was only toward the bottom of the general East Snowfields area, there is currently substantial snow much higher up, so even in our Telemark boots it was a quick five to ten minute descent today to get down to the skiable snow. We met a couple of guys from Time For Tuckerman Forums who are part of the Memorial Day Slackfest tradition, and had a fun time chatting with them. One was RR, who plays a big part in the gathering and sets up the poles for the slalom that they like to have on Memorial Day. RR and others have been keeping the auto road & snowfields conditions thread nicely updated with pictures, so many thanks go out for their work. They filled us in on the status of the snow while another couple was just hiking back up from a run. We were on the top of the main snowfield section, and it was broken up into three areas, with another similar snowfield down below us, and a smaller one off to the skier's left. Our snowfield had a choke point in the middle with some exposed rocks, so one had to be careful going through there. It turned out to be enough of a hassle that we spent most of our time skiing the section of the snowfield below that point – the rocks just broke up the flow too much to try to get through there. The turns were nice and smooth below that point though, and even sticking to just that one snowfield seemed to give us more vertical that we'd found on last year's trip.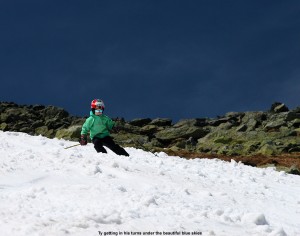 The boys were really excited to just slide on the snow in their ski pants, but we convinced them that they should do at least one run on the skis before they got to sliding, so they got their alpine boots on and were happy with that. I skied down first with Dylan, getting some photos in the process, and when we reached the bottom I told him that I'd bring his skis back up for him so that he could go off and play. Dylan had done a nice job with the turns – the snow quality was excellent as usual, and getting through that crux point was the only real challenge. I hung out at the bottom of that upper snowfield and took pictures while E and Ty also did a run down to meet me. Ty left his skis at the bottom like Dylan had done, and then they were off on their sliding adventures and created a "slide of doom" like they had last year.
E wasn't very happy with the fluidity of her first run, and she made a couple more runs to get her groove going, which she definitely did. I took plenty of shots with our usual Canon EF 24-105mm f/4L IS USM lens, then got her on another lap taking some wider-angle shots using our friend's Canon EF-S 10-22 mm f/3.5-4.5 USM lens that we'd borrowed. It's a great compliment to the 24-105, and it's been on my wish list for quite a while. It's been a lot of fun catching huge sweeping images, and it really takes some time to get used to just how much is going to be contained within the image when you're using that lens. People and objects to the side of my view were constantly ending up in the images if I didn't pay attention.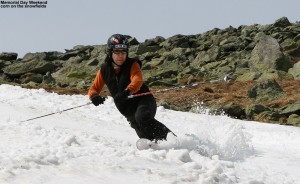 After E had had her fill or turns for a bit, she got behind the camera and I did a few more runs, including a side trip over to that other small snowfield to our north. That one had some pristine snow, and it was a neat perspective getting shots of that snowfield from the side. In general, the consistency of the snow was excellent today everywhere we went, but the main area was more tracked up, so the smooth turns were a treat. Skies were generally blue, turning whiter as the afternoon wore on and clouds started to build in. Having been out on the snowfields in less than optimal conditions before, we appreciate that fact that there was sunshine, minimal wind, no bugs, and simply perfect air temperature. It would have been awesome if the whole snowfield had held together with good coverage for today, since the runs would have been much longer, but even sticking to the upper section of snow was enough for some good turns, and with the way this season went, it's really nice to even be skiing on Memorial Day Weekend. We actually never even visited that other chunk of the big snowfield that was down below the one we skied, but now that I look back at the web cam images and see what others had to say, it sounds like it was pretty decent in size and was probably offering up some fun turns. Each year though, I get a better ability to translate what we see on the web cam images of the snowfields into what is actually on the ground, so we'll be able go in with an even better perspective on what we want to ski next time around.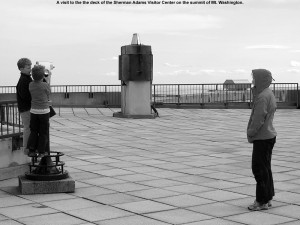 The other folks had left by the time we were winding down our session in the mid afternoon, so it was very quiet as I finally got a chance to have my lunch while we packed up the gear. With some weather on the way, we got to watch some fun lenticular clouds form off to our east above Wildcat. I bet that something similar was forming over our heads knowing the tendencies of Mount Washington and weather, but the sky never really got so cloudy that the intensity of the sun was lost. The return trip to the car was very quick; it must have been just about five minutes since we were so close and knew exactly the direction to go. Along with some clouds pushing in, the wind had picked up noticeably at the car, and it was probably in the 25-30 MPH range while we were packing up our equipment. We switched out of most of our ski gear, and decided to stop in at the summit for a little while to take a look around with Ty and Dylan. The boys got a couple of fun scientific toys in the gift shop (a gyroscope for Ty and a spinning magnet for Dylan) and they've been having a lot of fun with those.
It was sort of an interesting trip this year, since we camped before we skied. That's just the way things worked out with our availability and the forecast, but it gave us the chance to grab dinner somewhere on the way home. We decided to check out Alburrito's Mexican restaurant in Littleton. We weren't all that excited by the chips and salsa and the appetizer chili queso dip, but my vegetable burrito was quite good and E's coconut shrimp was as well. That redeemed things a bit, but we didn't find it to be on par with Frida's Mexican restaurant that we often visit in Stowe. It made for a nice stopover though on what has been yet another successful trip to the Mount Washington snowfields. These past couple of trips have certainly been on fairly small snowfields, so we'd hoping for a good combination of snowfall and spring weather that can get us up there when more snow is left next season. We'll see what Mother Nature has in store. As I was writing this up, I noticed that RR has already made a post on the Time For Tuckerman Forum with some pictures from today; he even captured E and I and the boys in one of them. That's another great spot to get some pictures from this fine day out on the slopes.