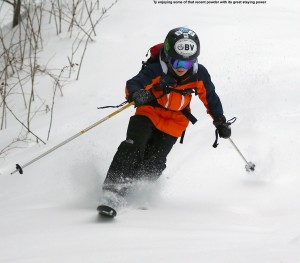 We had family staying over with us this weekend, so we hadn't really planned on doing any skiing, but they'd actually departed by late morning today. E and Dylan happened to be out until later in the afternoon due to a birthday party, so Ty and I found ourselves unexpectedly home alone. I finished up some cleaning from the weekend, but we really had no obligations until a Christmas party in the evening, so as you can probably imagine based on this report, we found our way up to the slopes. Bolton Valley has actually expanded their terrain substantially in the past couple of days by opening up the Wilderness Chair, but the mountain had still seen a weekend's worth of traffic by this afternoon. With that in mind, and recalling the good snow that I'd found during my ski tour on Friday, I figured that a little more touring would be a quiet way to spend a couple hours on a Sunday afternoon. With the knowledge gained from my previous outing, I also realized that I could further optimize the tour I'd done to get Ty the best powder with the least effort.
"The roughly eight inches of dense powder that I'd encountered on Friday was still sitting there…"
Timberline was very quiet as we arrived in the early afternoon – aside from a couple of workers dealing with some equipment in the lower parking area, there was only one vehicle parked in front of the base lodge. We've had slate gray skies in the area today but no snow falling, and with temperatures in the 20s F and winter solstice light, it's one of those days where it's easy to stay indoors if there isn't something to lure you out. Fortunately, that powder is still out there, and we were thankful for that as we began our tour and got the blood pumping. We followed the skin track up Twice as Nice and got to watch a group of four skiers and snowboards descending the last pitches of the trail. They were encountering some crust and it was making the turns difficult. Ty was cringing a bit at the conditions he saw, and most notably heard, but I told him they were descending in totally the wrong location. They at least seemed to be having fun, enjoying the descent as a group, but they clearly hadn't poked around on the terrain enough to find where the good snow was located. Even if they'd skied over on our side of the trail they'd be finding much better snow; you just needed to avoid the most exposed areas to stay away from the crust.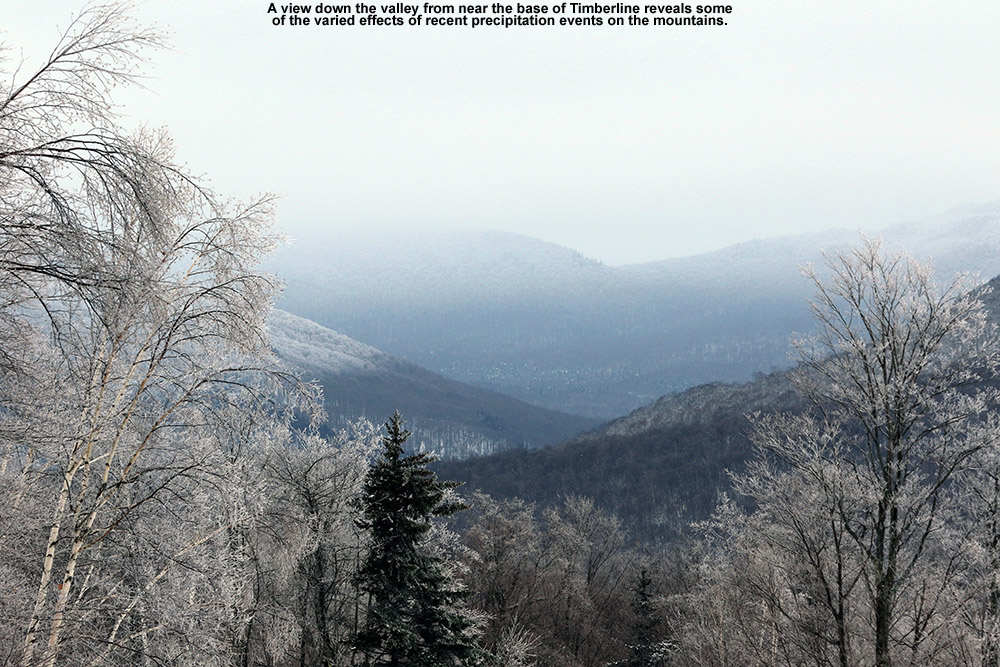 We stopped our ascent at the Timberline Mid Station instead of heading up to Brandywine as I'd done on Friday. I hadn't encountered much in the way of good snow in the extra terrain above that point, and I knew that Wood's Hole would offer some great snow due to the way it's so sheltered. We took a short break as we switched over for the descent, and once we got going we indeed found that Wood's Hole had nice snow. The passage through Wood's Hole was a bit more challenging than it should have been though, as there are a few trees down across the trail. Presumably they fell due to some of that heavy snow from Winter Storm Damon.
We continued across to Lost Boyz, finding it in essentially the same condition as it was when I'd skied it on Friday. There were a couple of tracks on their in addition to mine, but it really didn't look like there had been much for skier traffic in there. We were fine with that of course, and found plenty of untracked lines to ski. The roughly eight inches of dense powder that I'd encountered on Friday was still sitting there – that rather dense snow really holds its own in terms of staying consistent, which is generally the case when the snow doesn't have much settling to do. Ty was even feeling comfortable enough to send himself off some of the ledges in there, and at one point he pulled quite the acrobatic move as he skied with one leg behind himself after his ski tip got caught in the snow.
"…that rather dense snow really holds its own in terms of staying consistent…"
Below Lost Boyz we stuck to the same route I'd used for my tour on Friday, since I'd found generally good snow where I'd traveled on Spur and Timberline Run. Even though it was essentially the same route, it was fun exploring it with Ty, since he'd have different takes on the terrain and it got me venturing into pockets of snow that I might not have otherwise encountered. It was a great reprise of that route that served me well on my solo outing. The forecast calls for some warming during the middle of this week, but until that happens, it looks like that powder is going to stay where it is for those that want to get some smooth turns.