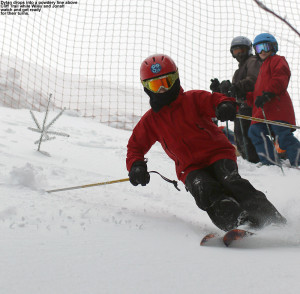 The Alberta Clipper system in our area had already dropped 4 to 6 inches of snow yesterday, and as of this morning the totals were passing a foot up at Jay Peak, and Stowe wasn't too far behind. Heading northward was definitely the way to go today. It was generally just cloudy at our house, but right as we were passing north out of Waterbury into Stowe, the precipitation started to come down more vigorously, and the precipitation was snow, or a mix of rain/snow even down in the valley. That's a good sign for even better things going on up high, and indeed precipitation changed over to all snow just as we hit The Matterhorn at around 1,000'.
Anticipating a day with fairly standard February light, I had my all around Canon EF 24-105mm f/4L IS USM on my 7D II, and although the snowfall was generally tapering off, I saw the clouds sitting on Mansfield up high and quickly switched out to my F/1.2 Storm Day Lens before I went out to meet my group. Based on everything I was hearing from Powderfreak, the powder was really sweet up in those clouds, and that was where we'd want to be getting today's photos.
After a couple of sessions away, I was back with my regular group of BJAMS students today, which featured Luc, Ty, Wiley, Jonah, and Dylan. Our decision on where to go was easy based on my most recent beta, so we immediately high-tailed it over to the Gondi and headed up into the clouds. Our initial foray onto Gondolier revealed some very sweet snow – worlds better than what we'd encountered on the very same route just two weeks ago. I let the boys warm up on Gondolier for that first run before we thought about heading off piste, but boy was it tempting; short forays into the snow along the sides of the trail revealed a healthy 8-10" of medium-weight powder that skied like a dream – especially in this nightmare of a ski season. By the last third of the vertical, we found that the on piste snow got a bit firmer, and the powder got a bit thinner, but we'd already seen what we needed to see up top – it was definitely time to hit the trees.
"…short forays into the snow along the sides of the trail revealed a healthy 8-10" of medium-weight powder that skied like a dream – especially in this nightmare of a ski season."
We worked the Gondola the whole afternoon, enjoying that great snow up top whenever possible and hitting lines in the Cliff Trail Trees, High Road Trees, Perry Merrill Trees, and Nosedive Glades. We even skied the top third of Ravine before we cut back to the piste to be on the safe side. It's not an issue of rocks in there so much as we need just a bit more snow to put a deeper later above the ice – it is a streambed after all. We could see some great lines dropping into the top of the Hazelton Zone, and I'm sure they would have delivered for a few hundred vertical, but we knew that the turns would be tough by the bottom.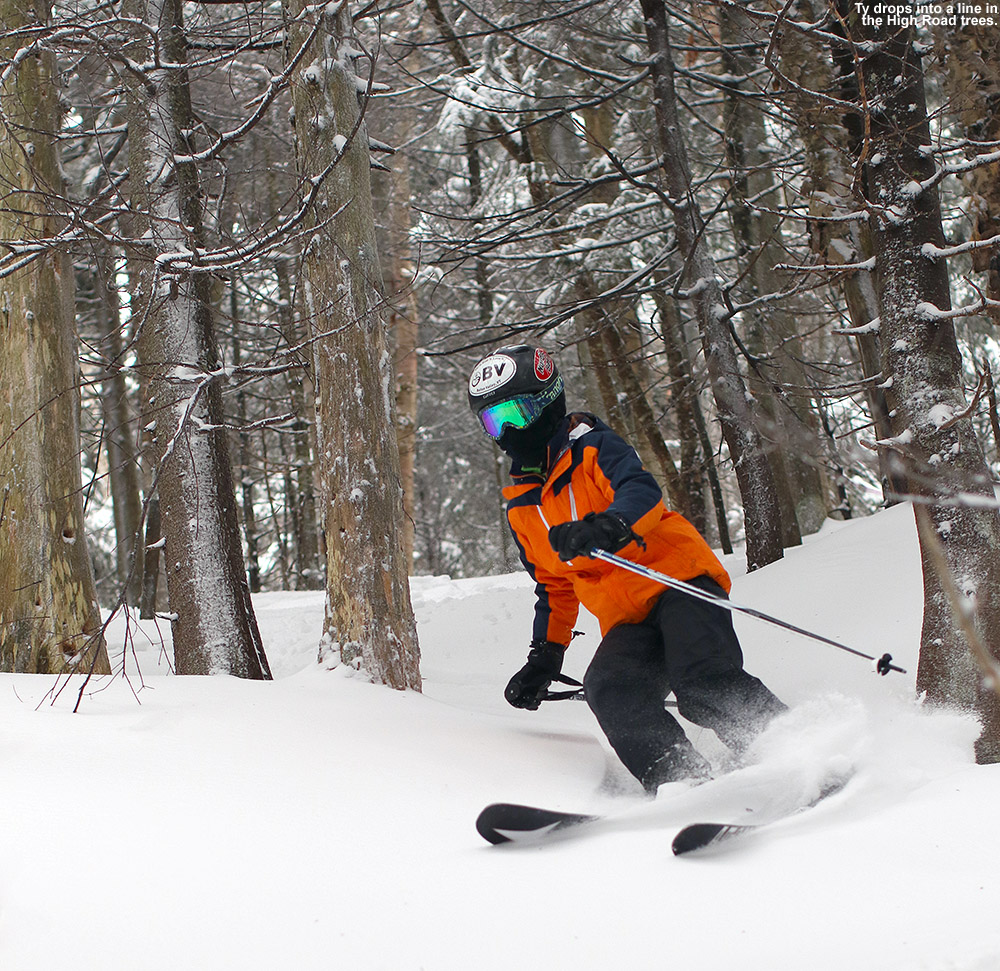 On the group dynamic side of things, I have to say I was very impressed with Jonah and Wiley. They were the most eager in the group when it came to hiking around a bit and they were definitely setting a tone for getting to the highest quality snow vs. easier access to the more typical surfaces. They have definitely figure out our group's mindset and the current makeup of the team is really starting to mesh.
We finished off the day hitting the s'mores session and watching the ice skaters in the Spruce Peak Village, followed up by a lot of time on the Stowe Ice Slide with slide tricks and simultaneous bombardment by snowballs. All in all this latest little storm resulted in a great step up in conditions at the mountain. We've still got a long way to go to get anywhere near a normal base depth, but the snowpack depth at the Mansfield stake hit 30" for the first time this season so some ground is being gained. A couple more storms are in the pipeline this coming week, so we hope they can play out reasonably well the way these last couple did, and keep that snowpack growing.