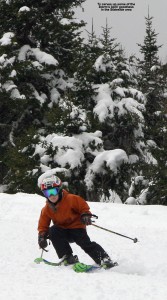 The spring snowstorm that's been in the area this week has really delivered the goods to the higher elevations; when I headed up to Stowe on Tuesday morning, there was already a couple of feet of new, dense snow at 2,500′ and above. The snowfall hasn't been quite as vigorous since that initial barrage, but there's still been on and off snow showers to varying degrees depending on elevation; Powderfreak reported that Mt. Mansfield was up to 27 inches of new snow accumulation at 3,200′ as of yesterday afternoon. The new snow has put a huge dose of water into the mountain snowpack, with close to four inches of liquid equivalent falling on Mt. Mansfield. Even down at the house we've had 1.68″ of rain from the storm as of this morning.
E has been at a teacher's conference in Boston for the past couple of days, and with the boys on spring break, I've been mostly out of the office to watch them. With the recent snow we've had, today was an obvious day for us to get out for some skiing, but based on my experience with the snow quality on Mt. Mansfield on Tuesday, skinning for turns wasn't going to cut it with the boys. Depending on elevation, the dense Sierra Cement-style snow had been quite challenging to ski, and in order to get to the best snow, one really has to make the long trek above the 2,500′ – 3,000′ elevation range. That's a big ascent to ask of the boys, only to deliver challenging snow conditions that would probably frustrate them anyway, so lift-served skiing with the potential for some groomed runs seemed to be the way to go. Killington and Jay Peak were running lifts today, and since both were reporting about a foot and a half of new snow, deciding between them was a toss-up in that regard. I decided on Jay Peak, being a touch closer and hopefully a touch colder; I was also hoping to check out all the expansion that has gone on at the resort since my last visit.
Even with all the snow that the mountains have received over the past few days, there's literally no snow in the lower valleys, and it wasn't until fairly high elevations along Route 118 south of Montgomery that we saw any snow along the road during our trip to Jay Peak. What we saw were just a couple of old north-facing snowbanks along the side of the road, but snow cover did build steadily once we got up high enough up on Route 242, and it carried through right to the base of the resort. We parked on the tram side, and the changes in the area's development were obvious. The last time I'd visited Jay Peak was during the Mother's Day snowstorm in 2010, and while the Tram Haus Lodge was there and we got to eat at Alice's Table, the new Hotel Jay and the massive Pump House Indoor Water Park were not. I could see that the new Hotel Jay was quite a step up in size from the old one, and while I couldn't see any sign of the water park that everyone has been talking about, I figured we'd have some time for exploring the area after we gotten in some skiing.
The weather in the late morning was a mixture of clouds and blue sky, and we were presented with some impressive views of the snowy slopes. I'm not sure what the slopes had looked like before the storm, but they were totally covered today. I'd told the boys about the tram, and let them know that while it was closed for the season for skiing, they'd at least get to have a look at it. The tram was in action though, apparently running in association with some maintenance, and the boys just had to watch it dock at the Tramside Base Lodge. We booted up inside the lodge, and there was literally nobody there but employees. We could see that there were about a dozen ski bags hung in various spots along the walls, but it was obvious that we weren't going to see too many others out on the slopes. It's easy to see how dicey the prospects for making a profit must be on these midweek days in April, but we were thankful that the mountain was open and they were definitely getting our business. Tickets were reasonable at $45 for me and $25 apiece for the boys, and from what I'd heard, they had about two thirds of their terrain open. The resort now employs an RFID ticket system like we're used to using at Stowe. In fact, when we bought our tickets, the associate recommended removing our Stowe RFID passes just in case they interfered with the signal on our Jay Peak tickets.
We kicked things off with a ride on the Flyer Express Quad, which whisked us right up toward the peak. We did see some skiers down below us on Exhibition, and the snow looked fantastic. Coverage was deep and soft thanks to the storm, so the only concern was whether or not the snow was sticky; unfortunately it's not easy to tell that from just watching a skier make turns, since you can't see the subtle corrections being made by their muscles as they adjust their balance, but the folks we saw sure seemed to be enjoying themselves as they silently cut arcs into the groomed snow. The air temperature was definitely cooler when we reached the summit of the Flyer, and we found that the snow itself was actually pretty cold and wintry. It was very dense like one would expect, and in untracked areas you only sunk into the snow an inch or two, so it certainly wasn't mush. It was the kind of snow you'd want to see at a ski resort club, to be honest. In fact, the mountain had a sign up about how the off piste snow was going to be difficult for the first part of the day until the temperatures warmed up a bit, since areas that had seen skier traffic were going to have relatively stiff, uneven snow surfaces.
On our first decent we set off alongside the lift on Northway, and the snow was indeed in good shape – it was somewhere between winter and spring in consistency, but stickiness wasn't an issue. We worked our way back toward the lift line of the quad on Upper Goat Run, which was our first taste of something steeper. The snow was holding up well in consistency, even as we descended in elevation. As we merged back toward the lift line, Dylan seemed hesitant for us to drop into the steepest terrain because ski patrol had placed some poles at the top of the "slow skiing area", but it was just serving as the warning about speed control, and there were no coverage issues. You could just sink your edges in and let the skis ride. We'd soon reached the top pitch of Upper Exhibition, something we'd seen from the lift that was steep, groomed, and looked like it was a lot of fun for the skiers that were on it. We opted to save it for after a little more warming up, and instead veered to the right down Upper Goat Run and over toward Lower River Quai. Lower River Quai is actually a bit steep, and while there, we met a family that was picking their way down it. The snow was starting to get a little tricky at that elevation, and by the time we hit the Interstate trail below, the snow had indeed taken on that stickiness that made it a challenge. I was excited about the conditions though, our sampling of the terrain suggested that we'd only have to deal with sticky snow in the low elevation runout trails, and if that was the case then we were in for some great runs.
The boys had been quite intrigued by the resort's covered magic carpet lift, and since it was running, they just had to check it out. It feels a bit like one of those informational rides at a theme park, or maybe like the Light Tunnel in the McNamara Terminal of the Detroit Metro Airport, without the lights. Stowe has a small cover that they place over their magic carpet at night to keep off the snow; it's only a couple feet high and the boys got a kick out of imagining what it would be like to ride with that in place. Having a full cover probably means less hassle dealing with snowfall during storms. We immediately headed to the Flyer again, and took a similar descent route with the change to Upper Exhibition this time. Exhibition delivered some nice steep turns, and was above the elevation of the sticky snow issues, but of course the flats of Harmony Lane were a slow return to the base.
With all the new snow, the mountain did indeed have quite a bit of its terrain open, so I definitely wanted to get the boys out for some farther-reaching explorations over toward the Stateside area. From the top of the Flyer we followed the usual Northway Route, and on the way noticed a skier come down from one of the untracked trails above us. He was skiing some of the dense powder up there, and although he only sunk into the snow a few inches, it looked pretty fun. We'd been playing around in the powder off to the sides of the trails a bit, but with it still being somewhat dense and stiff, you really wanted some reasonably large untracked areas to have the best experience. We were eventually lured off Northway to our right, into some terrain in the Catwalk area that hadn't been groomed; the snow was decent, so we just sort of kept going. We found ourselves above some steep tree lines there, and I was leery of the snow conditions, but Ty really wanted to jump in… so we did. The lines were generally tracked, and we were low enough in elevation that the compaction of the snow was probably for the best, as the untracked snow was getting wet and difficult to ski. Ty and Dylan ripped up the lines though, and we found ourselves continuing on non-groomed terrain all the way to Stateside. There seemed to be just enough snow to cover the natural terrain down to the base with a couple of careful water bar navigations. That last part was a lot of fun, as I knew our general location, but had no clue of exact where we were until we popped out at the base of the Jet Triple Chair. I've got a reasonably good knowledge of Jay Peak, and there was definitely enough semi-obscure terrain open to keep us exploring.
The weather had continued to be a mix of clouds and sun through midday, and all around us we'd continually see these huge billowing cumulus clouds that made if feel like spring or summer. At times, we'd be able to watch snow crash out of these clouds atop various surrounding peaks. This was going on all over the place, but we had some gorgeous views of it from the summit of the Jet Triple Chair, and of course being Jay Peak, we knew that it was only a matter of time before we were going to get blasted with snow. The Jet trail itself looked really enticing, so we hit that up, and indeed the carving was fantastic. We watched a really accomplished Telemark skier crank some amazing turns down The Jet, and he seemed to be doing lap after lap. He really liked the boys' alpine skiing though, and made a comment to me about them. If they can get their Telemark turns to be half as graceful as that guy, they'll be well on their way to some great Telemark skiing. They had a lot of fun with the turns on The Jet, but probably just as much fun with the snowballs they were carrying and tossing at each other. Because the snow was so good, I wasn't sure that we wanted to pull away after just one run on The Jet, but I knew the boys were soon going to request a mid afternoon snack, so we started to work our way back toward the tram side. We found ourselves in the same Catwalk trees that we'd hit on the way over, so we skied those again. After a few more pitches, the rest of the trip back was rather flat and sticky though, so I'd often help Dylan along with some pushes to keep him up at Ty's pace.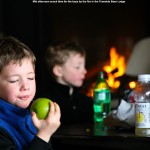 I'd hoped to introduce the boys to some poutine in the lodge, but the cafeteria had already closed; apparently they were only keeping it open for the immediate lunchtime period on weekdays. Fortunately we'd brought a collection of our own food, and it was enough to hold us until dinner. It was still quite quiet in the lodge, but a few skiers were around, those that had apparently skied the morning and were calling it a day.
When we headed back out onto the slopes, we gave Dylan the choice of lift and descent route, and he decided on the Metro Quad. Both Ty and I told him that it only serviced the bottom flat area of the mountain (which had the stickiest snow) but he was keen on giving it a try, and it would mean we'd ridden every open lift on the mountain. The partly sunny conditions of the morning had been gradually giving way to a few more clouds, and this was actually cooling the air down enough to let the stickier snow tighten up a bit. It was a subtle change, but definitely there, and much appreciated when we were in the lower elevations.
Clouds continued to build as we made another lap on Exhibition and enjoyed the good snow, and meanwhile, the skies began to darken around us with the promise of snowfall. During the day we'd already encountered various snow showers on the mountain; we'd seen rounds of regular snow, graupel, and even these pyramidal-shaped (or miniature Hershey's kisses as Dylan described them) flakes falling from the sky. Our next ride on the Flyer was when things really started to get exciting though. On our previous ascent we' seen heavy precipitation in the peaks just off to our north like Jay Peak West, Middle Jay and North Jay Peak. Those peaks had soon disappeared in a maelstrom of white, and that snow clearly seemed to be building in our direction. A few minutes later it moved in on us, and it meant business. The snowfall was so intense that at a couple of points we could see a wall of flakes in front of us, and we had only a few moments to batten down the hatches (i.e. hoods and parka collars) before the lift carried us right into it. We got hit with some very heavy snowfall comprised of huge, wet snowflakes . The gargantuan flakes were at times falling so intensely that they rapidly accumulated on our goggles to the point that we could barely see, and we had to keep wiping them off almost continuously during the height of the squall; I'd say we picked up about a half inch of snow in just 10-15 minutes in that episode. The clouds and precipitation associated with that blast of snow even gave an additional shot of cooling to the air. The huge flakes also put down a fresh, stippled coating of snow on everything that was very picturesque. That whole squall cycle was a fun experience, and the same thing appeared to be going on throughout the high peaks of the Northern Greens, because Powderfreak sent in a very cool report to the American Weather Forum entitled "Photos of the passing of a convective snow squall", in which he documented the whole progression of one of these convective snowstorms today from Stowe. He photographed the scene on Mt. Mansfield from blue skies with white, billowy cumulous clouds, to dark clouds building in, to getting hit hard with massive snowflakes, just like us. The report was very nicely done with the usual quality pictures that Powderfreak produces, and folks on the weather board seemed to enjoy it a lot.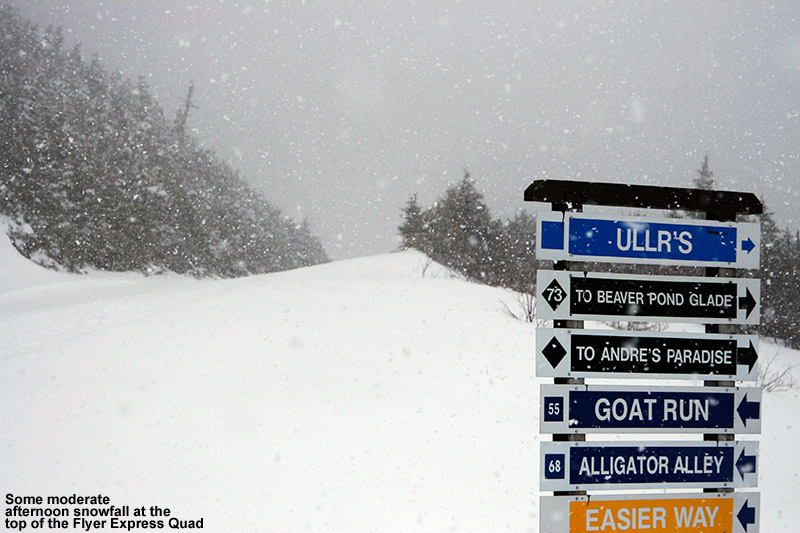 The boys started picking areas of the mountain that they wanted to explore, and one area that we'd not yet visited was the slot between Exhibition and Northway. We eventually found ourselves approaching to top of Upper Can Am, and I was definitely concerned about what we'd find down there. I was expecting deep snow that hadn't seen any grooming, and indeed that's just what we found. Dylan definitely had some trepidation about dropping in, but Ty was so eager that his enthusiasm won out. There had been some skier traffic since the storm, so we found 16″ of partially tracked, dense snow. Ty was flying down like a madman, but Dylan was struggling, and started to get upset because he seemed to be falling every time he made a few turns. We gave him some reassurance, and I let him know that I was battling the slope on Telemark gear, so he could definitely do it on alpine gear. As before, the fact that there had been some skier traffic was good, because the bottomless cement was the most difficult part to ski, and the partially compacted areas were better. Dylan eventually got himself into a better rhythm, and soon I found that both boys has already descended through the steepest terrain and were waiting for me. As difficult as the turns were on my Teles, the challenge was worth it. We had all this steep terrain to ourselves that had just seen a major resurfacing with 2+ inches of liquid equivalent. Coverage wasn't an issue, and if you got your groove going you could just let the turns fall away. There was definitely a part of me that wanted to have my alpine fat skis to really crank things up, but it was a heck of a lot of fun convincing the Teles to do their job.
The traverse back to the tram base was still somewhat slow and sticky, so any cooling of the air hadn't helped out down that low. The boys amused themselves with another ride on the magic carpet, and then we thought about finishing out the day. The snow up top was so good that we couldn't pull away without at least one more run, even though the boys were getting anxious for some après ski food (which they knew was going to be pizza). I convinced them that we needed to do at least one more run, and said that we'd check out something new.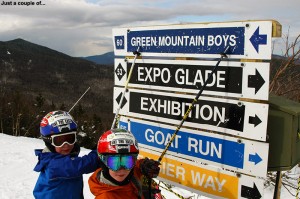 I wasn't sure exactly what that something new was going to be, but we got ourselves to the big intersection below Upper Goat Run and had to make a choice. The top of Green Mountain Boys was in view, and it was only then that I realized just how good it looked. It had been groomed, and then it had seen some traffic, but it looked smooth, soft, and fast. I had the boys read the trail sign at the top of the stack… "Green… Mountain… Boys", Ty said at a reading pace. The boys were excited to try it out, and I got a picture of them pointing to the sign with their poles. The different generations of intermediate trail signs left Dylan intrigued by the fact that Green Mountain Boys seemed to be not a blue square trail, but a purple square trail. He started to discuss what that might mean before I eventually suggested that it was likely just a different shade of blue from a different batch of signs. The boys didn't want to wait around long though; they wanted to get at it, and quickly dropped in. Within moments they both moved into big, fast, swooping arcs down the trail, because they immediately felt how perfect the surface conditions were, and they knew that their edges were going to hold whatever g-forces were thrown at them. It was deep snow that had been freshly groomed and softened to perfection for carving, and matched with the fairly steep terrain, it was just beautiful. Dylan was especially invigorated by how fast he could go – when he'd make his big, fast arcs, he said it was his "gliding" technique. The end result was that they flew down the trail in a state at high speed, somewhere shy of reckless abandon, and I had my work cut out for me keeping up. Indeed they skied it like you'd expect from a couple of Green Mountain Boys, and I suspect Ethan and Ira Allen would have agreed.
I hadn't held out much hope for interest another run, since the boys had already had pizza on their minds before the last one, but something about the experience that Green Mountain Boys had offered them lit a fire under their ski enthusiasm. When I said that we had time for another, and that we could do Green Mountain Boys again, they jumped at the opportunity. If the skiing can pull Dylan back to the slopes and away from potential pizza, you know it's got to be good. The descent was just like the previous run, and whether it was the extra round of cooling from our earlier snow squall, or just the correct timing of the day, something had left the trail in a state that really impressed the boys. Had the lifts still been running, I think I could have kept them going, and at that stage of the day that's not easy to do. To say that they finished the day on the highest of notes would still be an understatement.
The boys' transcendent vibe continued as we headed into the lodge and changed out of our gear. The lodge was essentially deserted at that point, so they had the run of the place. Once they'd taken off their ski boots, they played hide and seek upstairs and downstairs in the various nooks and crannies of the Tramside Base Lodge, while I packed up the rest of the gear. We dropped everything off at the car and then went to check out Mountain Dick's Pizza on the ground level of the new Hotel Jay. It's got one of those modern, part wood, part metallic decors, along with some funky accessories like coat racks made of wooden spoons, and it seats about 30 to 40 people. I ordered a pie for each of us (to ensure that there would be plenty of leftovers of course, since Mom was out of town) and the boys picked out some funky looking drinks from the cooler. The pizza is good; I wouldn't put it up quite at the level of Jimmz Pizza in Waterbury Center, but we all liked it and everyone ate their fill.
While we'd waited for our pizza to come out, I searched around and discovered that Mountain Dick's is connected right to the interior of the hotel; eventually I realized that some of the people we'd seen picking up pizza had called from their hotel rooms. When we'd finished up our meal and boxed up our extra slices, we decided to head right through the hotel so that the boys could show me the water park. We wound our way through some halls, headed up an elevator, and came out at an elevated area at the water park entrance, overlooking all the features. It was even bigger than what I'd surmised based on all the pictures I'd seen, and the boys gave me a quick visual tour from the overlook, and they were quickly spotted by their schoolmate Connor, who was there with his family. We all got to chat a bit and catch up on the day as we headed back to our cars. While E and the boys have already been to the Pump House, it's definitely on my list to join them next time as I'm sure we'll have a blast.
I've got to say it was really nice being back at Jay Peak, having not been to the mountain for a couple of seasons. With so many great ski areas like Bolton Valley, Stowe, Smuggler's Notch, Sugarbush, and Mad River Glen notably closer to our location in Waterbury, we don't frequent Jay Peak all that much right now. Along with the slightly longer distance though, there are also some aspects of Jay Peak that knock it down on my list: the cold, the wind, some of the long flat areas on the Tram Side, and the way the glades and trees can get tracked out (and indeed even bumped up) so quickly (relative to what I've experienced at places like Bolton Valley and Sugarbush where lines can sit untracked for days after a storm). Jay Peak has always touted its glades, so of course people go there for that type of skiing and those areas get a lot of traffic. I love Jay Peak's snowfall of course, but after scrutinizing and documenting the snowfall patterns in Northern Vermont's mountains very carefully over the past several seasons since we've been back from Montana, I've noticed how marginal the difference is between the snowfall at Jay Peak and that at Mt. Mansfield. I think the weather patterns over the past few seasons have exacerbated that, as they really haven't favored Jay Peak as much as they have traditionally, but I've paid more attention to just how much snow Mt. Mansfield gets, and it's impressive.
The above is really just nitpicking for the sake of comparison though, because Jay Peak is a fantastic resort that offers some excellent terrain and amazing powder – there are numerous resorts even out in the Western U.S. that would probably love to receive the amount of snowfall that Jay Peak gets. And, the whole Jay Peak experience seems to be getting better with the developments going on around the resort, at least based on what we saw on this trip. While the host of resort enhancements that have been added at Jay Peak over the past few seasons may be a turn off to some hard core skiers, they are definitely a plus in my book; not from just the family perspective, but a personal perspective as well. The developments are things that if anything will lure us up there more. One aspect is simply knowing that the resort will be active year-round, and that whenever we go we can anticipate that some dining options will be available. In the days leading up to our trip, I knew about the upcoming spring snowstorm and was very close to getting a package of a room along with ski and water park tickets. I didn't quite find the level of discount I was looking for this time, especially since the pricing per person wasn't as efficient without Mom along, but it was absolutely a factor luring us toward the resort. They had a really good ski and stay package going at the Tram Haus Lodge a couple of seasons back, and I'm sure that there will be some similar April deals out there in the future, since it can be a slow time of year for skiing. We're certainly excited to check out all the new terrain when the resort expands into the West Bowl area with lift service; the feel of the mountain is really going to be different when that happens, and I'm eager to see what it's like. Perhaps it will spread out the visitors and keep the glades and trees from getting tracked out so quickly. The sidecountry, backcountry, and in-bounds opportunities that would be provided by the new trails and lifts look really impressive. Now that the boys are older and day-ticket style skiing is becoming more practical, Jay Peak will certainly be high on our list for visits, especially if they keep staying open longer than other resorts in the state.