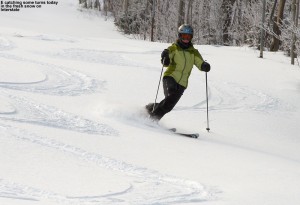 We've been up at Jay Peak with family leading up to Christmas, and today we got out on the slopes for a few turns.  The weather hasn't been great for the ski conditions, since we just had an extended storm with plenty of mixed precipitation.  The storm did bring some snow with it, but also plenty of other precipitation that ultimately led to a hardening up of the slopes.  There really wasn't much to inspire one to get out on the hill today, especially with colder temperatures on the way, but it was snowing when we arrived last night, and that piqued my interest at least a little.
When it finally came time to decide if we wanted to ski today, the boys were game.  And since our RFID cards that serve as our room keys and provide access to other areas of the resort, also serve as RFID ski tickets, there wasn't much of a downside to hitting the slopes.  Today was also a chance for the boys to ride the tram, which was already closed for the season the last time the boys and I came to Jay Peak for lift-served turns.  Temperatures were starting the day in the mid teens, which wasn't too bad, but they were expected to drop throughout the day, so we decided that we'd best served by going for our turns in the morning before it got colder.
We started out at the moving carpet, where Luke and Lilly were having their first ski experience ever.  We helped Marc and Jill get them going with some tips, and then once they started getting the hang of things, Marc joined up with E and the boys and me for a run on the Tram.  The boys finally got their tram ride, and were impressed with how high and fast it traveled.  From the summit we headed down Northway to Ullr's Dream, and conditions were simply heinous up top.  The snow was hard and icy, and I'm glad I'd sharpened our skis, but I'm not sure how much good it did.  That's sort of par for the course anyway with the way the wind blows up there, but the recent storm certainly didn't help in that regard.  We didn't find much to inspire us to really take another run until we got down onto Kokomo along the lower elevations of Ullr's Dream.  Down there, an inch or two of powder has settled in, and combined with the modest pitches, we were starting to encounter some soft turns
The end of that run inspired us to make a second, and this time we used the Metro Quad, which is low, out of the wind, and down in the warmer elevations.  We were hoping to head over toward Deer Run, but when we found the terrain on that side of the lift roped off because of snowmaking, we moved toward the Interstate side of the lift.  That turned out to be just what we were looking for.  Since the vast majority of the people on the trial were there for the terrain features, they were totally ignoring the large area of untracked snow off to the skier's left.  We found an inch or two of fresh powder over a smooth base, and turns were quite inspirational.  It was the sort of discovery that definitely injects some excitement into the day.  It was so much fun, I felt that we had to do it again.  Of course with the rest of the family hungry and eager to get to the water park, I was by myself on that next run, but it was just as sweet.
It's snowing again tonight as I write this, so as is par for the course for the Northern Greens, they seem to be starting to nickel and dime their way back to nicer conditions.  I don't think we'll really have time to ski tomorrow with the Christmas Holiday, but I bet our tracks will be covered up again for tomorrow, and there should be fresh turns out there waiting for someone.  I'll update this report with more info on the whole trip as time goes on, but indeed there's just way more to do here than time often permits.  I will say one thing that really impressed and surprised me though, is that with the addition of the new Stateside Hotel, there are now 17 eateries of various sorts up here at the resort.  We tried out three new food options on this trip that we hadn't before, so I'll talk about those when I add a bit more to this trip report.