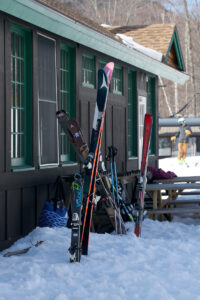 It was a fantastic out there today for some spring skiing. E and I headed up for an afternoon session at Timberline with its classic western-facing afternoon sun.
The temperatures were quite pleasant, but despite the decent warmth with temperatures in the 40s to around 50 F, there were still different types of ski surfaces out there. Terrain right in the sun on the main part of Timberline was mostly good corn snow, but up around 2,500' or so, snow that was not in the sun was still in a more frozen, winter-like state. In some lower elevation areas that were only partially in the sun, there were also some areas of mushy/sticky snow because it had not been cycled enough yet for complete corn.
I think we're planning to head out for another afternoon session tomorrow – it's supposed to be even warmer, and we should get another freeze-thaw cycle overnight, so that might change the dynamics of which areas have which types of snow surfaces.