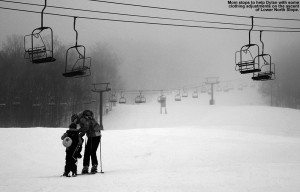 Stick season can be a tough time to get out for exercise; there are often those cold, dreary days in the 30s or 40s F that don't really inspire one to jump on the bike or into the kayak.  Instead of hitting the trail, it's much easier to hunker down at home in the warmth.  Fortunately in Northern New England, when the weather reaches such a cold and dreary level, there's often fresh snow falling in the mountains.  That wasn't the case this weekend though, as the current storm affecting that area is fairly warm, and the precipitation isn't expected to change over to snow until tomorrow night.  With the weather at hand, there wasn't much calling us out onto the slopes.  However, since Stowe prepared some of their terrain and ran the Fourrunner Quad for season's pass appreciation day yesterday, it meant that there would be some rather unutilized groomed snow out there today.  That realization hadn't even occurred to me until late morning when I was thinking about what we might do to get in some outdoor activity today.  I brought up the idea to E and the boys, and once the house and homework were generally in order, we decided that we could spend a couple of hours getting in some turns.
"What I encountered was
an inch or two of dense
powder, it had seen some
contamination by manmade
snow, but that was enough
to keep me riding on a
smooth, supportive base."
We headed out in the mid afternoon under cloudy skies and occasional spits of drizzle, finding temperatures in the mid 40s F in the mountain valleys.  We've only got a couple patches of snow left at the house, and in general there's really nothing to speak of for snow up the Mountain Road until you get around the 900-1,000 foot elevation.  From there the snow builds until there's decent cover at 1,200' and above, but south-facing areas exposed to heavy sun are still partially melted out even up at those elevations.  We parked at 1,500' near the Mansfield Base Lodge, where, we saw a few other vehicles and one skier just starting to skin up toward the quad on their ascent.  Temperatures were in the low 40s F and the snowpack looked quite respectable – there was a consistent covering of several inches or more, and the consolidated snow was only slightly softened by the above freezing temperatures.  In fact, we were thinking it would have been nicer if it was softened even more with regard to making turns.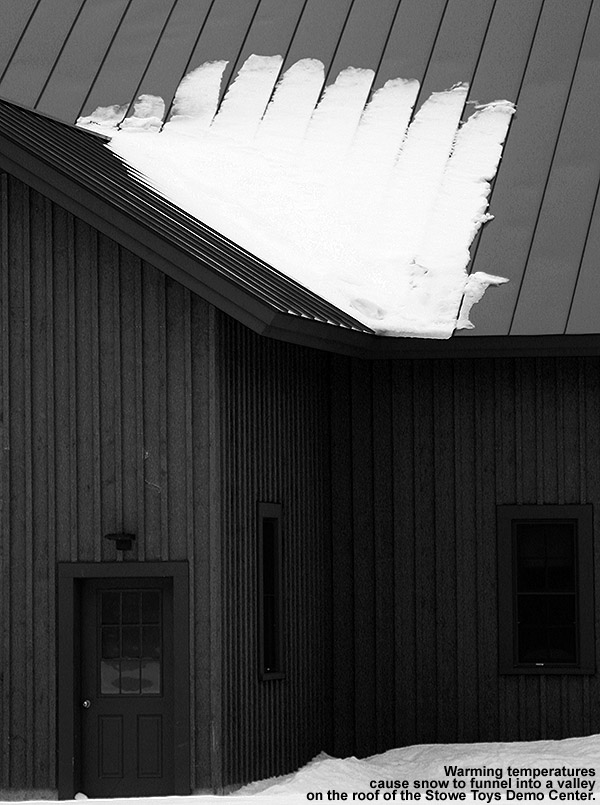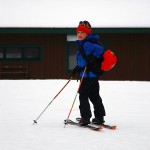 We skinned up to the base of the Fourrunner Quad and continued past it toward the bottom of Lower North Slope, which with its prodigious manmade snow was the obvious route that every other skier we saw was taking.  There was really no skin track, nor was there need for one – the whole expanse of the slope was essentially a smooth mass of consolidated snow that you could walk through like a giant field of white.  We spread out and often walked side by side, enjoying what was definitely a leisurely pace.  We really didn't have any goal for the ascent, we figured we'd just go as far as the quality of the snow and the availability of daylight suggested.  We stopped for a quick break at the intersection with Crossover (~1,850') – we were just starting to enter the clouds at that point and combined with the late afternoon light, visibility was very low.  We continued on up Crossover to where it met Standard at around 2,000' and decided to end the ascent there.
"I've been quite impressed
with their sushi so far, and
it was great again tonight."
For the descent, we began our way down Crossover, finding the snow pretty much as we expected based on what we'd felt beneath our feet on the ascent and heard from the descents of other skiers.  It was soft enough to get a nice bite with the edges, but not as soft as you'd really like it to be for spring skiing.  Temperatures around 40 F just weren't enough to get it to soften that far.  Crossover has some irregularities in the surface from snowcat, snowmobile, and skier traffic, so it also wasn't as smooth as if it had been freshly groomed.  The snow had enough issues that it had me looking elsewhere, such as the natural snow on Lower Lord that I'd seen on my way up.  As Powderfreak mentioned with regard to yesterday's opening at the resort, even some natural terrain trails were open, and there was clearly enough coverage even down below the 2,000' level to make that a reality.  I decided to make a few turns down Lower Lord, just to check it out, and then I could shuffle back up to Crossover if the skiing was horrible.  Well, those first few turns had me sold.  What I encountered was an inch or two of dense powder, it had seen some contamination by manmade snow, but that was enough to keep me riding on a smooth, supportive base.  I told E and the boys to dive in and check it out, and if they didn't like it we could head back up.  Everyone enjoyed the snow – the only thing was the after a few more turns, the extra density that had been imparted by the manmade snow disappeared.  The powder became much wetter and the base less supportive.  We made a few more turns before deciding to cut through the trees onto Lower North Slope because it was just going to be too difficult for the boys to be trying Telemark turns in that challenging snow.  Snow depths were certainly sufficient on the natural terrain; Dylan and I both checked the snow depths and found 7-10 inches in that 1,800-2,000' elevation range.  It was a tough call switching over to the groomed snow though, I could have gone either way personally – it was a choice between slightly too firm manmade, or slightly too soft natural snow.  Lower North Slope ended up delivering some decent turns, and the boys got to make some Telemark turns on the more supportive surfaces.  There was still plenty of uneven terrain since the snow hadn't seen a re-grooming, but it was smooth enough for some good flowing turns.
Rain was starting to pick up as we returned to the car, and we quickly put the skis on the rack and tossed the rest of the gear in the back to get out of the rain and on our way.  With the temperature around 40 F, it was certainly a raw rain as well.  This outing was decent, but we're certainly watching the forecast for the potential to get back into the powder by next weekend.  The computer models suggest that the possibility of snow is out there, but they're definitely not all in agreement yet so we'll have to wait a few more cycles to see where things settle out.  More cold air is definitely on the horizon though.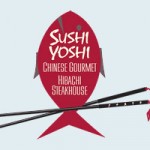 We stopped off to grab some take-out from Sushi Yoshi on the Mountain Road, they've only been there a few months, and this will be their first ski season.  While ordering, I was talking to the hostess about the anticipation of the business during the ski season, and she said that they're actually planning on running their own shuttle bus to allow people to go to and from the restaurant without having to worry about driving.  It will be interesting to see how people like that feature, but in any event, I expect business will be picking up greatly in the next few weeks as visitors start to hit the resort.  I've been quite impressed with their sushi so far, and it was great again tonight.  We also got some of their hot dishes tonight as well, and they were fine, although they didn't seem to stand out the way the sushi has.  They also have hibachi-style dining options as well, so one of these days we'll have to bring the boys and try that out.  I'll definitely be getting more sushi though whenever I go, from what I've experienced I think they'll be getting plenty of patronage from sushi lovers this ski season.