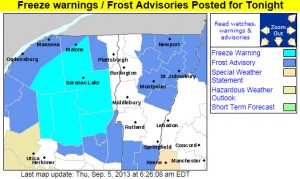 It's early September, and as autumn begins to make inroads in the North Country and Northern New England, our first frost advisories and freeze warnings of the season have been posted by the National Weather Service Office in Burlington.  We're under a frost advisory at our location with temperatures expected to be down near the freezing mark, but for some areas of the Adirondacks, temperatures are anticipated to get down into the upper 20s F, approaching near record lows for this date.  Further information can be found in the excerpt from the forecast discussion by the National Weather Service Office in Burlington below, with additional details at their site:
.SHORT TERM /6 PM THIS EVENING THROUGH SATURDAY/…
AS OF 454 AM EDT THURSDAY…HIGH PRESSURE WILL CREST OVER THE REGION TONIGHT. GIVEN CLEAR SKIES AND NEALY CALM WINDS WILL ALLOW FOR IDEAL CONDITIONS FOR RADIATIONAL COOLING…WITH TEMPERATURES FALLING INTO THE 30S IN MOST LOCATIONS…WITH SOME TEMPERATURES APPROACHING NEAR RECORD LOWS FOR SEPTEMBER 6TH. EXPECTING TEMPERATURES TO FALL INTO THE UPPER 20S IN THE SHELTERED VALLEYS OF MOST OF THE ADIRONDACKS LATE TONIGHT. THUS…HAVE PUT OUT A FREEZE WARNING FOR THOSE AREAS. ELSEWHERE…HAVE PUT UP A FROST ADVISORY FOR MOST OF THE REMAINDER OF NORTHERN NEW YORK…AS WELL AS NORTH CENTRAL AND NORTHEAST VERMONT FOR PATCHY FROST. NOT EXPECTING ANY FROST OVER THE CHAMPLAIN VALLEY AS LAKE CHAMPLAIN WATER TEMPERATURES STILL IN THE LOW 70S…WHICH WILL KEEP THE VALLEY RELATIVELY WARM WITH MOST TEMPERATURES IN THE UPPER 30S IN THE CHAMPLAIN VALLEY.