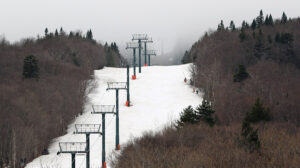 Based on the forecast, today seemed like the better half of the weekend for turns, so I decided to head to Mt. Mansfield and make use of all the snow that's still out there. A look at the Stowe Mountain Cam this morning showed that coverage still looked continuous on the Gondola side of the resort, and since that area generally melts out faster than the terrain under The Nose, I decided to ski that while it was still in good shape.
Based on what I'd seen from the webcam and views from the valley, the cloud ceiling seemed to be sitting at around 3,200' on Mansfield, so my plan was to continue my ascent until I hit the lowest cloud deck, or the snow became too firm at elevation, whichever came first. Indeed, as the webcam view had indicated, coverage on Gondolier was pretty much continuous from top to bottom. It turns out that there are a couple of small breaks of a few feet, but they're nothing substantial that would ruin a top-to-bottom run.
It remained mostly cloudy today, and not especially warm with temperatures around 50 F, so I was initially worried about the snow being generally too stiff for quality turns. It was a little tough to tell exactly how it was going to ski during the ascent, but the sky began to brighten a bit in the midafternoon period, and the cloud ceiling started to rise. The ceiling rose all the way up to 3,600', and then slowly continued to rise beyond that, so I opted to make a full ascent to the Gondola Summit Station. The brightening skies probably provided that extra punch of solar radiation to ensure that the snow quality was decent at all elevations, so in the end, the whole descent provided some fantastic spring turns.
I'd expect some decent gaps to open up on the Gondola terrain over the next week if the weather was going to be mild, but the snow there might actually hold out for a while. The forecast suggests numerous snow chances over the next couple of weeks, so that could result in some accumulation and decent preservation as we head farther into the spring ski season.