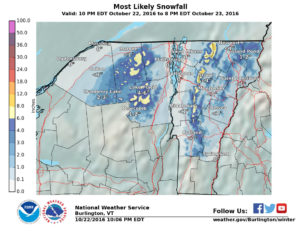 We've had several days to watch the forecasts building up to a potential first snowfall of the 2016-2017 winter season for the Green Mountains of Vermont.  The storm was projected to move along the coast and up into the Canadian Maritimes, which, as usual, would put it at the point where cold, moist air could wrap around and hit the spine of the Greens from the northwest.  Yesterday afternoon the snow levels began to drop toward the summits, and as daylight began to fade we were able to see that snow was starting to accumulate up near 4,000' via the new Lincoln Peak Snow Cam.  At around 10:30 P.M. I looked outside and saw that snow had made it all the way down to our house at just 500' in the Winooski Valley, which meant that the mountains were well into the snow.  We'd accumulated a couple of tenths of an inch of snow at the house before I headed off to bed.
As of this morning we'd picked up about a half inch of snow down at the house, and accumulations reports began to come in from around the area.  One of the more surprising results the storm was just how much snow had accumulated at relatively low elevations on the western slopes of the Greens.  There were reports of up to 6 inches of dense snow in areas that still had substantial leaves on their trees, and combined with some aggressive winds that meant downed trees, travel difficulties, and some power outages.
In the higher elevations, Powderfreak reported finding 5.5 inches at 1,500' the base of Stowe Mountain Resort, a foot at 2,000' – 2,500', and accumulations seemed to generally top out in that range up and down the Central and Northern Green Mountains.  Bolton Valley reporting 9 inches, 11 inches were found at the Mount Mansfield Stake, and there were images of waist-deep drifts at Jay Peak.  I didn't get a chance to get out on the slopes because we were down at a New England Revolution match at Gillette Stadium, but it looked like the dense snow did a decent job of covering up surfaces to enable some fun October turns.  The weather looks relatively cool this week, so the snow shouldn't be going anywhere immediately, and I heard Killington even plans to open on Tuesday to start the lift-served ski season.