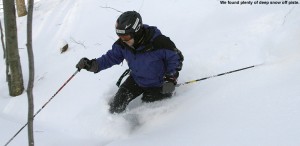 After Tuesday's great outing with the boys, the whole family headed out for more turns today.  The skies had been somewhat gray on yesterday, but the sun was back today and consistent with the forecast trends, the temperatures were climbing to the low 30s F.
There hadn't been any new snow, so we didn't find ourselves out to the slopes until midday, but the Timberline area still seemed to be following the trends I've seen over the week and most visitors were presumably over at the main mountain.  We kicked things off on Spell Binder, and the most obvious change in on piste conditions from Tuesday was that the powder and chowder had been replaced by packed powder.  I found that there was still powder to be had if I went very tight to the edge of the trail, but it had to be helmet-scraping tight.
We then headed off to the trees for a bit to get in some powder skiing – E had gone with alpine skis for the day so that we could explore some steeper lines and see how they were faring.  Our first test was the steep terrain dropping into the KP glades, which revealed that tight evergreens at around the 2,000' elevation had still not seen enough snow to support much traffic or aggressive skiing.  The evergreens had not allowed enough snow to fall to the forest floor, but the mixed evergreen/hardwood glades below were in prime form and yielding great untracked turns.  To check out the rest of the details and see all the pictures from today, head to the full December 30th, 2010 trip report from Bolton Valley.