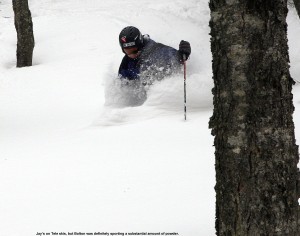 Waterbury event totals: 2.8" Snow/0.06" L.E.
After that quick inch of snow we picked up yesterday, that was it for snowfall down here at the house as far as I can tell.  We were back up at Bolton for some more turns starting around midday, and it was snowing pretty hard for the first part of the afternoon.  Friends that we met up there said that it had snowed like that all morning.  It's nice to see what's going on up at Jay, because they were a bit left out of the pattern earlier in the season with so much activity focused to the south.  I've added the 7-day and seasonal snowfall totals for some of the VT resorts below:
Jay Peak: 30" (359")
Stowe: 18" (311")
Bolton Valley: 14" (316")
Killington: 4" (251")
Right now the snowpack is 98 inches at the Mt. Mansfield stake, and if one looks at the SkiVT-L plot for the snow depths, this is right around the date for the typical maximum.  The historical data suggests a small dip after the end of March, but the snowpack really seems to hang around at this level until roughly mid April before it actually starts to fall off., so I could see the peak snowpack depth being anywhere in that range, especially with the current weather pattern.