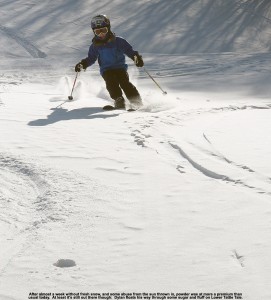 There's been sufficient coverage for skiing at Bolton Valley's Timberline area since at least mid January, and I made my first turns of the season there on January 15th, but apparently the resort hasn't been confident in the ability of the snow to hold up to much skier traffic, because it wasn't until yesterday that they started running the Timberline Quad.  It's incredible to think that we've had such a late start to Timberline lift-serviced skiing, and similar things may have happened before, but certainly not in the past several seasons since we've been back from Montana.  At this point though, it's just really nice to have the expansion to spread everyone out and open up some of our favorite terrain, so we were excited to get in on this first weekend day of Timberline lift service.
There's the potential for cold temperatures and even some fresh snow as we move through the weekend, but today it was sunshine with temperatures in the 20s F.  We didn't get up to the mountain until roughly 11:00 A.M., but the number of visitors was pretty light and parking spots were open right in the circle below the Timberline Lodge.  The parking was so easy that after dropping off E and the boys and all our gear at the, I parked the car and then walked over and began chatting with them – forgetting to even put on my ski boots.  We're definitely still getting into our Timberline rhythm for the season.
We kicked off the day with a trip down Villager to Sure Shot, and then took the link onto Lower Tattle Tale to hopefully get into some powder.  Pickings were a little slim since we haven't had fresh snow in a week, but some lines were still available and we shot some pictures of the boys getting into the untracked snow.  The powder was getting a touch stale after a week, but we weren't complaining.  We jumped on Spur to get into some additional untracked snow on our trip back to the base, and then headed up again for a mid station run.  We took Wood's Hole and worked our way down to check out the Corner Pocket Glades for the first time this season.  Coverage was more than sufficient, but the tracks of previous skiers combined with a mixture of shaded and sunny areas really produced a lot of variability in the powder and even the subsurface.  The challenging conditions had us quickly getting back out on Spell Binder, where surfaces were much more consistent.
The boys were already urging us to get lunch, so we hit the Timberline Lodge for a break.  The boys wanted to order from the grill, so Ty got a cheeseburger and fries, and Dylan went with chicken fingers and fries; it was a good thing too, because I overcooked today's tomato soup and it was tasting rather smoky.  On a positive note though, our replacement Stanley® "bullet" vacuum bottle recently arrived, so we had a chance to test it out and it was keeping the soup incredibly hot.  Our other Stanley bullet that we'd had for several years had ceased to insulate (it probably had lost its vacuum), and indeed Stanley stands behind their lifetime warranty.  I called Stanley up, informed them about the loss of insulation in our bottle, answered a few questions, and said a new unit was on the way.  So, if there are others out that use any sort of Stanley insulating equipment for their ski outings, (or are thinking of getting one) know that the company is quite serious about that lifetime warranty.
On our way back out to the slopes after lunch, we gave Stephen a call and planned to meet up.  While we waited for him we basically repeated our first run from the day, but mixed in some Sure Shot Trees for variety.  We eventually met up with Stephen and Thomas and did that route yet again, but Stephen got spun around and had a fall on Sure Shot, so he didn't join us for the powder on Lower Tattle Tale.  We peeked into the KP Glades, and they looked awesome, but we didn't get a chance to head in.
We were done after that trip and headed home, but it had definitely been a good day on the slopes of Bolton Valley despite the recent lack of snowfall.  It doesn't look like we'll be at Stowe tomorrow, as E and Claire are canceling BJAMS ski program due to the expected combination of temperatures and wind; temperatures aren't going to get out of the single digits, and wind chill values are going to be in the -40 F range.  I think we'll all be happy enjoying the day inside tomorrow.