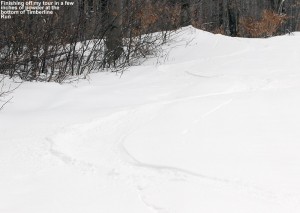 On my way back down from the mountain yesterday, I stopped off at the base of Timberline to check on the depth of the new snow and assess the prospects for skiing in the Timberline area. The terrain looked like it had been well covered with a smooth coat of snow when I had driven by earlier during daylight hours, but I wanted to check first hand to see the just how much new snow had been picked up down there. There was easily 2 to 3 inches of that dense snow in place, with even more in some spots. It certainly seemed like it was worth a visit, so at that point I knew I'd head up for a ski tour if I could find the time.
"…I cut into the trees and really hit pay dirt on Lost Boyz – the entirety of the glade was covered with 8″ of that dense snow without crust, and it skied beautifully."
My fat Telemark skis have actually been sitting in a ski bag with their skins on for several days – I had them prepared for some skiing last week during the big cutoff low pressure system, but I never quite found the time to get out and use them. This morning I decided that I had time to make some turns before heading in to Burlington, so I loaded the rest of my gear into the car and headed toward Bolton Valley. I was a bit leery of the potential ski conditions because we picked up a bit of freezing drizzle at our house along the Bolton/Waterbury line last night. If that sort of stuff had fallen up on the mountain, it would put a crust atop the snow. In fact, the freezing drizzle did affect parts of the mountain, but there was quite a lot of variability with respect where its effects were felt.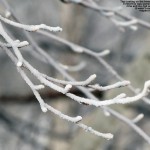 At the base of the Bolton Valley Access Road, in roughly the 300′ – 700′ elevation range, the trees didn't really have any sort of accumulations on them; presumably down at these elevations it was warm enough to melt everything off. From around 700′ up to 1,200′ along the road, the trees actually had a coating of fluffy snow. Then suddenly at around 1,200′ near the bottom of that big S-curve in the road, the trees all had a coating of ice on them. This was the situation I found at the base of the Timberline area at 1,500′, and there was an ice crust on the snow there as well. That observation left me pretty skeptical with regard to the quality of turns I'd be able to get on the slopes, but the crust was thin enough to be breakable, so I figured I'd head out for the tour anyway. It wasn't immediately obvious, but as is typical, there was a well-established skin track along the edge of Twice as Nice.
There was ice on the trees as I headed up the skin track, and then remarkably at around 1,800′, it quickly switched from ice to rime. The trees all become white, and the crust atop the snow dissipated. As I continued along the skin track, I was pushing my measurement pole down into as much as 10″ of that dense snow. It didn't look especially drifted or anything, so I was really curious as to how I wasn't running into the old base at a shallower depth. The snow definitely wasn't as deep in areas that had been hit by the wind, but I found those areas with such deep snow quite surprising. There was little if any ice until I approached the Timberline Mid Station at ~2,250′, and then the snow surface started to get crusty again. That crustiness was around up to where I finally stopped my ascent in the 2,300′ – 2,400′ elevation range.
I began my ascent on Brandywine, and found the snow highly variable – you could get good snow on one side of the trail, but much of the rest had crust. Sheltered areas seemed to have missed the crust, so I cut into the trees and really hit pay dirt on Lost Boyz – the entirety of the glade was covered with 8″ of that dense snow without crust, and it skied beautifully. I continued my descent on Spur and then Timberline Run, and got in a lot of quality powder turns. All the best turns today were creamy and smooth thanks to that dense powder, and it's got plenty of staying power to hang around for a while.
I can tell you one thing – that dense snow from the cutoff low pressure system last week is going to be paying us dividends for a long time. I was able to go over ledgy areas today on Lost Boyz that I would never expect to be so well covered with this amount of snow, but that storm put down such a shellacking of dense material that it covered underlying objects really well. Anyway, there is plenty of good snow out there at Bolton Valley right now; if you choose wisely and avoid the areas with crust, you are in for a treat.