Just like last Saturday, another storm came through the area over the past couple of days and dropped a round of fresh snow to give us some great April powder. For the first time in quite a while, the whole family was available to ski, so we headed up to Bolton Valley this morning for some turns.
Down at the house, snowfall was fairly intense at 6:00 A.M. observations time this morning, but it started to taper off after that, and it was pretty much done down here when we headed up to the mountain. There was some snow falling up at Bolton Valley, but accumulations were pretty much done there as well.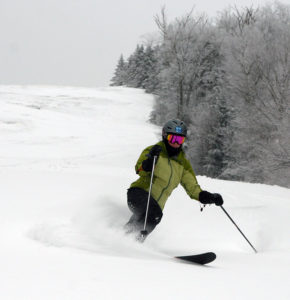 In terms of the snow we found, I'd say they were actually a bit conservative with the 9" value at the top of their accumulation range. More typically I was able to find about 11" as a general depth of the surface snow at most elevations, although I did find up to two feet in spots. The powder from this storm was even drier than what we found from last weekend's storm – most folks would be hard pressed to complain about the snow even in midwinter, because it was midwinter dry. It wasn't Champlain Powder™ fluffy, but that was probably more a function of flake structure than any above-freezing temperatures – it was well below freezing at all elevations of the resort this morning. It was actually downright chilly, and folks were often getting cold when we'd pause for setting up a photo session.
I mentioned all the underutilized powder we encounter last Saturday, and this Saturday was even more extreme. For much of the morning you could literally ride the Timberline Quad, count the number of tracks on a trail, and then on the next lap you'd be able to see exactly how many (if any) additional riders had been down it. It was hard to pull ourselves away. While we were finishing up back at the main base area and getting ready to hit the Village Deli to grab some lunch, we were able to watch some of the snowmobilers in the Rock The Hills Snowmobile Hill Climb. The Village parking lots were full of snowmobile trailers, so the resort got a great additional influx of visitors.