The snow from Winter Storm Jacob began yesterday while Dylan and I were out on the Bolton Valley Backcountry Network, and the intensity continued to ramp up while we finished our tour. The winds increased and flakes were flying while we packed up our gear at the car, and I definitely had to take it easy coming back down the Bolton Valley Access Road with the accumulating snow. The snow was falling in the form of relatively small flakes, so the accumulations were coming in quite dense. By morning, Bolton Valley was reporting 5 inches of new snow with more to come during the day.
Ty wasn't scheduled to work today, so the whole family had the chance to ski together and we decided to head up to the mountain early enough to hit the lift openings. The Vista Quad was opening at 9:00 A.M., and we got there right as folks began loading. We had an excellent run down Alta Vista, and especially Fanny Hill, and everywhere that hadn't been groomed held several inches of dense powder that contributed to a solid resurfacing of the slopes.
"That was probably my favorite run of the day, with a lot of fresh snow on trails that had hardly been touched by anyone."
Timberline has finally come on line this weekend thanks to the recent snows, so we next chose to head over that way and catch it near the lift opening. Cobrass still isn't open, but we were able to take Preacher and a combination of various glades to get us over to Five Corners and onward to Timberline. That was probably my favorite run of the day, with a lot of fresh snow on trails that had hardly been touched by anyone.
Timberline still needs a bit more snow to open all the terrain, but we had an excellent run down Sure Shot and in and out of various sections of trees and nearby trails. Being a holiday weekend with fresh snow, people were arriving at the resort in droves, and when we stopped in at the Timberline Lodge for a quick break, the ticket line inside was roughly 150 feet long. That line was a sign of what was going on throughout the resort, and indeed a substantial lift queue was forming at the Vista Quad when we returned to the main base. Seeing that, we did a couple of quick, powder-filled runs on Snowflake and called it a day because we'd had our fill.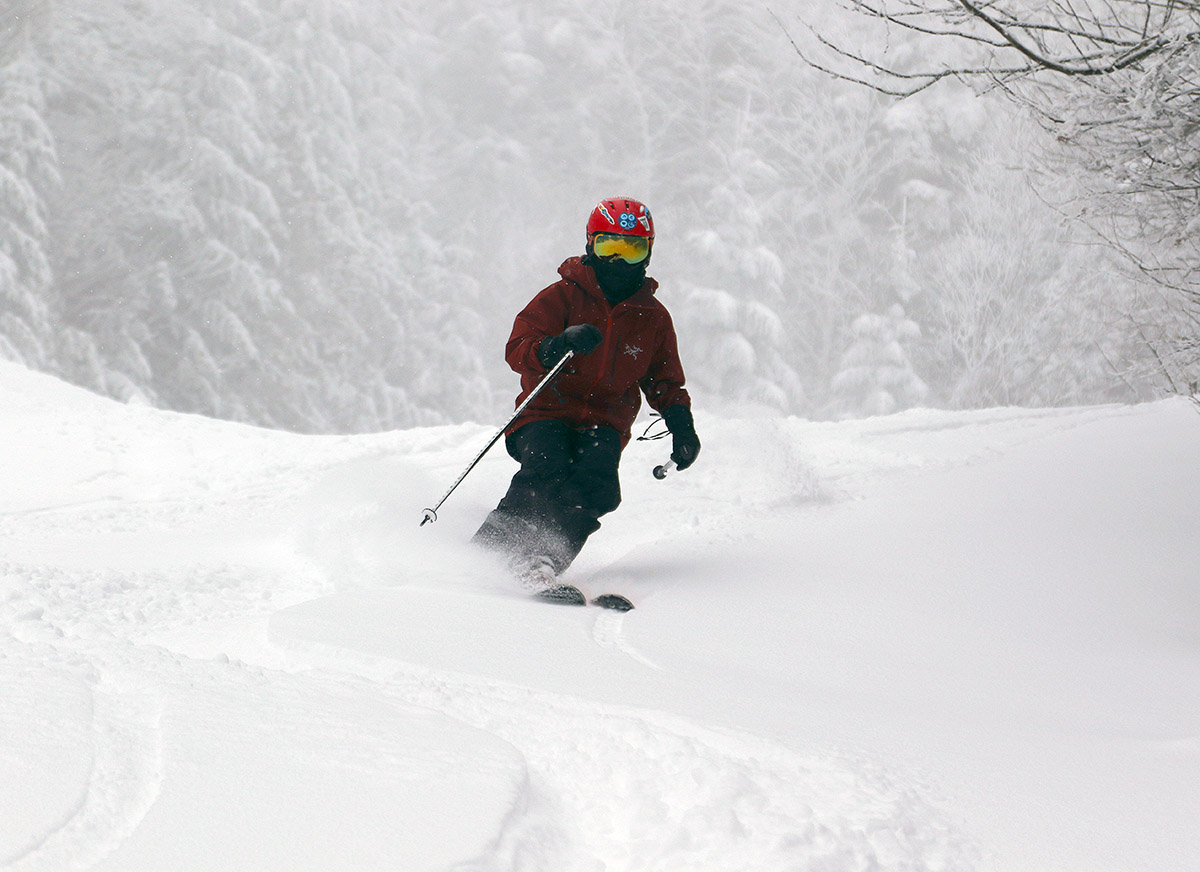 Cars full of holiday visitors continued to stream into the resort as we were leaving, and the Timberline lots must have been filled because they were already starting to have cars parallel park on the access road. The number of visitors today must have been great for the resort, even if it meant there were some lift queues at times. We'd seen Stephen and Johannes right when we'd arrived, and we didn't get to do any runs with them, but they apparently had a big group with a number of Johannes' friends. Stephen also said that he rode the Wilderness Chair, so the opening of the Wilderness area must have been a nice addition to disperse all the holiday visitors.