Thursday night's storm did a nice job of coating the mountains with some picturesque snow, and that seemed to be on Josh's mind when he contacted us about a potential photo shoot today up at Bolton Valley. I hadn't gotten the details on the timing via the phone message he left with me, but I knew the biggest hurdle with respect to our participation was whether or not it would interfere with BJAMS ski program in the afternoon at Stowe. I wasn't optimistic about fitting everything in today, but when I checked in with E about the possibilities on Friday evening, she said the scheduled session at Bolton Valley actually looked like it would fit into the day. Josh wanted us in the 8:30 A.M. to 10:00 A.M. timeframe, and that would be easy to fit in prior to our afternoon session. The photo shoot plan would likely be for groomed slopes, so when I got back from skiing yesterday, I packed the ski rack with carving skis for the morning, and fatter boards for the afternoon at Stowe. From actual experiences on my solo trip to Bolton yesterday, and recent Stowe snow reports from Powderfreak, I knew we'd be able to get into plenty of powder on the slopes of Mansfield. The weather continued its cool trend today, with lows at our place somewhere down in the single digits F, so I expected snow surfaces both on and off piste to be preserved in the wintry state I'd seen yesterday.
We got together with Josh in his office, and as we geared up, we met our photographer Mike. I hadn't met Mike before, but I'd seen him a number of times in some of the great Bolton Valley promotional videos that he's put out this season. He started us off with an Alta Vista run, and shot stills of us skiing at various angles as he made use of the morning sunlight. Then it was on to some Spillway shots that he had planned, and it was great to see that Spillway was actually in nice shape with respect to a carving surface. Sometimes it can really get stripped of its snow by the winds, but with recent snow and a fresh grooming, our skis were able to bite in quite well. The photos went smoothly and Mike was pleased, so for the bottom half of that run we just had a free ski. That gave us a chance to head off into the powder, so Ty, Dylan, E, and I all jumped off to the untracked snow sitting off to the left along the junction with Sherman's Pass. I was in the lead and heard a lot of commotion behind me, and when we finally got back onto the groomed snow I found out what it was all about. It turned out that Ty was near the back of the group, and as he looked ahead he found me taking every little powder line that he'd spied. Finally, just as we were about to return to the trail, I opted for something different and a line was going to be his… except Dylan took that one. It was all in good fun of course, but apparently we've got some seriously similar thoughts on line choice. I wonder how that could have evolved.
Mike had to be done around 10:00 A.M. for other duties, so we decided to make that the last photo run. He'd already set up Josh for capturing the time lapse of the pond filling for the pond skimming taking place later in the day, so things were definitely hopping at the resort as they set up for that event.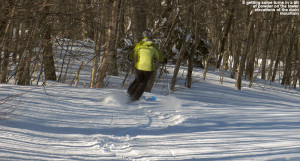 E and the boys and I decided to take one final run, since I'd told them about all the untracked powder that was available from the top of the Snowflake area. We accessed it easily from the Mid Mountain Chair and Deer Run, and found Snowflake Bentley pretty much as I'd left it: with my two tracks from yesterday. The powder was still in perfect shape, and we coupled that upper section with a totally untracked run through the trees between Lower Foxy and Lower Bentley – the terrain was very reminiscent of back on the 15th at Stowe when we were skiing all those lines off the Mountain Triple Chair.
From the bottom of Snowflake it was a quick trip across the Village Circle to Josh's office, where we got out of ski boots and prepared for the trip over to Stowe for the next phase of the day. One great bonus from today was that Josh gave us a huge promotional Bolton Valley poster that features an image of E and the boys skiing. They'd used it for ski shows and other events, but now they're done with it. It's made of fabric and seems quite durable, so it should make a great addition to the walls of the recreational area downstairs.