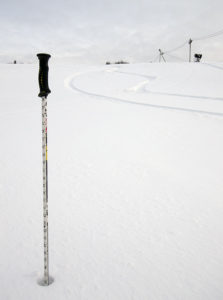 By Friday morning, I already knew this was going to be a big weekend for skiing at Bolton Valley. The initial round of snow from Winter Storm Avery had just finished up, and Emma, one of my undergraduate students rushed in just a few minutes before the start of class. She'd been out on a ski tour at Bolton Valley's Timberline area earlier that morning, and being the dedicated student that she is, she was back right on time for our class session. That good school-life balance if you ask me.
Naturally I had to give her some ribbing about stealing my powder, but I got a good rundown on the conditions, and there was indeed a ton of new snow even down at the Timberline elevations. Combining our third significant winter storm cycle in a week with the start of the Thanksgiving break, and what appeared to be some excellent winter-like temperatures coming on the weekend, sounded like a recipe for a lot of people getting out to enjoy the powdery terrain at Bolton Valley. Indeed, when we were on our ski tour at Timberline yesterday morning, we found that there had been substantial skier traffic on all the trails.
"My depth checks found 16-20" of snow at Bolton's main base area, and it went up from there with elevation."
Yesterday's tour also revealed that the freezing line on Saturday had crept up to around 2,000', so for today's tour I decided to head up to the main base and start my ascent from there. The mountain picked up another 2-3" of fluff overnight, and with all the snow at elevation avoiding any warmth and remaining well preserved, the snow surfaces were simply excellent. My depth checks found 16-20" of snow at Bolton's main base area, and it went up from there with elevation. The resort is reporting 36 inches of snow in the past week, so those depths really shouldn't be that surprising
"The resort is reporting 36 inches of snow in the past week…"
I toured in the Cobrass/Cobrass Run/Five Corners area today, and found lots of fresh tracks still available. With all the visitors that the resort has seen this weekend, there are literally skin tracks all over the place to get you wherever you want to go – it's almost like having a skin track highway system. I even checked out some of the tree skiing as I was coming back from the Five Corners area, and you'd almost think it was midwinter with the depths that are available in the woods.
In the ski thread in the New England Regional Forum at American Weather, I noticed someone commented on how they were amazed that there was tree skiing in the eastern U.S. this November. I actually have the statistics on that, which indicates that here in the Northern Greens you're going to get November tree skiing in a bit more than ¼ of the ski seasons, so it's actually not that uncommon. Of course we're most likely to have tree skiing in the last third of the month, so to be able to hit the trees this early in November is indeed a bit less common, only occurring in about 10% of seasons. Tree skiing starts roughly when the depth at the Mt. Mansfield Stake hits the 24-inch mark, and you can see from the plot below how often that happens by November: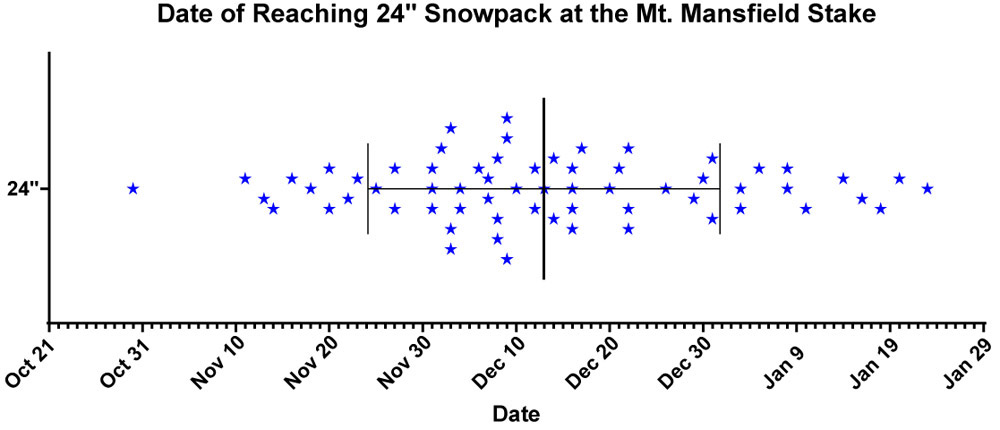 In any event, there's certainly enough snow for some tree skiing at this point, and with decent temperatures and a couple of systems potentially in the works this week, it should be around for a bit.