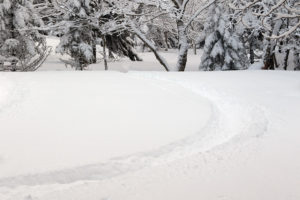 I really hadn't planned to ski today. During the midweek period we picked up some snow from Winter Storm Indra, but there was mixed precipitation with that system that would certainly require some resurfacing to softened up the slopes. Between the dense, backside snow from that storm cycle, as well as additional lake-effect snow from the past day or so, we'd picked up 2 to 3 inches of new accumulation at the house, but I really hadn't thought the mountains would be quite ready for prime time. I was thinking the bit of snow we're expected tomorrow would just about be enough, so I was happy to relax and spend the day inside getting some work done.
Well, things changed a bit when I was reading through the Northern New England thread at American Weather Forums, as saw Powderfreak's post noting up to 8 inches of accumulation at Stowe. I quickly checked Bolton Valley's report and saw 7" in the past 72 hours, as well as the powder tracks on their web cam and realized it was definitely time to go for a tour.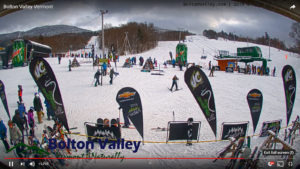 It was midafternoon by the time I'd figured out about all the snow, but just so Mother Nature could drive the point home about how much she'd been doing in the snow department, I arrived in the Village to find a steady light snow falling. A quick check on the powder depths at the 2,000' Village elevations revealed 6 inches, and as I began my trip up the Bryant Trail I found that the trees all around me were loaded with snow. The recent snows had fallen with minimal wind, so evergreens and deciduous trees alike were just caked in fresh powder.
"The new snow depths continued to increase with elevation, and by the time I was getting up near the 3,000' mark I was finding 8 to 9 inches of powder in many places."
The new snow depths continued to increase with elevation, and by the time I was getting up near the 3,000' mark I was finding 8 to 9 inches of powder in many places. I'd initially been thinking about a fairly low-angle tour like the one I'd done back on December 27th, but my plans quickly changed when I saw how deep the powder was getting. I continued on up past the Bryant Cabin to Heavenly Highway to extend my tour a bit more and incorporate some steeper terrain.
I put together a classic descent that brought me through Gotham City as well as a host of other glades, it definitely delivered some great powder turns. In terms of bottomless quality, there were certainly differences between those depths up around 3,000' and the depths down around 2,000' – there was a lot more flexibility with respect to slope angle up high, with moderate and even steeper angles easily in play. Another important factor that I discovered during my tour was that open areas and deciduous trees were the way to go for the deepest powder. The dense evergreen areas, which are often an excellent bet for snow protection when it comes to wind, offered much shallower powder today. Since the snow in the trees had been unloaded during the midweek storm, and the recent snows fell with minimal wind, the boughs had been reloaded with all the powder, keeping a lot of it off the ground. Open glades with substantial amounts of deciduous trees like Gun Sight were great examples of the effects of letting the new snow get down through the trees.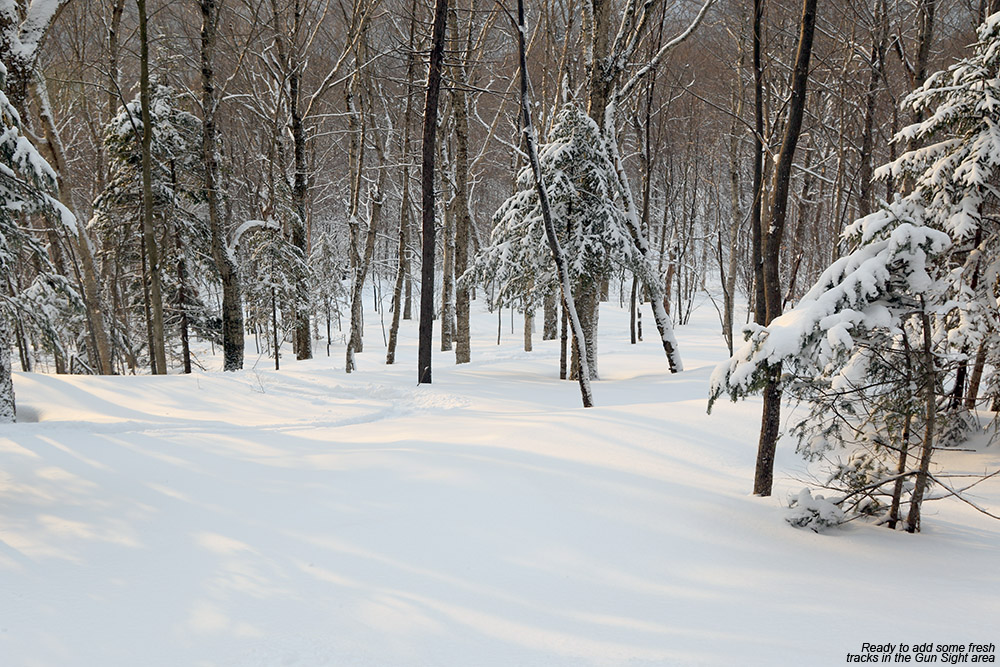 I did stop by the deli after the tour today, but we already had dinner planned so I decided to grab some of their maple lattes for the family. That's definitely a fun offering that they have now, and the flavor is certainly very "Vermonty". E described it as "homey" compared to some other maple lattes she's had.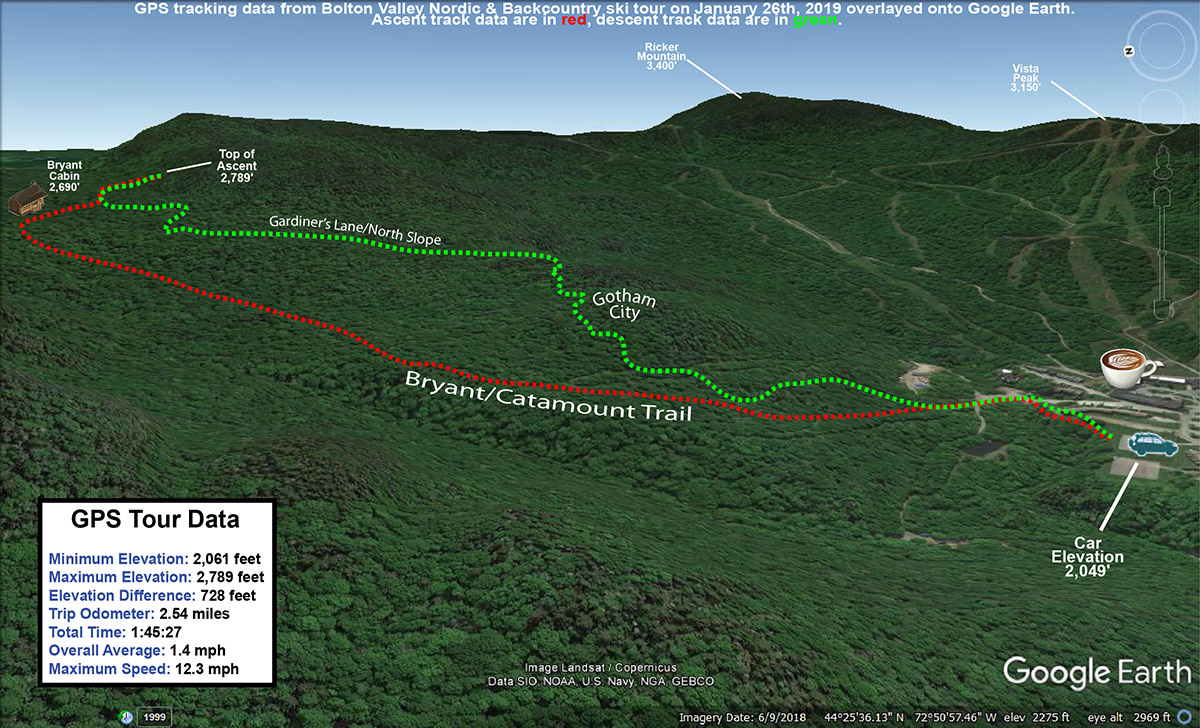 On the weather side of things, we've got a small system and associated cold front expected to come through the area tomorrow, and then a bit larger storm in the midweek period that should continue to improve the powder even further.