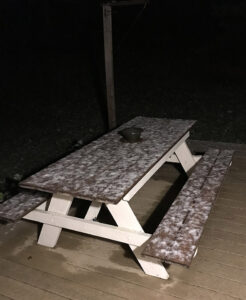 I woke up this morning to find snow on the grass and elevated surfaces at our house, most notably our picnic table out back on the deck. This was the first snow I've seen at our house this season, and although our weather forecast did suggest there was some potential for accumulation, you never quite know how it's going to play out in marginal situations like this one.
In any event, the snow stuck even down here at 500', so it should have easily accumulated in the higher elevations. I measured 0.6" on the boards at observations time, and it did look like it could have melted some since the point at which most of it fell.
This is about a week on the late side for average occurrence of first frozen precipitation here at our house, but just a day off for the average date of first accumulating snow, so it's very typical in that regard.
Details from the 6:00 A.M. Waterbury observations:
New Snow: 0.6 inches
New Liquid: 0.09 inches
Snow/Water Ratio: 6.7
Snow Density: 15.0% H2O
Temperature: 34.0 F
Sky: Light Rain/Snow (1-2 mm flakes)
Snow at the stake: 0.5 inches