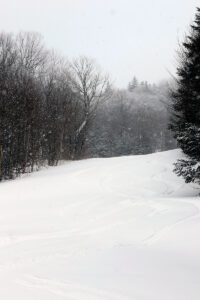 Even with Powderfreak's timely snow updates providing knowledge of how much snow fell and how it was skiing on Mansfield today, you never really know quite how it's going to be until you get up on the mountain. I'd seen Bolton's initial morning report of 1-3" in the 2,000'-3,000' elevation range, so when I found 2" at the Timberline Base at 1,500' on the way up the Access Road, I knew the accumulations had been increasing through the morning.
Arriving at the main base, I started out the ski day with a tour up to the Wilderness Summit at ~3,150', and someone had also broken trail up Ricker Mountain, so I followed that for a bit and probably topped out around 3,300'. This was one of those days where it was definitely nice to be able to start touring above 2,000' with the elevation dependence of the snowfall.
The powder skiing was great, so after my tour, I hung around for some lift-served laps as well. There was plenty of fresh snow in those runs, since I was able to connect over to parts of Wilderness on those runs for powder laps. As of midday, there was already a solid resurfacing of the low angle terrain, so aside from any scoured areas, the powder on that terrain was skiing beautifully. Even low-angle terrain that had been skier packed was excellent, so this new snow had adhered nicely to the subsurface. On one of my lift-served runs, I saw this in play with the quiet turns of skiers on Bear Run and Sprig O' Pine as I passed over on the Vista Quad.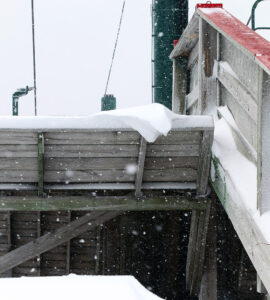 I'm not sure how much liquid equivalent has been put down at elevation with this storm, since we're certainly not getting as much liquid down here in the valley as the mountains are. We've had about 0.12" of liquid from this event down here, but based on how the powder turns felt today, the mountains had probably seen 0.3-0.5" up high as of midday? Anyway, medium angle terrain was a mixed bag in terms of sufficient resurfacing. In areas of untracked powder over at Wilderness, I was generally getting bottomless turns even up to some single black terrain. There were some great turns in areas that hadn't been scoured. When I was over skiing the lift-served terrain on Vista though, you were definitely getting down to the old base on the blues and blacks – there certainly hasn't been enough liquid equivalent put down with this event to hold up to those levels of skier traffic.
Today it was snowing all the way down to the valley floor, but accumulations didn't start until ~1,000'. Here's the new snow accumulations profile I found around midday:
340': 0"
1,000': T
1,200': 1"
1,500': 2"
2,000': 4"
2,500': 5"
3,000': 6"
3,300': 6"+
Once above the 2,000' level, there weren't any massive increases in accumulations that I saw, just sort of slow, steady increase, as the profile shows. The powder was meaty as Powderfreak had indicated in his report, so powder turns were great.
The snowfall today ranged from huge, pounding flakes, to lighter episodes where the snow continued, but the sky would brighten. It was really pounding when I left, and made me want to stay for another run or two. I'm not sure if it can keep up at today's snowfall pace overnight, but tomorrow would obviously be another great day if it did.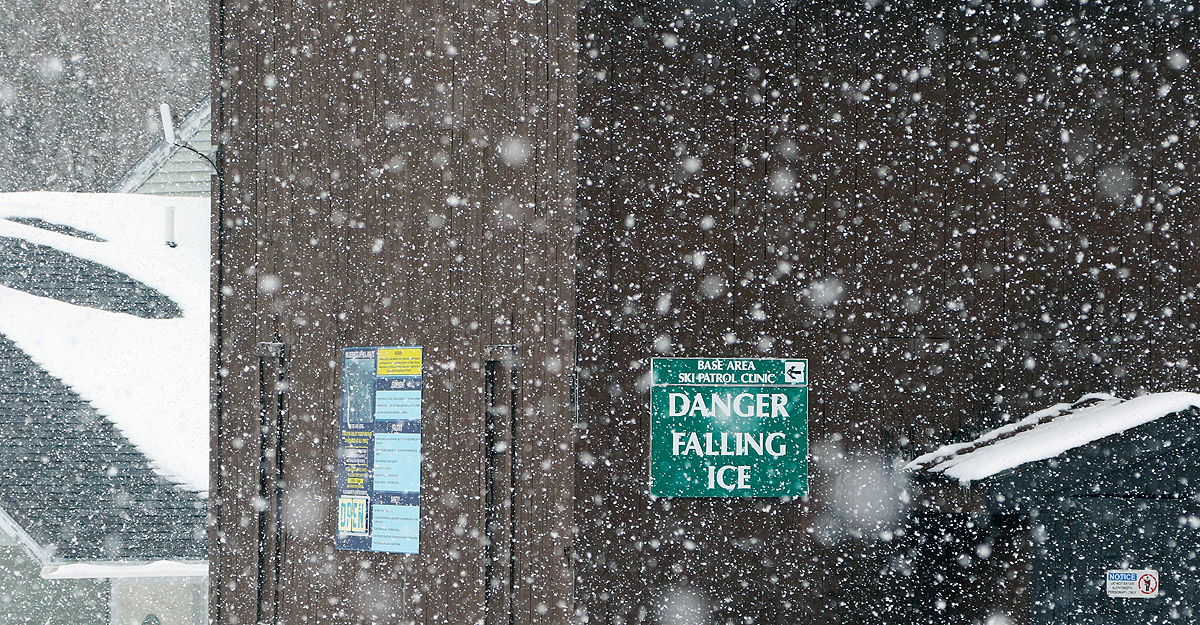 In terms of not quite knowing what it's going to be like until you get there, today definitely delivered. Overall, the snow was great, and so was the scenery. It was often snowing hard with those big flakes, but the light levels and visibility were often pretty high because it's now late March.