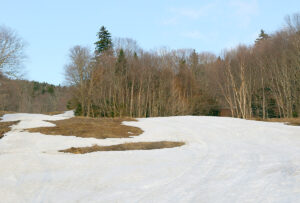 As it's been for the past few days, it was quite windy today in the Champlain Valley, but with partly cloudy skies providing some sun, and the temperatures getting into the 50s F, it seemed like there might be enough warmth to make the slopes worth a visit. That thought was tempered somewhat as I headed into the mountains on the way home; the skies became notably cloudier, and the temperatures felt several degrees cooler, even at valley level. At that point I was definitely questioning if there was sufficient warmth at elevation for softening the snow, but it still felt like it was worth the quick trip up to Bolton for some turns.
On the way up the Bolton Valley Access Road, first signs of old snow snowpack were at ~1,400', and first signs of the new snow left from our most recent storm appeared in the 1,800' – 1,900' elevation range. I'd contemplated skiing at Timberline if the snowpack was continuous enough, but it's too broken up down at those elevations to be worth it.
As expected up at the main mountain, there's still plenty of snow for top-to-bottom turns on the main routes like Beech Seal and Spillway. Sherman's Pass seems close to continuous, but there's at least a break or two in the snowpack there. While the quantity of the snow is looking quite good, we're still going to need some more warmth and temperature cycling to get the snowpack to some quality corn. Even with Bolton's western exposure and afternoon sun, a lot of terrain still needs some rounds of softening. The combination of temperatures, which I guess were somewhere in the 40s F, and the cooling breeze that we've had the past few days, just isn't enough to really soften the snowpack. Granted, I was out on the mountain in the later afternoon period when the sun angle is getting lower and temperatures are starting to drop off, but it was obvious that only areas in direct sun had seen much cycling of the snow to get to appropriate quality corn, and even those areas still need work. Heck, most of terrain above 2,000' that was not in the direct sun, still had snow from our most recent storm earlier this week. I toured up to about 2,500', but didn't push above that elevation that because it was only getting cooler and windier as I ascended, and the quality of the snow just didn't seem to be worth it.
So while spring snow conditions weren't quite there today, the recent snows and good preservation we've been seeing do bode well as we head into the next several weeks of the season. Tomorrow's forecast around here seems sort of similar to today's, so I wouldn't expect primo ski conditions, but Sunday is supposed to kick things up a notch with temperatures around 60 F and more sun. That might be enough to get some of that south-facing terrain into good shape.