While Friday turned out to be a bit too cool and breezy to really soften up the slopes around here, and yesterday didn't seem much better, today saw more warmth and sunshine as the forecast had suggested. Mother Nature really wasn't messing around, with temperatures moving up into the 60s F, a cloudless sky, and the disappearance of those persistent winds.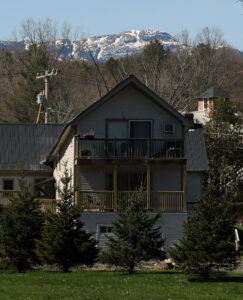 There was no question about whether or not the snow was going to soften up today, so I decided to head to Stowe for some afternoon turns. I hadn't been to the general Stowe area in a while, but the usual views of Mansfield started to appear as I headed through Waterbury Center, and the alpine terrain was certainly lit up in the May sunshine.
I'd hoped that the south-facing terrain of Spruce Peak still had enough coverage to provide some nice uninterrupted turns, and indeed as I approached the resort I could see that the Main Street area and surrounding trails still had nearly continuous snow down the base of the Sensation Quad.
With the route I took on the lower part of the mountain, I ended up hiking about 1/3 of the ascent, and then skinning the final 2/3. I was initially questioning my decision to bring skins as I navigated the lower slopes, but once I hit the point where I started skinning, it was definitely the right choice in terms of efficiency; the upper slopes of Main Street have so much snow that it would take more effort to find dry areas for easier hiking.
In terms of the skiing, it was far superior to what I had experienced on Friday. The warmth and sun took care of getting the spring snow into something that was definitely worthy of turns. It wasn't perfect, because there were still some sticky areas from recent snows on terrain that hadn't seen the sun and/or skier traffic, but those were generally avoidable by skiing the sunnier sides of the trails.
With such a gorgeous day, I was surprised that I didn't see a single other skier out there during my entire tour on Spruce. I did see two other cars when I first arrived at the MMSC Clubhouse parking lot, but they were just hikers. I saw them finishing up their hikes while I was ascending, and the entire parking lot was empty when I got back to my car. Everyone must have been skiing over at Mansfield!