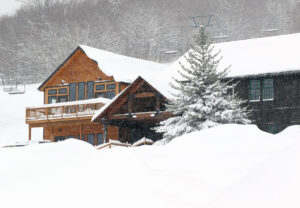 In Bolton's early morning report they were indicating 3 to 4 inches of new snow from Winter Storm Sage, but little did they know, by the afternoon the storm would already have dropped several times that amount. The Winter Storm Warnings from the National Weather Service in Burlington started including counties farther and farther into the northern parts of Vermont as the storm drew closer, and that was definitely a sign that there was going to be a bit more impact in the Northern Greens than the weather models had initially suggested. Here at our house in Waterbury, the snowfall really started to pick up today in the midmorning period. We began to get very large snowflakes with diameters in the 3 to 4-inch range, and those flakes were accompanied by very heavy snowfall rates; over the course about 30 minutes, we picked up roughly half a foot of new snow.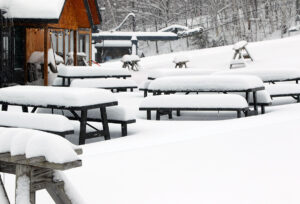 It looked like Bolton had been hit with similar intense snowfall rates, and it was obvious that there was far more than the initial few inches when I headed up to Timberline for a ski tour this afternoon. My depth checks from the Timberline Base at 1,500 feet were indicating 12 to 16 inches of new snow. I wasn't sure if there was going to be much additional accumulation with elevation, but by the time I hit 2,500 feet, my measurements were in the 15 to 18-inch range. Bolton's snow report update from later in the day had their accumulations topping out at 18 inches, so that fit well with my observations.
The actual skiing itself was rather interesting. On my ascent it was already obvious that the snow wasn't at all wet at elevation. It was fairly dense though, with small flakes falling during my tour. With those small flakes falling atop the accumulation of the larger ones that would have fallen during that midmorning, the powder wasn't perfectly right-side-up. It wasn't exactly upside-down either, but there was an element of that in the powder, and combined with a foot and a half of new depth, it added some extra challenge. When you're on 115 mm boards and you're feeling like they might not be wide enough, that's saying something. While I didn't personally see anything slide or even slough when I was out on my tour today, I did feel tinges of spookiness of steeper slopes, with part of that coming from the slightly imperfect density profile. It didn't come as a complete surprise when I saw the following in Bolton's updated snow report:
Urgent Message From Patrol: Avalanche hazard present at this time. If travelling on terrain (especially uphill routes and backcountry) follow appropriate avalanche precautions and gear up accordingly.
So, be careful if you are riding in potentially hazardous spots in the near future with this current snowpack. And unfortunately, the best skiing really is on the steepest terrain right now. I could tell on my ascent that I was going to need some serious pitch to get a quality descent, so I dropped in on the Tattle Tale Headwall, and it certainly delivered. We'll see what the back side of this storm cycle does for the snow profile, but for now, you're going to want at least black diamond pitches for the best turns in undisturbed snow. Indeed, if you're planning to head out for turns tomorrow on anything that hasn't been tracked, bring your fattest boards and hit the steepest terrain you can find. Conditions should be great though, because we're in the process of getting another massive resurfacing of the slopes, and its already atop a surface that didn't really even need it.