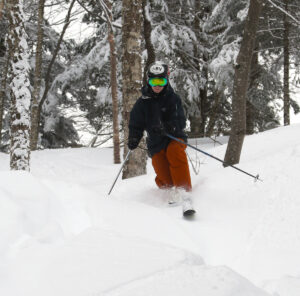 After a couple of great outings in the new snow on Friday and then again yesterday, I wasn't really sure if I was going to ski today. I figured the snow would be settling or warming, at least in the lower mountain elevations, and combined with skier traffic, that would bring the conditions down a notch. Ty was still at the house for the weekend though, and when he was eager to get out for some turns, that easily tipped the balance and we decided to head up to Bolton Valley.
It was late morning by the time we hit the mountain, and they were already running out of parking spots at Timberline, so people were clearly eager to get out today. Once we hit the hill, it was easy to see why. Winter Storm Quest had departed, the weather was pleasant, and the quality of the snow seemed like it hadn't changed at all. There had been some additional snow on the back side of the storm cycle, but even the earlier snow seemed like it was in great shape. Amazingly, it almost felt like it had dried out a bit more and the powder seemed notably less dense.
We had planned on a mellow day on the Telemark skis enjoying the groomed and packed runs, but that plan fell by the wayside a bit when we found that there was still plenty of untracked powder around, and it was of such good quality. We had a great time touring around the mountain and managed a big loop that hit every chairlift at the resort and concluded with a big long run down from the Vista Summit to the Timberline Base. Temperatures were very wintry and chilly up above 3,000', and remarkably pleasant down around 1,500', but still cold enough to continue preserving the snow.
We were most impressed by the durability of the recent snow. The surfaces just continued to hold up with incredibly soft composition and no signs of ice, even in high traffic areas. I know that we're really skiing on snow from more storms than just Winter Storm Quest, but even the packed runs were just so enjoyable because on every turn you made, you could rely on encountering only soft, yielding snow. We've reached a point where the quality of the snow is so good that it's actually dropped the difficulty of every trail down a solid notch. Skiing advanced runs feels like skiing intermediate runs, and you can definitely enjoy the steeps without having to dodge patches of hard snow. This aspect of the skiing was displayed prominently on the steepest pitch going down into Maria's, where tight, high-angle, moguled terrain just seemed to flow because you never had to avoid ice or other obstacles. It was a great day for Ty to push himself with his Telemark skiing on challenging terrain, so I'm definitely happy he tipped the scales and got us out for those turns.