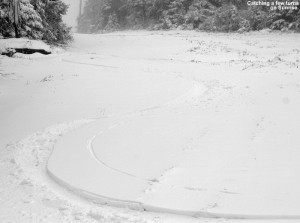 It's been snowing in the Green Mountains since Friday, and accumulating down to the 1,500' to 2,000' level.  We've even had some flakes reach down to the mountain valleys, and although the lower elevations have generally seen rain and we haven't had any accumulation at the house, we've picked up 0.39" of liquid over the past couple of days.  Even as early as yesterday, snow depths had reached the point where it looked like it was worth making a few turns, so I headed to Stowe today to check it out for myself.
I left the house near midday under cloudy skies and a temperature of 39 F, but a few minutes into the drive, the temperature dropped to 37 F in the Waterbury Center area, and snow began to fall.  It snowed lightly all the way to the mountain, and accumulations began to appear just as I hit the resort base at ~1,500' in elevation.  The temperature had really dropped as I ascended the last stretch to the resort, and as I parked in the Midway lot, the temperature was right around the freezing mark.
Accumulations in the Midway area were generally a trace to an inch, so I stowed my skis on my pack and headed over toward Nosedive to use that standard route of ascent.  As I approached the 2,000' mark, the snow depth became a bit more consistent, generally in the 1"-2" range, and I switched to skins.  I was probably a touch early on putting on my skins since I encountered a few more spots of mud, but that's what rock skins are for, and it made for a lot less slipping than hiking in my boots.  The precipitation that had been snow at the start of my ascent turned into more of a freezing mist as I headed into the clouds around 3,000'.  Up around 3,600' at the Stone Hut it was windy, well below freezing, and quite chaotic with Stowe's snow gun firing off what seemed like a 21 gun salute.  I sheltered behind the hut to keep out of the wind and the roar of the snow guns as I switched to descent mode and had a much needed snack.  The wind made for plenty of drifting during my ascent, but I'd sum up the snow depths with respect to elevation as follows:
1,600': T-1"
2,000': 1"-2"
2,500': 2"-4"
3,000': 4"-6"
3,600': 6"+
I'd only encountered a couple of groups descending on Nosedive while on my ascent, but there were plenty of tracks from previous visitors and the snow was quite packed out, so I decided to descend some other terrain off to the south.  The combination of wind, freezing mist, low visibility, and manmade snow made for a really challenging descent, especially on my skinny Telemark skis, so I generally just took it easy and stuck to mellow terrain.  In general I didn't find much in the way of decent turns until I got down onto Sunrise below the snowmaking, and pretty quickly after that the snow depth was getting a bit meager.  I did manage some nice turns here and there, but eventually it was more gorilla-style survival turns until I finally decided to call it at the elevation of Crossover.  I strapped the skis back on my pack and had a nice stroll back to the car.  I'd say at this point the skiing isn't worth putting in a ton of effort, but it's definitely fun to get out for a few turns if you're close by.  We'll have to see if anything comes from the Nor'easter that's expected this week though, because the current snow could serve as a decent base for another round of accumulations.