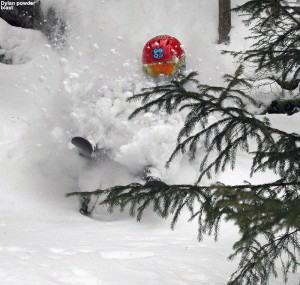 In Northern Vermont we remain under the influence of an area of low pressure stuck over the Maritimes, and it dropped another round of snow overnight.  We picked up just shy of 4 inches down here at the house, and Bolton Valley picked up 7-10 inches.  That amount of fresh snow changed my thoughts for today from a more sidecountry or backcountry outing, to a lift-served one.  There's been close to 30 inches of snow on the upper mountain in the past week, and with this latest round from last night I'd expect even the on piste skiing to be great.
We arrived at Timberline right around the opening of the Timberline Quad, and kicked things off with a Brandywine to Intro to Spell Binder run.  There was some decent powder off to the edges of Brandywine and Intro up top (including enough to bog Dylan down for a great crash that delighted the folks on the lift above), but it was Spell Binder that had the real pay dirt.  There were a few tracks that had been set down, but other than that it was a sea of untracked snow.  I suspect that run would be picked as a favorite in the group today.  The snow wasn't especially deep, but there was plenty of it for bottomless turns and the density worked out pretty well.  We went with Adam's Solitude next, and had the fortune to meet Steve from thesnowway.com.  We had an enjoyable run with Steve, and I even managed to sneak in some ski-related conversation.  I've avoided Adam's Solitude over the past several weeks, not being really sure that it had the coverage I want to see in there, and based on what I saw today, it really needed this latest storm.  I know that Steve has been visiting a variety of resorts this season, and it's great that the recent snowfall brought him over to Bolton for some turns.  I see that he's already written up his report from the day, so click on over and check it out.  Hopefully Steve can get back for another Bolton trip to check out Wilderness (the Wilderness Chair was down on wind hold today) and some of the backcountry.
Dylan was really hankering' a waffle from the Waffle Cabin – in the spirit of what we were calling his hobbit-style "second breakfast".  We made our way over only to find that the Waffle Cabin was closed, but we went for an inside snack nonetheless and had a good time sitting by the fire.  We made a Vista run after that, and I directed everyone to Devil's Bowl… or at least close.  We overshot it a bit and ended up skiing the trees off to skier's left, but there was a lot of untracked snow in there.  Ty called for a return to Timberline, which went over pretty easily with everyone else since the winds, which were definitely howling at the top of Vista, were notably lower down there.  We caught the lower part of Tattle Tale on the return, and noticed three guys that were actually skiing Upper Tattle Tale – but the Tattle Tale headwall looked really bony from wind scouring and they were essentially skiing around it on the edges of the trail.  Lower Tattle Tale had some decent powder, but a lot of tracks on it.  Fortunately even the previously tracked snow was good, and Ty said he liked it a lot.  We decided on one more run before breaking for lunch, which included the Intro Trees followed by a trip through Doug's Solitude.  That run was mostly satisfying Dylan's request to see a lean-to that E and the boys had built during the summer a couple of seasons ago in the Timberline Mid Station area.  It's still standing, despite the deep snow.  The boys launched some nice airs at the end of those lines though – Ty's was very smooth with a nice sloped landing, and Dylan's was flatter with a couple of tiers.  We did discover though that the route back to the Solitude traverse needs some definite trimming this off season as it's got a lot of small vegetation clogging the lines back there.
After lunch it was the Wood's Hole/KP Glades show for the boys.  We took the first run with E and she stuck to the trail because her legs were getting a bit cooked for too many more Telemark turns in the steep trees.  The boys were looking to drop some cliffs, and drop them they did.  They were so excited that we hit two more rounds in there even after Mom called it quits for the day and headed for the lodge.  The boys were definitely in the zone during that afternoon session, and the vibe was good because they kept feeding off each other and the whole scene.  The powder out there was set up well for dropping off the various ledges and cliffs – I checked a number of times and was getting depths of 22 inches where snow hasn't been disturbed during all these recent rounds of snowfall.  Landings were very soft, although Ty did have to walk away from one that I judged just a bit too dangerous with a log and a rock in the landing zone.  He was all set to charge it based on what he saw from above, but once he got down and had a look he thanked me for the warning.
It was a wintry March day today, not especially cold with temperatures in the 20s F, but brisk enough with the wind that the pond skimming had to be postponed.  This cold weather is really keeping that powder in great shape however, and we're not worried because we know that spring weather will come eventually.  Until then I say keep the snow flying to make up for the slow January and February.  The season is still below average on snowfall (~90% of average at the house), so even though the snowpack at the Mt. Mansfield Stake sailed above average to 82 inches today, we've still got some catching up to do in that department.  We could actually be in for a repeat of last night's snow tonight.  Winter weather advisories up for the Northern Greens for as much as 10 inches of snow, but we'll have to see how that plays out – so far the radar hasn't really seemed to light up the way it did last night.